The New Guard: Jennifer Lee
Make way for Tinseltown's new shot callers. A generation of whipsmart, gutsy young women is rewriting the rules of the game in TV and film. They are diverse, outspoken, and unapologetic in their mission to seize the spotlight and shatter some glass ceiling. Smash away, ladies.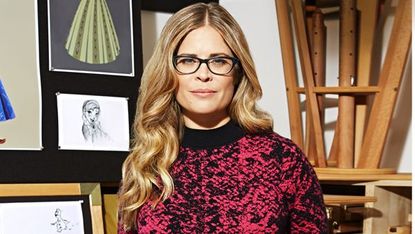 (Image credit: Archives)
Marie Claire Newsletter
Celebrity news, beauty, fashion advice, and fascinating features, delivered straight to your inbox!
Thank you for signing up to Marie Claire. You will receive a verification email shortly.
There was a problem. Please refresh the page and try again.
Could any contemporary film better epitomize the term "crossover hit" than Disney's Frozen? This year's Oscar-winning juggernaut about a Snow Queen and her puckish sister has to date raked in $1.2 billion at the box office, becoming the highest-grossing animated film in history. For Jennifer Lee, its effervescent 43-year-old writer and codirector (and the first woman to helm a Disney animated studio feature), the film served as a catapult into the elite club of überdirectors—Steven Spielberg and George Lucas among them—who have presided over billion-dollar films.
Lee, who directed Frozen along with Chris Buck, is among a new breed of film influentials taking their cues from television, where showrunners frequently assume the role of lead writer. "You can't just do a straightforward story anymore," she explains about the process of scripting a movie. "People get bored. You have to add layers to it. It has to be evocative. I think that creates a need for a very strong relationship between the writing and the directing, like in TV."
Born and raised in Rhode Island, Lee graduated with an English degree from the University of New Hampshire, then headed to New York, where she found work designing audiobook and DVD covers. "I was definitely one of those liberal-arts kids who didn't know what I wanted to do," she says. "It literally took me until I was 28 to realize I should do films."
After she graduated from Columbia University's film school, former classmate Phil Johnston asked her to work with him on the script for Wreck-It Ralph. It was her work on that animated film that convinced Buck to give her the long-gestating Frozen to help rewrite. Lee's contributions were significant. She and Buck recast the script, originally pitched as a conventional battle of good vs. evil (Elsa was portrayed as a villain), to instead reflect a struggle between fear and love. "It was like, Can't we do something a little more dynamic and three-dimensional?" Lee recalls. "We said, What would it feel like to be her? What would it feel like to finally be free, but have the weight of the world on her?"
Soon after turning in the script, Lee was named director, alongside Buck. Lee says the new title gave her more freedom to shape the look of the film. "I was nervous about learning animation production," she concedes. "I didn't go to school for it. But it was actually far more organic than I thought. I was the one in the room who knew exactly what was going on in the characters' heads."
Next up for Lee: the spring release of a Frozen short, as well as a screenplay for a live-action adaptation of Madeleine L'Engle's 1962 classic, A Wrinkle in Time. "It's such a hard book to do, which is why it has taken 30 years," she says. "I'm terrified and excited."
As for her pioneering first-woman-director status, Lee sees it as a harbinger of bigger changes. "I'm surrounded by women," she explains. "On Wreck-It Ralph, half the story crew was women. On Frozen, some of our lead animators were women. Hopefully animation will lead the industry. See! Female directors—they do well!"
Ed note: This article also appears in the November issue of Marie Claire.
Celebrity news, beauty, fashion advice, and fascinating features, delivered straight to your inbox!