John Travolta Isn't Done Defending Scientology
"People really need to take time and read a book."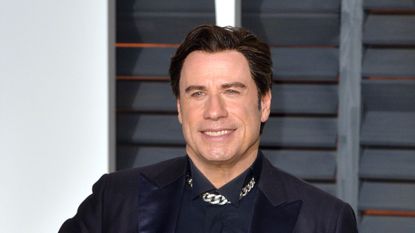 (Image credit: ARCHIVES)
Update, 4/20: John Travolta isn't done trying to clear the air when it comes to his involvement with Scientology, a religion he's practiced for the last 40 years, and the scrutiny it's gotten since the release of the documentary Going Clear.
"You know, people really need to take time and read a book…that's my advice," Travolta said on Good Morning America (opens in new tab). "You could read New Slant on Life or Dianetics, and I think if you really read it, you'll understand it. But unless you do, you'll speculate, and I think it's a mistake to do that."
Original story, 4/7: HBO documentary Going Clear made some explosive claims (opens in new tab) about the Church of Scientology and its most high-profile members. John Travolta figured prominently in it—and was at the center of some pretty damning accusations.
In a new interview with the Tampa Bay Times (opens in new tab) to promote upcoming flick The Forger, Travolta addressed Scientology for the first time since Going Clear came out. Perhaps unsurprisingly, he said he hasn't seen the movie, "and I don't really care to."
The reason may be more than simple loyalty: Going Clear claims that Scientology officials keep a blackmail file (opens in new tab) containing Travolta's deepest secrets, and the film insinuates that if Travolta were to step out of line with the church, those officials would leak information he would prefer stay under wraps, perhaps about his much-discussed sexuality.
But Travolta said the HBO movie featured "people who were disgruntled with their experiences," and that's something he can't relate to. "I've been so happy with my [Scientology] experience in the last 40 years," he said, "that I really don't have anything to say that would shed light on [a documentary] so decidedly negative."
He added that Scientology has helped him through life crises, like the death of his son, Jett. "I've been brought through storms that were insurmountable, and [Scientology has] been so beautiful for me, that I can't even imagine attacking it," he said.
Fellow Scientologist Tom Cruise, who was an even bigger focus in the documentary, has yet to comment. In a statement (opens in new tab), the Church of Scientology called documentarian Alex Gibney "a propaganda filmmaker with an agenda, not a journalist interested in being fair or objective," and said many of the claims he makes are false.
You should also check out:
5 Mind-Blowing Scientology Facts from Controversial Documentary 'Going Clear' (opens in new tab)
Weird New Details About Tom Cruse and Nicole Kidman's Divorce Finally Surface (opens in new tab)
Victoria Beckham on Style, Scientology, and David Beckham (opens in new tab)
Megan Friedman is the former managing editor of the Newsroom at Hearst. She's worked at NBC and Time, and is a graduate of Northwestern's Medill School of Journalism.