Victoria's Secrets: The Fashion Icon on Style, Scientology & David Beckham
The divine Mrs. Beckham opens up about her tabloid-mad marriage. Plus: Check out our revealing web-exclusive Q&A and behind-the-scenes photos from our shoot.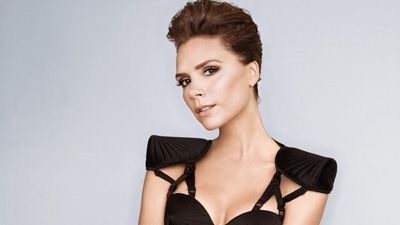 (Image credit: Ruven Afanador)
Victoria Beckham throws open the paneled Giambattista Valli coat draped around her shoulders to reveal what is hidden underneath: her whippet-like body encased in a kind of dominatrix corset-cum-bustier rigged with bad-girl garters. "Take the pic-cha! Take the pic-cha!" she coaxes — akimbo now — tossing her cell phone to an assistant. It is the exact coax — part dare, part demand — that Audrey Hepburn calls out to Fred Astaire in Funny Face as she descends the stairs of the Louvre in a red Givenchy gown, her reluctance to being a model giving way to an infectious giddiness. Beckham, on the other hand, is on the portico of a folly of a mansion on the outskirts of London. We've gone from Givenchy to gee-she's-fun.
When she was a cog in the wheel of the Spice Girls pop-culture juggernaut in the '90s, Beckham carried off the name "Posh" with an ironic wink, since the little black dress she wore while performing was more High Street than haute couture. But her poshness is no longer ironic. Since leaving the Spice Girls, Beckham, now 36, has carved out a place on the pop-cultural landscape all her own, at that busy roundabout where celebrity and show business and fashion all converge. After she married David Beckham on July 4, 1999 (with their 4-month-old son, Brooklyn, as ring bearer), she became part of another cultural phenomenon: Posh and Becks. Each augmented the other's fame until they were more popular as a couple than they had ever been as individuals. They became a two-headed, paparazzi-hunted Hydra of Headlines.
I stare at the "pic-cha" that she is now more closely examining on her cell phone screen. "I'm going to send this to David and see what he thinks," she whispers.
"Thinks?" I ask. "His brain is not the body part that is going to respond to that image. You're really e-mailing it to him? I mean, one would assume he's seen you like this before."
Beckham laughs as she pushes the Send button. Yes, laughs. Though she doesn't often smile in public, in private she's generous with her humor. "Contrary to the rumors of my wearing sweats around the house, this is how I greet David when he comes home each day," she says, her voice losing its burnished Hepburn purr and taking on a fake hauteur. "The only difference is that I have a leashed Doberman in each of my hands. And when dressed like this, I insist my children call me Mommy Dearest." With that, she strides, in character, out onto the folly's lawn and begins to pose.
An almost completely different person greets me the next morning for breakfast in her temporary apartment at the Metropolitan hotel on London's Park Lane. Beckham is barefoot on the floor in a pair of ripped jeans and a tank top through which a lime-green bra peeks out. Her hair is pinned haphazardly atop her head. Busy untangling her travel jewelry — mostly strands of gold necklaces and bracelets — she tosses each untangled strand into a small, nondescript cardboard box.
"I look a bit different than yesterday," she says, smiling at my reaction to how fresh she looks so early in the morning, how un-made-up. But she's already been awake for several hours, having seen David and their boys off to the airport for a camping trip back home in America where they have lived — in Los Angeles — since 2007, when her husband signed a record-shattering $250 million contract to play for the city's Galaxy soccer team. "There are rumors that we want to move back to the U.K., but we're so happy in America I actually can't see us ever leaving ... People ask me how long it took to adapt. Twenty minutes. I'm a very driven, ambitious, positive person. But I'm a spiritual person as well. I believe in creative visualization. So for me to go to America — which I find such a positive place — well, I took to it like a duck to water.
"In England, David and I are big fish in a small pond. But in L.A., we are tiny, tiny, tiny fish in a big pond. I mean, let's be honest about it. When you've got Tom Cruise and Katie Holmes living down the street as your neighbors, who gives a shit about Victoria and David? Bottom line: I can relax in L.A. I think I'm the only person in that town who doesn't want to act," she says. "I was an OK singer. I was an OK dancer. But acting? Never could do it."
She has happily discovered where her real talents lie. She has more than just a knack for wearing clothes; she has a gift for designing them. Beckham is not a celebrity dilettante dillydallying in her latest hobby. Deadly serious, disciplined, she has decided to channel all of her creative energy into her fashion company, named Victoria Beckham. She is determined to make it a worldwide presence. Her business partner is her old Spice Girl Svengali, Simon Fuller, and together they are meticulously building her "brand," a word she intones often in conversation as if it were an incantation. It — along with her creative visualization — must be working. Executives at Range Rover recently cold-called her, asking if she'd collaborate with them on a special-edition SUV. She quickly agreed and could not get to the company's headquarters in Oxfordshire fast enough. "When I was meeting with the men down there, and I was tottering around in my little skirt and high heels and Birkin bag, I thought, I'm the luckiest person in the world."
Creative visualization sounds like something out of the Church of Scientology, but while the Beckhams hang out with quite a few Scientology-friendly people, Beckham says they are not adherents. Though they might now consider themselves tiny fish in the big pond of L.A., they still would be quite a catch for the church. "We aren't Scientologists," she says. "We really don't know very much about it. I mean, Tom and Katie — they've mentioned it to us. But, no, they didn't try to hook us and reel us in. It never really crops up. I'm very close to Katie, but with us, it's all about girl talk ... Katie is so talented and such an incredible mother, spinning plates like all us working mums do."
Read the rest of Marie Claire's exclusive interview with the star in our November 2010 issue, on newsstands October 12.
Want more? Check out Victoria Beckham's style evolution through the years!