Exclusive: In This Moving Essay, Misty Copeland Takes You Inside the Moment She Made History
The phenom just became American Ballet Theatre's first-ever black principal dancer—and in this new epilogue to her bestselling memoir, Life in Motion, she's sharing an intimate look at how her world changed.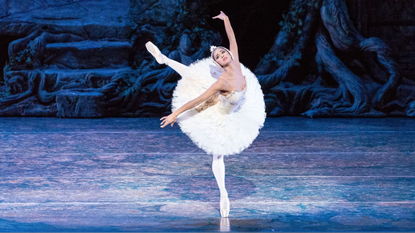 (Image credit: Darren Thomas/QPAC)
There's one question I've been asked most often since becoming the first African American principal dancer at ABT. So, what's next?
I know what these well-meaning fans, journalists, and friends expect me to say. They want to hear about TV appearances, guest roles on Broadway, prime-time competition hosting gigs, my writing, even film projects. They want to hear about the trappings of modern celebrity that seem so glamorous to outsiders.
But most often, when I'm asked about my plans for the future, I shrug and smile, and say, "Rehearsal."
Promotion announcements happen randomly, and there's no set structure to them, but it's fitting that I found out about my promotion in the studio where I've spent so much time over the last decades since joining ABT's studio company in 2000. I was promoted to soloist at 24 but that was a quieter affair. Kevin had called me into his office towards the end of that year's spring season and shared the happy news, but it was all secret: I couldn't tell anyone until he made the announcement at our company meeting and a press release went out.
When I found out that I would become a principal, though, it was in front of my closest colleagues: the dancers who have seen me during every injury, through every difficult step of new choreography, through every round of warm-up pliés, through each new role. It felt fitting that I found out in the midst of the company—my company.
There is a video of that moment taken by Julie Kent, a 30-year veteran of ABT who had danced her last performance just a few nights before. I had no idea she was filming, and you could tell. In it, I'm flopped on the floor in no makeup, looking just like I would any given morning before rehearsal. The news was a complete surprise. As I heard Kevin say "Misty, take a bow," Jennifer Whalen, one of my best friends, kisses me on the cheek. I'm smiling—you can't imagine how filled with joy I was in that moment—but as soon as I lifted my head from Jennifer's black leotard-clad shoulder, my face crumpled into tears. How else could I react when my biggest dream came true?
It's been several years since I began work on Life in Motion: An Unlikely Ballerina, but just because I published a memoir, it doesn't mean I have all the answers about myself. I've been open about how my childhood was the beginning of a difficult quest for stability. Being one of a boisterous group of siblings and feeling rootless and unmoored as we moved from place to place has always made me crave acceptance and balance. As I traveled the country dancing and speaking, I've been amazed to see just how much people have connected with and related to me. As different as I felt as a child, with all of its accompanying struggles and blessings, it's been wonderful to see that there are so many people out there going through very similar things. It's a comforting feeling that's made me feel more at ease and accept a lot about myself both now and in the past.
In some ways, I wish I hadn't been the one to achieve this dream. It means so much to me to see wonderful black ballerinas who came before me, who faced so much more adversity, receiving the honor they are due. One of my favorite interviews in the months before I was promoted was with a travel magazine that ran an article on Raven Wilkinson's role as a mentor in my life.
My entire career has been devoted to becoming an ABT principal because I wanted to break a barrier that, often, seemed so insurmountable. Despite what some have suggested, personal fame is not my goal. Yes, I wanted to make history, but it was never on my own behalf. By becoming the first black woman to hold such a role in a national company, I could take a step forward for all the beautiful young dancers who will come after me. I want to pave the way for them, because I hope it will make their journeys easier. I even pray that they will surpass me, if only because it will mean that their burdens have been lightened and they can leap forward into the spotlight. I hope that young dancers in companies all around the country will have to face fewer questions about whether they belong in ballet, both from others and in their own minds, whether that is because of their size, shape, or skin color. My message remains the same: If there is space for a quiet little brown girl from San Pedro in ballet, there is room for you, too.
I was off the night of my promotion, but I went straight into rehearsal after the meeting to prepare for my role of the Autumn Fairy in Cinderella the next evening. And the next morning, I was back at the barre, where I have always found so much comfort and inspiration. To the outside world, I was different, but I felt like who I've always been—a ballerina, striving to do her best at what she loves.
This is an exclusive excerpt of Copeland's new epilogue to the bestselling memoir Life in Motion: An Unlikely Ballerina, which is being re-released in October to include it. Buy it on amazon.com.
Marie Claire email subscribers get intel on fashion and beauty trends, hot-off-the-press celebrity news, and more. Sign up here.