Why 'Neighbors 2' Star Kiersey Clemons Is Going to Be Your New Favorite Actress
And how crystals come into play.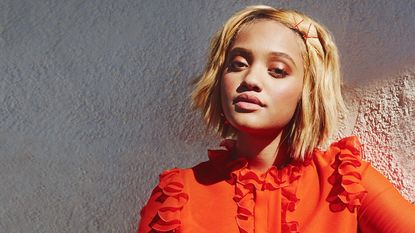 (Image credit: Guy Lowndes)
Marie Claire Newsletter
Celebrity news, beauty, fashion advice, and fascinating features, delivered straight to your inbox!
Thank you for signing up to Marie Claire. You will receive a verification email shortly.
There was a problem. Please refresh the page and try again.
You know that thing where you go see a movie and get blindsided by an up-and-comer who kinda steals the show? That's Kiersey Clemons, who made a splash last year in indie favorite Dope and takes her turn on the wide-release big screen in Neighbors 2, out now. Here, a primer.
Good Girl Gone Bad: "There's never been a movie like Neighbors 2—we never get to see college girls being comedic. I play Beth; she embraces being a human being, like, I want to learn about myself and my sexuality, make new friends, smoke weed, get drunk...She'd totally be down with crystals."
Origin Myth: "Two years ago, while walking in Williamsburg, Brooklyn, I saw a street vendor selling crystals. He talked me into getting a rose-quartz necklace, and I carried it around everywhere."
Going Once, Going Twice: "I started following girls on Instagram, like @rocksforthespirit. She'll post a photo of a crystal for auction, and you bid in the comments. One time, I really wanted this huge teal-colored crystal. I didn't even know what the stone's properties were, I was just like, That's beautiful; I bet it does great shit; I want it. I was bidding up to $400! Then a friend came over, and I forgot about bidding and lost. That's God telling me, 'You need to calm the fuck down. You don't need that—you don't even know what that does.'"
Sorry Not Sorry: "I understand why people believe it's a placebo effect—there's no physical evidence that crystals heal you—but, to me, that makes it better. That I can trick myself into thinking I'm healing myself—that makes me feel like I'm a goddess."
Follow her on Twitter @KierseyClemons and on Instagram @Kiersey.
Photograph by Guy Lowndes, Fashion Editor: Brittany Kozerski. This article appears in the June issue of Marie Claire, on newsstands now.
Celebrity news, beauty, fashion advice, and fascinating features, delivered straight to your inbox!
As deputy editor, Jen oversees Cosmopolitan's daily digital editorial operations, editing and writing features, essays, news, and other content, in addition to editing the magazine's cover stories, astrology pages, and more. Previously, Jen was a senior editor at Marie Claire. Before that, she worked at GQ.