Jessica Williams Is the New Queen of Comedy
The Daily Show's youngest correspondent ever. Cohost of cult podcast 2 Dope Queens. Her own Comedy Central series. Here, Williams reflects on killing it in the funny business.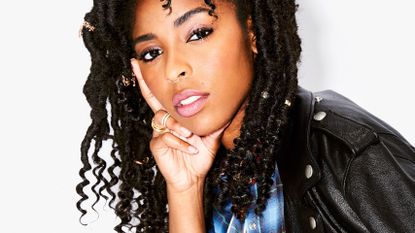 (Image credit: Kate Owen)
Marie Claire Newsletter
Celebrity news, beauty, fashion advice, and fascinating features, delivered straight to your inbox!
Thank you for signing up to Marie Claire. You will receive a verification email shortly.
There was a problem. Please refresh the page and try again.
For decades, female comedians have been shut out of political satire. It's not that women don't joke about politics, it's just that they aren't often given an opportunity, let alone a platform, to share their views with the broader public. Of course, there have been notable exceptions—is it even possible to imagine Tina Fey without seeing Sarah Palin?—but for the most part, poking politics has been a male pursuit. In 1996, back when Bill Clinton was president, The Daily Show came along and fast became our most reliable (and reliably biting) outpost for political satire. Though the show was actually created by women—comedians Lizz Winstead and Madeleine Smithberg— it has long been associated with its male stars, most notably host Jon Stewart and its three other most famous alums, Stephen Colbert, Steve Carell, and John Oliver. As for the women on the show, only a couple have emerged as bona fide stars: Samantha Bee, who left to front her own politically skewering show on TBS; and Jessica Williams, the show's designated "youth correspondent," who announced her departure in June.
When she was hired in 2012, Williams was 22 and the youngest correspondent to ever work at The Daily Show. She was the first black woman, too.
Her arrival was a big deal for the show, which had famously struggled to include female voices. And Williams quickly found a niche—segments about the hot-button issues of race, feminism, and, sometimes, the intersection of the two—that crowned her one of the most popular (and recognizable) castmates.
"Sometimes, you feel like, Am I going to be upset about this as a black person or as a woman first? Or am I gonna be both?" says Williams, over a cup of tea and crackers. "Because some things inherently affect black women; some things affect you as a woman and not a black person; and some things just affect you as a black person."
Williams' exit from The Daily Show, currently anchored by Trevor Noah, is bittersweet, especially during this particularly charged election season. The timing couldn't be better for her to embark on a promising solo career, but make no mistake, we are losing an important political voice.
Williams is now at work on her own hotly anticipated show for Comedy Central, a scripted series about, as the log line says, "a politically minded young woman who may be 'woke' but doesn't know what she's doing." It will pull from her own life, and while it's sure to delve into thorny topics (as sharp comedy does), it isn't a talk show à la Larry Wilmore's recently canceled chat fest. And while Williams also cohosts the popular podcast 2 Dope Queens, with stand-up comic Phoebe Robinson, it only grazes politics, instead mining its LOLs from dating, beauty, and pop culture. This fall, she's shooting an indie rom-com opposite Chris O'Dowd. So for the time being at least, Williams is done with political satire. And it's hard to tell that she really misses it much. "It's been very nice to be on vacation, because everything's infuriating. I've been very much enjoying doing the movie and doing my own show and doing 2 Dope Queens. Because this election is cray-cray," she tells me.
Williams was raised in an upper-middle-class Los Angeles suburb, the middle of three children. It was her grandmother, a fan of MadTV, Saturday Night Live, and even Adult Swim, who introduced her to comedy. "She had this twisted sort of humor," Williams says. "She was just a really sassy lady. She always drank Colt 45s and she smoked cigarettes. I feel like there are two types of grandmas. There's a milk- and-cookies grandma, and then there's a Vegas/Atlantic City grandma. And my grandma was the latter, which was really, really fun."
In high school, Williams took up musical theater and comedy sports, a type of competitive team improv, and, being that she was in L.A., she also got an agent. Before long, she was cast on a Nickelodeon series, Just for Kicks, about a group of girls on a soccer team, which lasted just one season. For college, Williams went to California State University at Long Beach, where she majored in film and English, and then she started taking classes at the L.A. outpost of the Upright Citizen's Brigade. In 2012, she auditioned for a Will Ferrell and Zach Galifianakis movie, The Campaign. She didn't get the part, but the casting director, Allison Jones—she famously discovered Jonah Hill and Seth Rogen, among many others—suggested Williams submit a tape to The Daily Show. Williams put on her best representation of a newswoman and did two segments—one Aasif Mandvi piece, the other by Oliver.
"I'm a perfectionist, so in my head I was like, Oh, I could've done that dick joke better," Williams recalls. A week later, she was in New York. The first time she met Stewart, he was coming down the hall, singing, and then "just walked up to me, shook my hand, and looked me in the eye and said, 'I've already seen your tape. I already like you. You don't have to worry about impressing me. Just make sure that you're present with me.' And it was really liberating," she recalls. "I auditioned with him. He improvised a little bit, and I improvised a little bit, and it just felt like a really good date, is the best way I could describe it."
Williams' first few months there were a crash course in high-voltage, supersharp comedy. "I had to get used to seeing Samantha Bee around, I had to get used to seeing Jon, like, getting a bagel, and to John Oliver, and all these people whom I had seen on TV. Colbert would sometimes drop by. I had to get used to being a part of this multiple-Emmy-winning machine and being this 22-year-old black girl who was really green," Williams recalls. "Getting past that initial intimidation took a little bit, and feeling comfortable enough to pitch ideas. I had to come outside of myself a lot. 'Cause I wasn't someone who was super- outspoken. Every single person at The Daily Show is fucking hilarious, but I would have to get used to these big meetings where everyone was just firing off. I would raise my hand, and Jon would point to me and say, 'Jessica, what do you have to say about this?' Just to sort of get my muscles going. That really helped me out a lot." The first piece Williams really felt a connection to aired during the three-month period that Oliver was hosting; it was about the New York City police department's policy of stop and frisk. After that, "I started to pitch more ideas along that line, even down to women getting catcalled," she says.
After four years, Williams sounds more like a hard-charging journalist than an entertainer. Take, for example, her parting shot on her last episode: a segment about Bernie Sanders voters who say they're going to vote for Donald Trump. Williams interviewed the voters and exposed the craziness in the logic. "I got a lot of flack from Bernie supporters that I had represented Bernie or Busters that way," Williams says. "I love Bernie Sanders so much, but to go from voting for him to voting for Donald Trump, who is racist and a bigot, and who believes that women should be punished for having abortions, and who never says anything consistent, and who does not have a plan, and who rides on this idea of hate and terror—that is a story. It is a fucking story."
In her new series for Comedy Central, which she'll write (with stand-up comedian Naomi Ekperigin) and star in, Williams describes her character, a journalist, as a young black feminist. "She wants to write hard-hitting stories, and she gets a job at a place where they want slideshows of cats and stuff," she says. "It's gonna be like me. I'm a young person; sometimes I'm political, sometimes I'm not. Sometimes, on 2 Dope Queens, we just talk about whether we would do it with Don Draper or not. So it's going to be all those things."
If it's anything like Queens, which debuted in April, expect it to include diverse voices and opinions. "If I see one more straight white dude get up on stage and talk about masturbating in the same way that it's always been talked about, it's like, I don't fucking care anymore," Williams says. "I was doing a college show for the first time, and there was this 20-year-old gay male who's been diabetic his entire life. He said, 'I really wanna get into stand-up.' I was like, 'Oh, my God, do you realize how interesting and inherently funny you are? Go do all the comedy that you wanna do.' I care about that."
This article appears in the November issue of Marie Claire, on newsstands now. Fashion Editor: Brittany Kozerski
Celebrity news, beauty, fashion advice, and fascinating features, delivered straight to your inbox!