Renée's Renaissance
With 40 in the crosshairs, the indomitable blonde is renovating her house, doing sit-ups — and keeping her romantic options open.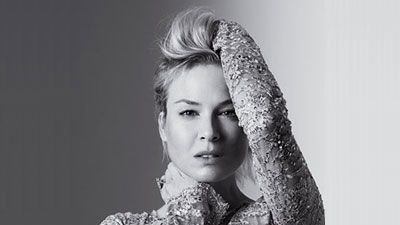 (Image credit: James White)
Marie Claire Newsletter
Celebrity news, beauty, fashion advice, and fascinating features, delivered straight to your inbox!
Thank you for signing up to Marie Claire. You will receive a verification email shortly.
There was a problem. Please refresh the page and try again.
Is that her? Hollywood is so full of petite, perfectly formed blonde women that it's hard to tell from a distance if this one — hair loosely pinned up and wearing sunglasses, a long-sleeve T-shirt, workout pants, and sneakers — is Renée Zellweger. But when she says, "Hi, I'm Renée," her voice is instantly recognizable. It's a mix of sugar and sandpaper, with a lilting hint of her native Texas, that has uttered some iconic movie lines: "You had me at hello," from her breakout movie, Jerry Maguire; "Bridget Jones, wanton sex goddess, with a very bad man between her thighs — oh, Mum ... hi," from Bridget Jones's Diary.
No sooner have our butts (hers very tiny) touched our poolside chairs at L.A.'s Sunset Tower Hotel than Renée is off and running about rampant consumerism, the political situation in Darfur, even a few questions about me. Aside from being a very polite person, who famously thanked Tom Cruise in her 2003 Oscar acceptance speech (for Cold Mountain) for "showing me that kindness and success are not mutually exclusive," this is Renée's way of sweetly but firmly taking the wheel and steering the conversation away from herself.
A big part of Renée's charm is how relatable she is; she is our everywoman.


SEE PHOTOS FROM RENEE'S COVER SHOOT HERE


She reminds us of that fabulous friend who has a great career — and a little trouble in the man department. Renée's résumé includes executive-producer credits and back-to-back high-profile roles; her latest is in the romantic comedy New in Town, with Harry Connick Jr., whom she says "brings so much joy into a room, it's kind of sickening." She's beautiful, but attainably so — we can imagine copping her red-carpet looks, especially when she once lost her luggage and faced the paparazzi makeup-free in schlumpy jeans. When she did Bridget Jones, Renée nixed the fat suit and just ate the way we all wish we could, gained the pounds, owned the hips, and flashed her new cleavage. (Now she looks compact in her après-gym outfit, her hiked-up pants revealing calves so toned they could kill a man.) She's also going through some life experiences a lot of women can relate to: an upcoming 40th birthday, and a failed marriage behind her.
When asked what hitting the big 4-0 in April might mean to her, Renée lets out a slightly sarcastic "Woo-hoo!" but quickly shifts gears. "I don't think about it — enough, I suppose. A guy at the Toronto Film Festival said, 'How do you feel about that? It's coming uuuu-up.' And I'm thinking, For who? It's not on my mental timeline." (Although she does admit, "I'm doing sit-ups every day so that I could maybe look like Helen Mirren in a bikini.") "When I was a kid, 40 was ancient," Renée says. "An-cient! On the other side of youth. I don't think of it that way at all anymore. Even friends in their late 50s feel like contemporaries. I'm glad of that; it makes possibility less of a finite thing."
Is she referring to possibly getting married again, after 40? "I never say never about anything, because I look back on my own personal history and it shocks me," Renée says. "If I would ever have said, 'Oh, for sure this is going to be in my future,' most of my experiences would not have been on my list. So I don't even bother thinking about it, because I've learned that there's no anticipating that stuff."
Renée's personal history, in brief: After a couple of years with her Empire Records costar Rory Cochrane, she traded up to Jim Carrey, whom she worked with on Me, Myself & Irene, in 2000. She then weathered rumors of an affair with George Clooney (about whom Renée will only say, "I have so much respect for him as a citizen and as an artist — I'm less inclined to whoopee-cushion my friends, though") and took up with her Cold Mountain costar, White Stripes virtuoso Jack White. In January 2005, Renée was manning donation phone lines at the Concert of Hope tsunami benefit when she met country singer Kenny Chesney, who performed at the event. Apparently, he'd been nursing a years-long crush on her. Five months later, they were married on the beach at his home in St. John — she in white strapless Carolina Herrera, he in a black cowboy hat, memorably kissing her hand while he scanned the horizon. After four months as Mrs. Chesney, Renée had the marriage annulled, citing fraud. Not surprising, Renée won't talk about it, refusing with a small shake of her head, eyes still hidden behind her sunglasses.
She's been the fizz in brawling boys-club movies like Leatherheads and Appaloosa. Off-set, however, there's no sparring partner — at least not right now. "The thing is, I'm away all the time," says Renée, who has a farmhouse on Long Island undergoing perpetual renovation and an apartment in New York. "I suppose if I sat still long enough to get to know somebody beyond a dinner date, maybe. But I don't feel like my life is empty or that I have to make something happen. I have projects to develop. I want to study American history and political science, live in an apartment in France, and fix my bad French. And is there really time for all of it?" she asks, with a Botox-free frown.
"Last summer, when I said it wasn't the right time for something I wanted to do, a friend asked, 'How long are you going to live?'"
Then she offers that gentle smirk of hers. "I'm not single, I'm busy," Renée laughs. "That's my line."
So. She is a glittering star who, like the rest of us, is trying to figure it all out and nail that elusive secret to happiness. "Rainer Maria Rilke said, 'A good marriage is that in which each appoints the other guardian of his solitude.' Isn't that beautiful?" she says dreamily. "It touches on everything - an appreciation of the whole person, not needing to fix them . . ." That said, beware dependence. Renée refers me to Mandy Moore's "Gardenia": "I've been seeing all my old friends in the city/And walking alone in Central Park/Doing all the things that I neglected/I traded 'em all to be in your arms."
But before I can ask why this resonates with her, Renée cheerfully changes the subject--for maybe the eighth time. "It's funny, the things you learn - like airplane etiquette, when you travel so much. The sign on the bathroom door may say

vacant, but there's knocking, just in case. I don't want to be the one who experiences you with your drawers down!" Renée laughs - confident, I suspect, that we'll never catch her that way.
Suzan Colón is the author of What Would Wonder Woman Do? An Amazon's Guide to the Working World (Chronicle Books).
Celebrity news, beauty, fashion advice, and fascinating features, delivered straight to your inbox!