Coco Chanel's Legacy: A Chat with Biographer Justine Picardie
The author of Chanel: Her Life reveals some seriously enlightening anecdotes about the legendary designer and fashion icon.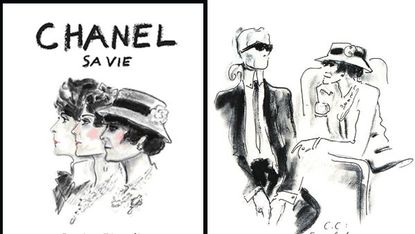 (Image credit: Courtesy of Chanel)
It's hard not to be obsessed with Coco Chanel. The legendary designer brought us the classic quilted leather chain bag, all things tweed, and No. 5, after all. And although author Justine Picardie used the word "obsessed" to describe her emotional state while penning the icon's biography, we have a feeling it's a bit of an understatement.
Her obsession paid off: Chanel: Her Life, published by Harper Collins last year with a second edition set to come out this month, was the culmination of 12 years of constant research, and it is one of the only Chanel biographies in history to receive the fashion house's interlocking-C seal of approval. (In fact, Chanel head designer Karl Lagerfeld illustrated the newest version of the book with his trademark sketched silhouettes, like the ones above.)
"I went to many different places on the trail of Chanel," says Picardie, who was the first author to examine previously undiscovered private archives in France and the U.K., and who was lucky enough to try on some of her subject's coats and jackets, including one that had a handkerchief that still smelled of her fragrance du jour. "You could smell the scent of No. 5 wherever she went."
Over lunch this week, Picardie chatted about the new release of her book, disputed those recent allegations of Coco's lesbianism and Nazi sympathizing, and imagining what the icon would think of today's trends in fashion.
On Chanel's oftentimes complicated relationships:
She had a talent for staying friends, she was good at staying friends with her ex-lovers, but she also, for someone who's often described as either a bitch or a lesbian, or a narcissist — which are kind of misogynistic and sexist descriptions of her — she did have a talent for friendship.
On her struggle to own her eponymous fragrance, Chanel No. 5:
When she first came out with Chanel No. 5 in 1920 to 1921, it was just manufactured on a really small scale, and there wasn't the capacity to manufacture enough of it, so she was introduced to Paul and Pierre Wertheimer, two Jewish brothers who already owned a very big cosmetics company in France. And so a deal was done for Chanel perfumes where they owned 90 percent of the business and she owned 10 percent. But it was in her name, and it was Chanel Perfumes. And as it is often the case in fashion, she was incredibly successful when she came to America in 1931, and the perfume was where the huge revenue came from and she was only getting 10 percent of it. Pretty quickly she started regretting that decision and started taking out legal cases against them to such a degree that they employed a full-time lawyer just to deal with Coco Chanel. And yet, it's this massive contradiction because she and Pierre were very close. They were good friends. But she tried to sue and always lost.
On why she closed the House of Chanel at the start of World War II:
I actually think Chanel's decision to close down was the honorable thing to do, as it was no time for fashion, and everybody else kept their fashion houses going. And, yes, they said it was an act of patriotism. But they were also designing for Nazis and their wives, their mistresses, the collaborators, the black-marketeers.
On the recent allegations that she had Nazi ties:
I know there's been a lot of publicity about this new book [Coco Chanel: An Intimate Life by Lisa Chaney], about Chanel during the Second World War. I don't think anyone should be rude about another writer's book… I have read all the same sources, they're all in my book, and it's not like I'm saying suddenly it's all different, and I think that it's a much more complicated story, much more nuanced story, much more interesting story. Nonetheless, what did happen, during the occupation of Paris, and this is the dishonorable thing she did, is that she thought, 'I want to get my company back by any means possible.' So she tried to use the anti-Jewish laws in occupied Paris to get her company back.
On how an unlikely corset brought Chanel back into fashion:
Everything Chanel had done up until now was to liberate women literally from the tyranny of corsets and liberating women from the idea of being defined by who their husband was, who their father was… Independence was part of what Chanel stood for. And so, when Christian Dior came out with the post-war "new look," it was the absolute antithesis of what Chanel stood for because it brought back corsets. She was so enraged by the return of them, that she thought, 'I didn't spend all those years taking corsets away for somebody to bring them back.' So she went back into business — the French hated it, but the Americans loved it. America was crucial to her comeback.
On the timelessness of Chanel's creations:
She always said she designed for herself, so if it would work for her then it was likely to work for other women. So most of us, unless you're Isabella Blow, we're not going to walk around with a lobster on our heads. And I think that she was less interested in fashion than in clothes. And to me that's what separates her from everybody else. She was also designing for the contemporary woman, the woman who was working, just as Chanel had to work, who was running, dancing, going from the office to a party. That is what sets her aside. She was also one of the very few female fashion designers. I mean, most of them were men. And they were designing for a certain kind of idealized version of a woman. Whereas Chanel said it didn't matter to her whether a woman was fat or thin, or small or tall, she wanted to make clothes that women were comfortable in, could breathe in, could feel happy in. I don't think anybody else did that.
On what she'd think of today's casual style sensibilities:
She thought that imitation was the sincerest form of flattery. She never minded copies, and I think that if she'd seen how people dress now… Like, I'll wear a pair of Gap jeans and a denim jacket, and I think she would have been totally relaxed about it. Because there are pictures of her wearing very loose fitting, kind of sailor trousers in the 1920s and '30s. I just don't think she would have made a fuss about it.
On Chanel's legacy:
Chanel, like all of us, is incredibly complicated and nuanced and full of contradictions as we all are, but when you look at any kind of hugely iconic figure, they will be often a mixture of darkness and light. And in Chanel, you see that real mixture of intense darkness as well as, if fashion is among the things we understand as light and the surface of things, then she also had to have a powerful personal understanding of the darkness that she came from.