Girls' Season 2, as Told Through Hannah, Marnie, Jessa, and Shoshanna's Style Evolution
It's been a confusing, much-too-short Season 2 for the girls of Girls. And as style and Girls obsessed as we at MC are, it was only a matter of time before we took a look at the HBO show's stand-out style moments.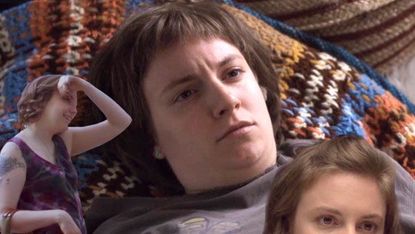 (Image credit: Unknown)
It's been a confusing, much-too-short Season 2 for the girls of Girls. The now-famous foursome spent 10 episodes playing naked ping-pong with doctors, "holding hands" with doormen, and obsessively counting to eight. With each new episode, we saw the ladies a little more unraveled than they were in the show's previous 30 minutes, as their clothes clearly depicted. As style- and Girls- obsessed as we at MC are, it was only a matter of time before we took a look at the HBO show's stand-out style moments.
Hannah Horvath
Season 1 saw Miss Horvath in a constant rotation of airy floral shorts, vintage-inspired tops, and the occasional bright hair clip. At Hannah's dinner party in "It's a Shame About Ray," the hostess looked perfectly put-together in a plaid Urban Outfitters dress and cute drop earrings. Her hair? A perfectly executed bob.
Fast-forward to the season's last two episodes, where Hannah exclusively donned an oversized "Life is Good" tee and her biggest accessory was a cotton ball in her injured left ear. Her hair: complete bowl cut. OCD is nothing to joke about.
Our Season 3 prediction for Hannah: Honestly, we can only hope she gets better mentally, for her sake and for ours. It's difficult to watch a character to whom we've grown so attached relapse into such an alarming state. With Adam's shirt-less help, we think she may be able to do it.
Marnie Michaels
While Marnie caught a mere glimpse of rock bottom last season during her breakup with Charlie, the gallery girl-turned-aspiring Regina Spektor embraced her dramatic plummet throughout Season 2. We loved Marnie's power ponytails and glam workwear in Season 1 — even her "JLo at the Grammy's" ensemble from last season's finale towered over anything she wore in Season 2.
Of course, there was the Wedgebrook Club hostess get-up — which Ray so-aptly dubbed fit for a magician's assistant — but she soon abandoned it and opted for a pigtail, flip-flop, and baggy jeans combo in "It's Back." Marnie's sartorial trajectory reached full circle by last night's finale, however: Back with Charlie and (ideally) full of some semblance of direction, she returned to her structured dresses comfort zone.
Our Season 3 prediction for Marnie: We assume she will get bored of Charlie, even though he's now swimming in both money and MAUs. She actually has a pretty stellar voice, so she might be forced between pursuing that or a more practical gallery job.
Jessa Johansson
While Jessa played a less prominent role this season than she did in Season 1, her style in Season 2's first seven episodes generally remained along the lines of her signature boho-traveler look. There were the post-honeymoon cornrows, immediately followed their crimped remnants in "It's a Shame About Ray." The rest of Jessa's on-screen ensembles stayed true to form, featuring tunics, harem pants, and a seriously beautiful braid we saw in "Video Games."
Our Season 3 prediction for Jessa: Jessa makes her triumphant return from wherever she was off galavanting, only to reveal that she was seriously soul searching and has her motivations almost all figured out. Almost.
Shoshanna Shapiro
Shosh's meticulously planned outfits and intricate hairstyles never disappoint, and while her character experienced quite an awakening throughout Season 2 — sex, adultery, and a live-in boyfriend! — she remained perfectly primped.
Who could forget that Jackie O-inspired ascot in the season premiere, or the red hot dress and prominent side braid she debuted at her friend's party in "It's Back"? Shosh's flirty blouses and skirts are nothing if not consistent, and we expect plenty more bows and frills, though perhaps with a more adult, sexy edge, in upcoming seasons.
Our Season 3 prediction for Shoshanna: After dumping Ray and embracing a fresh, all-positive outcome, Shosh has no where to go but up. We don't see her going after Ray anytime soon, giving her plenty of confidence to go after the blonde investment banker of her dreams.