Exclusive: Helena Christensen Talks Design, Photography, and Philanthropy
Helena Christensen is just one of those ladies who, quite frankly, does it all. Her most recent venture has been a design collaboration with Kipling, and we spoke to her about this collection, her philanthropic involvements, and her fashion-crush on Yves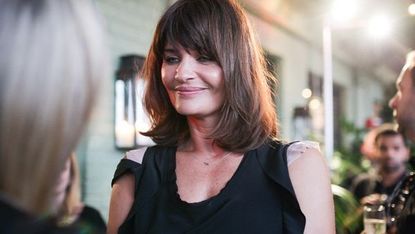 (Image credit: Marie Claire)
Marie Claire Newsletter
Celebrity news, beauty, fashion advice, and fascinating features, delivered straight to your inbox!
Thank you for signing up to Marie Claire. You will receive a verification email shortly.
There was a problem. Please refresh the page and try again.
Danish beauty Helena Christensen is just one of those ladies who, quite frankly, does it all. The former Victoria's Secret Angel has truly covered all the bases in the fashion world. Christensen's most recent venture has been a design collaboration with Kipling, retailing for $109 to $269, in which she's designed a line of versatile handbags for women as elegant, worldly, and on-the-go as herself. We spoke to her about this collection, her philanthropic involvements, and her fashion-crush on Yves Saint Laurent.
Tell me a little bit about the collection!
I've always used Kipling bags for traveling, so when they approached me for doing a little line for them, I thought "Well, this will be a cool way of putting my own personal signature on the bags that I'm going to be carrying around anyway." I thought that what I would like to include in the collection would be little bags that would be able to be used either during the day, and then cross over into evening bags, like little cocktail bags. All the bags that I have from Kipling have been very practical, like suitcases or carry-on bags or weekend bags, so I just wanted to get them smaller in size so that they could be used in a more versatile way.
What were your main goals while creating this collection?
I wanted to not make it anything precious, but still give it a little bit of a timeless, modern look, and include leather. I love the way leather ages. I love the way it almost takes a little bit of a shape of your own personality, because it follows you. And then it's good for evening, it's good for day, it's good for business, it's good for anything elegant. And some of the other bags have the print and the photo, which was a way for me to incorporate photography, which I love.
How does your creative process work as a designer?
The way it works for me is very intuitive. I think it's very much how I feel, rather than going through a thorough, detailed creative process that is planned from one end to the other. I have a lot of ideas and thoughts and inspirations in my head from everything, and also from having been in the business for all these years; obviously, you kind of absorb everything around you and you start somewhere.
And every side of the business as well — you've seen it all.
Exactly. And that's also one of the reasons I found it interesting to collaborate with companies on collections like this, because I actually get to dig into my storage spaces in my head and use some of the ideas that I have. Being part of a different side of the business, I'm educating myself in something completely new. Modeling is an amazing job, but it is what it is. Each day is a new team, a new photographer. You create a little idea and you give that performance in front of the camera on the actual day, but that's about it. When you are part of a design collaboration, you learn from beginning-to-end, whether it's lingerie or handbags, how it actually comes about. That makes me feel like I get a more three-dimensional experience out of the same business I've actually been in, but seeing it from a completely different point of view.
Speaking of photographers, you were able to showcase your own photography with this collection. Tell me a bit about the pink rose bag!
It's a photo I took many years ago. I was looking for a photograph that would transfer well onto a surface, where you can see that it is a rose, but it could also just be something abstract. It could've been a more intricately detailed photograph, but I thought that worked well for a simple transfer. Because the rest of the collection is quite neutral in coloring, very classic in colors, I liked the idea of the infusion of pink.
What was it like being able to incorporate your own photography?
Kipling was giving me pretty much free rein in the visual look of the bags, so it was a very natural thing for me to ask if we could do a print. It's really nice. I gave a bag to my mom, and to see her walk around with a rose is very nice. Now she's dressing in pink for the bags, so that's good.
On a different note, can you speak about your philanthropy and foundation work?
When a charity organization approaches me and asks me if I want to be part of a team and collaborate with, for example, Oxfam, as a photographer, that's a really great opportunity for me on a personal level. For me to work with these people and travel around the world taking photographs of, in Oxfam's case, climate-afflicted areas in which I combine my love of photography — reportage photography, documentary photography — I get to interview people who live in the areas, mostly women and children. That is something I would like to do as an actual job, so it's a great opportunity. It just puts everything into perspective. The little, tiny bit of help that one person can do is important. It doesn't really matter how you are involved, or why you are involved. It makes a difference.
Now that this collab is under your belt, if you could have a dream partnership would any designer, living or dead, who would it be?
Yves Saint Laurent would have been a very interesting and fantastic person to collaborate with. I can see us hanging out at his house in Morocco, working on a line of beautiful, long summer dresses. That would be very nice — to sit in the shade of the palm trees in front of his blue house. I feel that the designers from that era were geniuses in a way that seemed not even human. They were so talented on so many levels, but also came from very interesting, exotic, mysterious backgrounds.
Celebrity news, beauty, fashion advice, and fascinating features, delivered straight to your inbox!