Meghan Markle on the Struggles of Getting Into the TV Industry
In an exclusive interview for MarieClaire.com, Meghan Markle opens up about her character Rachel Zane and how long it took her to finally land a role.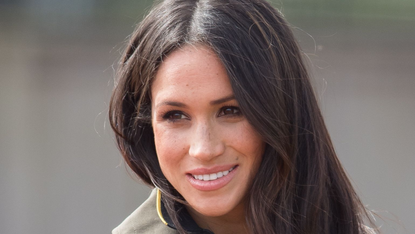 (Image credit: Marie Claire)
This interview was originally published in June 2013.

When we learned that Meghan Markle would be making a pit-stop at the Hearst Tower on her trip to New York last week, we could barely contain our excitement. Meghan and her character Rachel on USA's hit show Suits are both quintessential MC women—ladies chock-full of ambition and intelligence, with a keen eye for style and an admirable amount of strength. Needless to say, we jumped at the opportunity to chat candidly with Meghan about her work, her travel aspirations, and, of course, her character's ultra-chic paralegal wardrobe.
On how she made the jump from politics to acting.
"I had always been the theater nerd at Northwestern University. I knew I wanted to do acting, but I hated the idea of being this cliché—a girl from L.A. who decides to be an actress. I wanted more than that, and I had always loved politics, so I ended up changing my major completely, and double-majoring in theater and international relations. By my junior year I had finished most of my credits, and I applied for an internship at the U.S. Embassy, so I ended up working in the embassy in Buenos Aires for a few months.
It was during their economic devaluation and our Secretary of the Treasury at the time, Paul O'Neill, was there. So I'm 20 years old, in Buenos Aires, in a motorcade, doing that whole thing. I thought for sure I would still have a career in politics. Then I came back to L.A. for Christmas, and a friend of mine from college introduced me to this manager.
He saw a student film that I had done and said, 'You know what, you're going to make money, and I'll take 10 percent, and I think you should stick around.' I was really spoiled because I booked my first audition right away, so it's the biggest tease because you think, 'Oh, this is easy.' All things considered, I'm so grateful and fortunate that I have a show now that's doing well, but it's not easy. It was definitely a struggle."
On how hard it is to make it in the TV industry.
"Before Suits, I did a pilot every single year. I even did a pilot for ABC with Patrick J. Adams, who plays Mike Ross on the show, like six years ago. So long! TV has always seen us in the same way. He's the rough-around-the-edges guy, I'm the polished girl, and there's that, 'Will they ever be together?' tension. It's crazy to finally have a pilot that has more than the longevity of one season—this is like my cup runneth over."
On her character, Rachel Zane's failing relationship with Mike Ross.
"We ended last season on quite a...moment. Right now what they're delving into is the idea of Can Mike and Rachel be a couple? Now she knows this secret of his—she knows that he's been deceptive with her for all this time—and whether she's able to forgive that. I imagine the viewers are ready for the cat-and-mouse game with them to be over, and to really just see what they could be like together. There is an episode coming up that's sort of like Guess Who's Coming to Dinner? where Mike Ross goes to the Zane household—they're casting my mom now. And he really gets to see her whole world. I don't know if this will last throughout the course of this entire season, but I can't imagine that happily-ever-after comes this early on. It's happy for now."
On Rachel's potential storylines this season.
"Especially with the merger with the British firm, there's all these new, charming men coming into the firm, so that will potentially create a rift. But also Rachel has all these other aspirations—obviously the law school thing is very much on the forefront—so, if she ends up getting into another law school that is not in New York, then that would certainly change the game. Right now she's applying to Stanford, so then what? Right now I'm at the mercy of the writers to figure it out."
On Rachel's style.
"I see Rachel as such a good friend, and when you play a character you love, it's so much easier. I root for her; I'm almost like a fan. If I wasn't on the show, I would really love this show, because each of the characters are like someone you know. Rachel is like the ultimate best friend—who has a closet that I always borrow things from in my personal life.
Her clothes are amazing! Jolie Andreatta, our wardrobe designer, and I have worked really hard to make Rachel's wardrobe believable; to make it more like a closet of a mid-20s girl, who works, and yes, has these amazing pieces, but I always mix and match. I wear the skirt that I wore in the pilot so much. All the jewelry that I wear on the show is my own personal jewelry and family heirlooms, like my grandma's charm bracelet and my signet ring."
On playing a character that she fully relates to—especially having a passion for law.
"It's been great. Actually, when I went in to audition for it, I thought I blew my audition. I remember leaving, calling my agent, and saying, 'I don't think I did a good job in that room, and I need to get back in there.' So automatically, Rachel and I, very similar: ambitious, driven, and always trying to take the bull by its horns. My agent just said, 'There's nothing I can do. Just focus on your next audition.' This was not realizing that behind the scenes, they loved my audition, and were putting together a test deal for me. And again, maybe that's where I'm similar to Rachel, in that I'm harder on myself than anyone else might be.
I will say that working in the embassy has rooted my performance for this in a different way. I love the intelligence that's written into Rachel. Look, my very first audition was for 'Hot Girl #1' in some movie. It's the ultimate for me that the writers are able to go 'Sure, you can be a pretty girl, but there's so much more to her.'"
On her aspirations to do more films.
"How do you say no? I mean, we film eight months out of the year in Toronto, so that is a long time to be gone. And the fact is, my last hiatus, I just wanted to go home and nest for a bit. But if I'm trusting my gut now, and I do, it's just time. I would love to do anything from a really gritty, interesting, indie-type film, to that commercial, bigger stuff.
I worked on Fringe for a little bit, and we did a month of gun training, kicking down doors, and it's such a departure from who I am. That's the fun part of our job—to be able to play dress up, and to really throw yourself into something you otherwise wouldn't. I'm excited for what's to come. I think it's going to be a good year."
On her non-work hobbies.
"I love to cook. My character is a foodie because they know that I'm a foodie. I'm always on the quest to find amazing new restaurants and new recipes. I'm a California girl, right? I grew up with that farm-to-table dining before it was sweeping the nation. I do think there's some value to really throwing yourself into food and embracing where it comes from.
I love to travel, too. My most recent trips in the past year-and-a-half have been biking through Vietnam, camper-vanning through New Zealand, and touring the whole coast of Croatia and the islands there. I always want off-the-beaten-path, Anthony Bourdain–inspired travel.
Also, by virtue of growing up really outdoorsy in California, I love running. And I do a lot of yoga, as well, so I think you just find that balance."
Celebrity news, beauty, fashion advice, and fascinating features, delivered straight to your inbox!