Live Blog: Project Runway, Episode 5
Get up-to-the-minute recaps of what's happening on the latest episode of Season 8!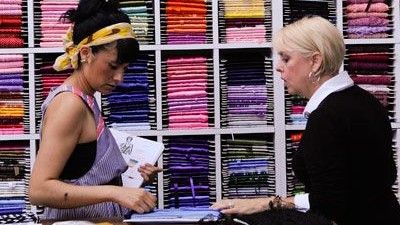 (Image credit: Barbara Nitke/Lifetime Television)
After last week's episode shocked the PR-viewing world when Michael Costello's frock won all … and Casanova surprisingly survived the aufederseining for another week. Who do you think will get the boot on tonight's ep? And will there be another sleeper success with the judges? Follow along right here as we live blog all 90 minutes of designer drama!
PLUS: Follow us on Twitter at @marieclaire as we live-tweet each episode!
(Tune in to Project Runway on Lifetime at 9 p.m. EST every Thursday.)
9:01 p.m. The new episode begins. Can you believe we're already down five designers? As we've seen in previews for tonight's ep, they'll be working in two teams of six designers each. Who do you think will work best together ... and worst?
9:01 p.m. We kind of feel bad for Michael C. not getting love from the other designers. Heidi and Nina seemed to love him, and our loyalties are with them at this point.
9:06 p.m. April just called Gretchen Hitler! Michael C. and April choose teams. On Michael's, the designers have had a total of four wins. And on the other team? ZERO wins. Yikes. Poor Peach was the last one picked for kickball. We know how it feels, Peach. Stay strong.
9:10 p.m. Tim gives the designer challenge. Each team must design a six-piece collection that's on trend for Fall 2010. They have to pick from an assortment of concepts — minimalism, '50s retro, military — and textiles — animal prints, camel, gold, plaids — with a whopping budget of $1,000.
9:14 p.m. It looks like Team Luxe (with Gretchen unofficially taking the reins as the "aren't we the bestest?" leader) is happily planning to do a camel-colored menswear for women line, while Team Military & Lace (with Peach decidedly unhappy with the lack of leader) is struggling to decide how to conceptualize their (duh) military and lace line.
9:17 p.m. Mood time!
9:20 p.m. Valerie combines Team Luxe's method for designing in pieces as "when you have diarrhea and you're vomiting at the same time."
9:22 p.m. Gretchen declares Michael C. the weakest link. Well, too bad for them, because he's got immunity.
9:28 p.m. Garnier hair pro Peter Butler tends to the tresses of each team's models during their styling consultations. Catch? Only two members of each team get to consult with him. I wonder how that'll play out on the runway.
9:31 p.m. As Tim makes the rounds, he once again has criticism for Casanova. It seems he's making one two many "senior citizen" garments. When he checks in with Team Luxe, he has a critique for the whole crew: It's "ho-hum."
9:34 p.m. Valerie and Michael Drummond stroke poor Casanova's ego when he mopes on the couch and calls himself fat. I guess who we know is this season's diva.
9:39 p.m. The models arrive for their fittings. Casanova's model takes her turn playing psychiatrist to couch-lying Casanova. And then? A therapy session breakthrough, and he's back! So what if he can only design for, as he puts it, "sluts and old ladies."
9:42 p.m. We're getting the sneaking suspicion that someone is going to be passing out. The stress is definitely going to get to someone ... soon.
9:45 p.m. Team Luxe puts their models to work! It pays to have many talents, it seems.
9:46 p.m. Designer and co-founder of Marchesa Georgina Chapman is tonight's guest judge. Looking at what she's wearing tonight, she may be going for the underdogs...
9:52 p.m. It's runway time. Team Military & Lace showed first, and it's amazing how it all came together. Next up was Team Luxe, which definitely looked cohesive but didn't have the same wow factor. Wonder what the judges will think.
9:57 p.m. Team Military & Lace won! Or as Peach calls 'em, the misfits! Another Project Runway upset! And the designers are all voting Casanova as the should-be winner! What's happening?!
9:57 p.m. Gretchen speaks (and speaks a lot) on behalf of the losing team. And then, came the water works. They decided that they'd all stand together and not name a designer who should go home. But, as Michael Kors said, it looks like they're defending a teamwork process that just didn't work.
10:11 p.m. Wow, how quickly their tunes changed. As soon as she's asked, Gretchen points the "weakest link" finger at Michael C. As does Ivy and Andy and Christopher. The only one who didn't name names is A.J. Made respect.
10:15 p.m. With their solidarity in shambles, they end up having to go through and name each and every piece they individually designed. Pain-ful.
10:19 p.m. The judges have a little-slash-big chat over who'll be going home. We don't envy them right now.
10:24 p.m. Casanova goes from major designer underdog to crowd favorite in less than 90 minutes.
10:25 p.m. Gretchen and A.J. are in the bottom two. Gretchen has one twice already, so it was no surprise that she's sticking around. But poor Missouri-bred A.J. — who only made one piece in the collection, and who was the only one who didn't call out Michael C. — was out.
10:30 p.m. The biggest shocker, though, was Tim Gunn's lecture to Team Luxe. "I don't know why you allow Gretchen to manipulate, control, and bully you," he says. Wowzers. She's not teacher's pet any longer. Well, 'til next time!
Tell Marie Claire: What do you think of the ep so far? Share your thoughts in the Comments section below!
Previous Recaps:
For More:
Celebrity news, beauty, fashion advice, and fascinating features, delivered straight to your inbox!