Actress Annaleigh Ashford Is Making a "Very Unusual" Career Move
From Broadway to Masters of Sex to her latest daring role, the 30 year old's only gaining steam.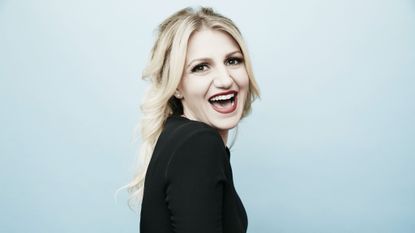 (Image credit: Getty)
If you've had an extensive career starring on Broadway as the likes of Glinda in Wicked, Elle in Legally Blonde, Jeanie in Hair, and Lauren in Kinky Boots, (not to mention stints on TV that include the prostitute Betty Demillo in Masters of Sex)...what the hell is left to conquer?
According to Annaleigh Ashford, it's the basically impossible: playing a dog (yes, a dog) in the Broadway production of Sylvia.
On the heels of her Masters of Sex season finale, Ashford gave us the full scoop.
Marie Claire: So tell us about this role—and how you're preparing!
Annaleigh Ashford: Sylvia is the story of one man and his love for his dog that starts to get in the way of his relationship with his wife, so it's a love triangle between the three of them. It's also a really beautiful love letter to New York—it takes place in 1995, during a time in New York that was a little bit simpler than it is today.
I found out I was going to be working on the play in March, so I've spent the last six months doing research. My dog and I, this summer when I was shooting Masters of Sex in Los Angeles, we took sheep herding classes, agility classes, obedience classes, I read nine dog psychology books. I've been going full out. This is certainly the most challenging role I've ever had in my life as an actor—I don't think I'll ever get the opportunity again in my life to play a dog. It's very unusual to be playing something other than human. Right now in our culture your best bet is maybe to play a zombie, but a dog doesn't come around very often.
MC: Getting into that psyche and physicality must be hard...
AA: One of the great things that playwright A.R. Gurney does in Sylvia is he gives language to the emotional gestures and energy that our dogs give to us when they're communicating. He also gives language to what we project onto our dog. So when a dog does something bad they give you these crazy sad eyes that look guilty. I know my dog does—she pees in the corner and she does this thing where she can't look at you completely and shifts her eyes really fast. According to dog books, they're really not showing guilt, they're showing that they're not sure what's going to happen next. But if you have a dog you're like, 'That is a guilty face.'
MC: How do you transition between shooting TV and acting on stage? Is it jarring?
AA: The last couple of years have been extremely fortunate—I've worked in TV for half the year then on Broadway for the other half of the year. It first started with Kinky Boots in New York then to Los Angeles for Masters of Sex, then back to You Can't Take It With You in New York on Broadway and then again back to Masters and now back on Broadway with Sylvia. We're in the room rehearsing right now, and this is the time when I'm reminded that I haven't been on stage for the last six months.
Even though technically the fundamentals of acting are always the same in every medium, what's different is the size. On camera, the audience can see your eyes close up, they can see behind your eyes, and when you're on stage you need to make sure that the person sitting in the back row can feel what's happening behind your eyes, even if they can't see them. Having a live audience is exhilarating and exciting all on its own, but you know it is quite different. I'm so lucky that I get to explore both mediums in the last couple of years.
MC: As the third season of Masters of Sex comes to a close, how do you feel about being on a show that is so frank and open about sex and being a part of the revolution for women?
AA: I think the show has had such a great air of feminism about it—Virginia and Betty are both women who were living kind of outside the norm of the women of their time. I'm so proud that we have that.
One of the things we've set up from the very beginning is that most of the sex on our show is so clinical—that's why we're able to be so frank and open about, because that's also the way that Masters and Johnson were. They couldn't have done any of their research without the sex being so clinical, and that's why I think their contributions are so important to understanding the history of sex.
MC: What's the best piece of career advice you've ever received?
AA: I had somebody when I was really young, before I left for New York, say to me to just always remember what's most important during the highs and during the lows. What that means is that I think the most important thing for me has been what's the intention, why am I doing this, why do I love this? Our business can be so heightened and when you're up you're so up and when you're down you're so down, so to keep perspective about the art of it has been invaluable to me. It's made every moment a gift.
Ashford's live cabaret album Annaleigh Ashford: Lost in the Stars comes out November 13th.
Follow Marie Claire on Instagram (opens in new tab) for the latest celeb news, pretty pics, funny stuff, and an insider POV.