A Full List of Harvey Weinstein's Accusers and Their Allegations
Actresses Ashley Judd, Gwyneth Paltrow, Angelina Jolie, Léa Seydoux, and Cara Delevingne are among the women who have come forward.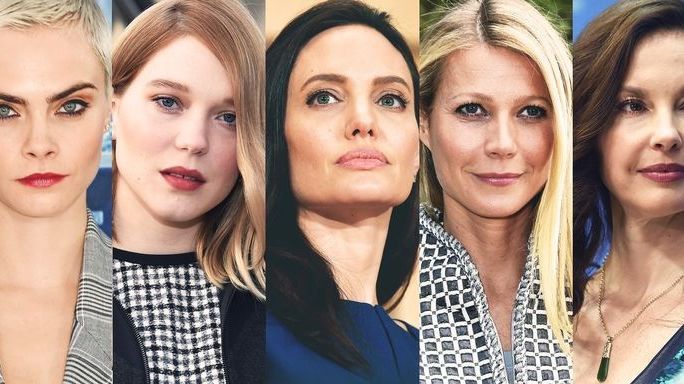 (Image credit: archive)
A week has now passed since The New York Times (opens in new tab) published its industry-shattering investigation of legendary producer Harvey Weinstein and the multiple sexual harassment allegations made against him over the past three decades. Following that piece, several more women have come forward with their own allegations of sexual assault, harassment and unwanted advances, while The New Yorker (opens in new tab) published its own exposé on Tuesday detailing yet more alleged incidents, including three allegations of rape.
RELATED STORY
In response to the initial Times article, Weinstein issued a statement partially acknowledging the accusations (opens in new tab), saying "I appreciate the way I've behaved with colleagues in the past has caused a lot of pain, and I sincerely apologize for it." His attorney Charles Harder said in a statement that the Times' story "is saturated with false and defamatory statements about Harvey Weinstein," and threatened to sue the paper (opens in new tab). Lisa Bloom, another lawyer advising Weinstein, said in a statement that "he denies many of the accusations as patently false." Bloom subsequently resigned over the weekend.
In response to the New Yorker article, Weinstein spokesperson Sallie Hofmeister issued a statement in response which reads, in full: "Any allegations of non-consensual sex are unequivocally denied by Mr. Weinstein. Mr. Weinstein has further confirmed that there were never any acts of retaliation against any women for refusing his advances. Mr. Weinstein obviously can't speak to anonymous allegations, but with respect to any women who have made allegations on the record, Mr. Weinstein believes that all of these relationships were consensual. Mr. Weinstein has begun counseling, has listened to the community and is pursuing a better path. Mr. Weinstein is hoping that, if he makes enough progress, he will be given a second chance."
Here is a full list of Weinstein's accusers so far, their allegations, and their statements. It will be updated if and when necessary. This list contains only accusers that have personally come forward with statements in the press or via social media.
Ashley Judd
Actress Judd told The New York Times (opens in new tab) that while she was working on the 1997 movie Kiss The Girls, Weinstein invited her to the Peninsula Hotel in Beverly Hills for what she took to be a breakfast meeting. Instead, when she arrived she was summoned to Weinstein's room, where she says he emerged in a bathrobe and asked if he could give her a massage, or if she would watch him shower.
"How do I get out of the room as fast as possible without alienating Harvey Weinstein?" Judd said she recalled thinking. "I said no, a lot of ways, a lot of times, and he always came back at me with some new ask. It was all this bargaining, this coercive bargaining." Feeling "panicky, trapped," Judd said that in order to get out of the room, she joked that she would have to win an Oscar for a Weinstein movie before she let him touch her.
Later in the article, Judd added that, "women have been talking about Harvey amongst ourselves for a long time, and it's simply beyond time to have the conversation publicly."
Zoë Brock
Brock shared her allegations via a Medium post (opens in new tab), stating that Weinstein harassed her at the Hotel du Cap during the Cannes Film Festival in 1997. "As a model I was used to predatory men and had become adept at brushing off unwanted advances and putting creepy perverts in their place," she wrote, admitting that she initially felt safe with Weinstein and "feeling sorry for him, I went out of my way to be entertaining and nice." Later in the night, Brock said she unwittingly ended up alone with Weinstein in his hotel room for what she had thought would be a group gathering, where "the energy shifted and I became very uncomfortable."

Weinstein emerged from the bathroom naked and kept asking Brock if she wanted a massage, she said, and she ultimately locked herself in the bathroom to get away from him. After Brock reprimanded him, she wrote, he became apologetic. "I could see the guy felt truly remorseful. He was near tears. But I could also tell that he had no idea how messed up this 'apology' was. How many girls were there? Did this shit happen every day?"
Rose McGowan
According to the Times, McGowan reached a settlement with Weinstein in 1997 following an incident in a hotel room during the Sundance Film Festival. The $100,000 settlement was "not to be construed as an admission" by Weinstein, but intended to "avoid litigation and buy peace," per a legal document reviewed by the Times. While McGowan declined to comment for the paper's article, she subsequently accused Weinstein of rape (opens in new tab) in a series of tweets, stating overtly what she had long suggested: "HW raped me."
[editoriallinks id='378c5d34-c96a-4a3a-a1be-51f361ab1895'][/editoriallinks]
RELATED STORY
Laura Madden

Laura Madden, a former Weinstein employee, said that Weinstein asked her for massages at hotels in Dublin and London, starting in 1991. "It was so manipulative," she told The Times (opens in new tab). "You constantly question yourself—am I the one who is the problem?"
Liza Campbell
Artist and writer Campbell wrote an article in The Times of London (opens in new tab) that when she read the allegations against Weinstein, she "was struck by how amazingly familiar" they were. She claimed that she had met with Weinstein in 1995 in his hotel room, where he invited her to "jump in the bath" with him, at which point she left.
Lauren Sivan
During a TV appearance on Monday, journalist Sivan told Megyn Kelly (opens in new tab) that Weinstein cornered her at Manhattan's Cipriani restaurant, which was closed to the public at the time. According to Sivan, Weinstein masturbated in front of her and ejaculated into a potted plant. "I could not believe what I was witnessing," Sivan said. "It was disgusting and kind of pathetic…More than the disgusting act itself, which of course was gross, the demeaning part of it all is that just 20 minutes earlier he was having this great conversation with me and I felt so great and flattered by it. And then [he said], 'Stand there and be quiet,' just a few minutes later, just negated any warm feelings I had, and I realized, 'Oh, that is what this is all about.'"
Asia Argento
Speaking to Ronan Farrow for The New Yorker (opens in new tab), Argento alleged that Weinstein invited her to what she took to be a party at the Hôtel du Cap-Eden-Roc on the French Riviera, but when she arrived only Weinstein was present. Argento said that Weinstein changed into a bathrobe, and forcibly performed oral sex on her as she repeatedly told him to stop. "He terrified me, and he was so big," she said. "It wouldn't stop. It was a nightmare." Argento also said that she had consensual sexual relations with Weinstein several times over the next five years, and that she felt "obliged" to submit to his sexual advances. "After the rape, he won," she told The New Yorker.
Jessica Barth
The actress told The New Yorker (opens in new tab) that during the 2011 Golden Globe Awards, Weinstein invited her to a business meeting, offering to talk about her career. When she arrived, she said, he asked her over the phone to come up to his room, where she found he had ordered champagne and sushi. Barth said that Weinstein offered to cast her in a film and demanded a naked massage, which she refused. When she tried to leave, Barth said, Weinstein lashed out and told her that she needed to lose weight "to compete with Mila Kunis" before promising her a meeting with one of his female executives. "He gave me her number, and I walked out and I started bawling," Barth said.
Emma de Caunes
De Caunnes told The New Yorker (opens in new tab) that Weinstein invited her to a lunch meeting in Paris, where he claimed that he had a movie role in mind for her, and asked her to come to his hotel room to retrieve a copy of the book upon which the movie was based. When they arrived, she said, Weinstein disappeared into the bathroom and emerged naked, with an erection, at which point she fled. "I was very petrified," de Caunes said. "But I didn't want to show him that I was petrified, because I could feel that the more I was freaking out, the more he was excited."
Dawn Dunning
Dunning, a costume designer, told The Times (opens in new tab) that she met Weinstein in 2003 at a nightclub where she waited tables. She was an aspiring actress at the time, and said that Weinstein promised her a screen test for his then-company Miramar, and when she arrived at his hotel suite for a meeting, Weinstein was waiting in a bathrobe with contracts laid out for his next three film projects. She says he told her that she could sign them, but only if she had a threesome with him, and when she laughed–assuming he was joking–Weinstein reportedly said "You'll never make it in this business. This is how the business works."
Dunning fled the room at this point, she said, and hung up when Weinstein's assistant called her the next day. Shortly afterwards, she left acting and became a costume designer.
Ambra Battilana Gutierrez
The Italian model claimed that Weinstein groped her in 2015, and reported the incident to the new York Police Department. The next day, wearing a wire, she met with Weinstein at the Tribeca Grand Hotel in Manhattan. The audio from his meeting has been released by The New Yorker (opens in new tab). In it, Weinstein seemingly admits to groping Gutierrez, and describes this as behavior he is "used to." Also in the taped conversation, Weinstein repeatedly urges Gutierrez to join him for "five minutes" and warns her "Don't ruin your friendship with me for five minutes."
Mira Sorvino
Sorvino told The New Yorker (opens in new tab) that Weinstein tried to give her a massage and "sort of chas[ed] her around" a hotel room at the Toronto Film Festival in 1995. A few weeks later, Sorvino says, Weinstein called her after midnight and showed up unexpectedly at her New York apartment. "Harvey had managed to bypass my doorman," she said. "I opened the door terrified, brandishing my 20-pound Chihuahua mix in front of me, as though that would do any good." She said that she told Weinstein her new boyfriend was on the way, at which point Weinstein left. Sorvino also told the magazine that she felt her rejection of Weinstein had harmed her career. "There may have been other factors, but I definitely felt iced out and that my rejection of Harvey had something to do with it."
Lucia Stoller
Stoller told The New Yorker (opens in new tab) that she was approached by Weinstein in 2004, while she was in college and an aspiring actress, and gave him her number. He began calling her, she said, and his assistant invited her to a casting meeting in Manhattan which turned out to be a solo meeting with Weinstein. She stated that Weinstein "was simultaneously flattering me and demeaning me and making me feel bad about myself," and then forced her to perform oral sex on him, despite her saying no "over and over, 'I don't want to do this, stop, don't'. I tried to get away, but maybe I didn't try hard enough. I didn't want to kick him or fight him." At a certain point during the encounter, Stoller said, "I just sort of gave up. That's the most horrible part of it, and that's why he's been able to do this for so long to so many women: people give up, and then they feel like it's their fault."

Gwyneth Paltrow
Paltrow told The Times (opens in new tab) that at 22, Weinstein summoned her to his hotel room and suggested they head to the bedroom for massages, which she refused. She said that she confided in her then-boyfriend Brad Pitt, who confronted Weinstein about the incident (a representative for Pitt confirmed this account of events). Soon after this, Paltrow said, Weinstein called her and "screamed at her for a long time," berating her for disclosing what had happened in the hotel room. At the time, Paltrow had just been cast in the Weinstein-produced movie Emma, and "thought he was going to fire me."
RELATED STORY
Angelina Jolie
Jolie told The Times (opens in new tab) that Weinstein made unwanted advances on her in a hotel room in the late 1990s, which she rejected. "I had a bad experience with Harvey Weinstein in my youth, and as a result, chose never to work with him again and warn others when they did," she said in an email. "This behavior towards women in any field, any country is unacceptable."
Rosanna Arquette
Arquette told The New Yorker (opens in new tab) that Weinstein invited her to his hotel room in 1995, where he asked for a massage, then grabbed her hand and pulled it first towards his neck, and then towards his erect penis. "My heart was really racing. I was in a fight-or-flight moment," she said, adding that she told Weinstein before leaving "I will never do that…I'll never be that girl." She also said that she felt her career had suffered as a result of turning down Weinstein's advances.
Judith Godrèche
French actress Godrèche told The Times (opens in new tab) that she took a breakfast meeting with Weinstein at the Cannes Film Festival in 1996. At his hotel room, she claims he asked her for a massage and claimed it was an American custom. "The next thing I know, he's pressing against me and pulling off my sweater," she told the paper. "I tried to negotiate the situation over the years, and negotiate with myself and pretend it kind of never happened."
Katherine Kendall
Swingers actress Kendall told The Times (opens in new tab) that in 1993, Weinstein invited her to a screening which turned out to be a solo trip with him to a movie theater. After the movie, she said he invited her to his hotel room and emerged from the bathroom in a robe, asking for a massage. "Everybody does it," Kendall recalls Weinstein saying. "He literally chased me. He wouldn't let me pass him to get to the door." After she refused him, Kendall says, Weinstein asked if she would "at least" show him her breasts. She said no to everything, she told the paper: "I just thought to myself: I can't believe you're doing this to me. I'm so offended—we just had a meeting."

Tomi-Ann Roberts
Roberts told The Times (opens in new tab) that she met Weinstein as a college junior, waiting tables, and that Weinstein urged her to audition for a movie he planned to direct. She said that he asked her to meet him at his hotel, and that when she arrived Weinstein was nude in the bathtub and told her that she would give a much better audition if she were comfortable "getting naked in front of him," since her potential character in the movie had a topless scene.

Roberts said she apologized to Weinstein as she left, for being too prudish to acquiesce to his request, but later felt she had been manipulated, and doubted that she was ever under consideration for a role: "I was nobody! How had I ever thought otherwise?"
Louisette Geiss
In a news conference held Tuesday (opens in new tab), former actress and screenwriter Geiss said that when she was shopping a screenplay at 2008's Sundance Film Festival, she met with Weinstein at a restaurant to discuss her pitch. She alleges that he invited her to his office, adjacent to his hotel room, and 30 minutes into their meeting emerged from the bathroom wearing only a bathrobe. Geiss said that he instructed her to keep talking as he got into the hot tub, and later asked her to watch him masturbate. "I do not think that Harvey Weinstein understands or comprehends how much pain and suffering this brings to me and scores of other women," Geiss said during the news conference.
Romola Garai
British actress Garai told The Guardian (opens in new tab) that she met with Weinstein at the Savoy Hotel in London for an "audition, where I'd actually already had the audition but you had to be personally approved by him." Garai said that when she arrived at Weinstein's room, "he answered the door in his bathrobe. I was only 18. I felt violated by it, it has stayed very clearly in my memory."
"The transaction was just that I was there," Garai added, explaining that once she was in the hotel room, Weinstein sat on a chair and had a brief conversation with her about film. "The point was that he could get a young woman to do that, that I didn't have a choice, that it was humiliating for me and that he had the power. It was an abuse of power."
Heather Graham
Graham told Variety (opens in new tab) that Weinstein summoned her to his office in the early 2000s, claiming that he wanted to put her in one of his films. "Later in the conversation, he mentioned that he had an agreement with his wife. He could sleep with whomever he wanted when he was out of town. I walked out of the meeting feeling uneasy. There was no explicit mention that to star in one of those films I had to sleep with him, but the subtext was there," she said. Graham added that she declined a subsequent meeting with Weinstein at his hotel, because she did not want to be alone with him.
Cara Delevingne
Delevingne shared an Instagram post (opens in new tab) on Wednesday detailing her own allegations against Weinstein. Early in her acting career, she said, Weinstein asked her whether she had slept with any women, and gave her unsolicited advice on the impact her sexuality might have on her career. A year or two later, she said, Delevingne attended a meeting with Weinstein and a director about an upcoming film, which ended up with her, Weinstein and another woman in a hotel room. Delevingne alleged that Weinstein asked the two women to kiss. "I swiftly got up and asked him if he knew that I could sing. And I began to sing," she wrote, explaining that she thought by singing she could make the situation "more professional, like an audition." After singing, she stated that she excused herself, and on her way out Weinstein tried to kiss her on the lips.
RELATED STORY
"I still got the part for the film and always thought that he gave it to me because of what happened," Delevingne wrote. "Since then, I felt awful that I did the movie. I felt like I didn't deserve the part. I was so hesitant about speaking out...I didn't want to hurt his family. I felt guilty as if I did something wrong."
Léa Seydoux
The French actress told The Guardian (opens in new tab) that Weinstein tried to sexually assault her. "We were talking on the sofa when he suddenly jumped on me and tried to kiss me," she said. "I had to defend myself. He's big and fat, so I had to be forceful to resist him…I pushed him physically. I think he respected me because I resisted him."
Claire Forlani
The British actress posted a statement on Twitter (opens in new tab) stated that she had evaded advances from Weinstein on five occasions: three times at dinners, and twice at the Peninsula Hotel. "Nothing happened to me with Harvey, by that I mean I escaped five times," she wrote, claiming that Weinstein had suggested massages to her. "I was 25. I remember him telling me all the actresses who had slept with him and what he had done for them."
Florence Darel
French actress Darel told People (opens in new tab) that Weinstein pursued her relentlessly after they met in 1994, then propositioned her at a Paris hotel room while his wife was in an adjoining room. "I was in shock," Darel said. "I was astonished. When you have someone so physically disgusting in front of you, continuing and continuing as though this was all perfectly normal… What happened to me may not be illegal but it was inappropriate. Very inappropriate."
Darel expanded more on this incident to Le Parisien (opens in new tab), recalling that Weinstein was undeterred when Darel told him she was in love with someone else. "He replied that didn't bother him at all and offered to have me be his mistress a few days a year. That way we could continue to work together. Basically, it was 'If you want to continue in America, you have to go through me.' " Darel said that she promptly excused herself, telling Weinstein, "I'm sorry, I have to leave."
Sophie Dix

English actress Dix told The Guardian (opens in new tab) that Weinstein tried to force himself on her at a hotel room in the mid-'90s. She stated that she locked herself in a bathroom to escape him, and that when she emerged, she found Weinstein masturbating. "I quickly closed the door again and locked it," she said. "Then when I heard room service come to the door I just ran."

Kate Beckinsale
In an Instagram post (opens in new tab) on Thursday, Beckinsale stated that Weinstein called her to a meeting at the Savoy when she was 17, and was surprised to be called up to his room rather than a conference room. She said that Weinstein answered the door in his bathrobe, and offered her alcohol. "I was incredibly naive and young and it did not cross my mind that this older, unattractive man would expect me to have any sexual interest in him," she wrote, adding that she declined his offer of alcohol and left, announcing that she had school in the morning. A few years later, she added, Weinstein asked her "if he had tried anything with me in that first meeting. I realized he couldn't remember if he had assaulted me or not."
Melissa Sagemiller
The actress told The Huffington Post (opens in new tab) on Friday that Weinstein made uninvited advances towards her in the summer of 2000, while she was filming the Miramar-Distributed movie Get Over It. On one occasion, Sagemiller said that Weinstein tried to coax her into his hotel room, asked for a massage and "would not let [her] leave" until she kissed him. "I said fine and kissed him on the lips. He sort of held my head and made me kiss him, and then he's like, "OK, you can go now. That's all I wanted. Just do what I say and you can get your way."
On a third occasion, after filming wrapped, Sagemiller said that Weinstein insisted that she should travel back from Toronto to New York on his private plane, rather than her separate flight. She said that when she got to the airport, she found that Weinstein had ordered airport personnel to deliver her to his private plane, and had had her bags removed from her scheduled flight. "So I get on the plane, I walk up and I go, "Harvey, you motherfucker." He's just sitting there. He pats his hand on the seat next to him, and he's like, "See, Melissa, you can't say no to me. I always get what I want."
There were other actors on the plane, Sagemiller said, including Sisqó and Shane West, and she stayed with West throughout the flight. "Thank God. If I had walked in there and it was just [Weinstein], I don't know. I would have had to run away because that's horrendous… It was a short flight, from Toronto to New York. Shane and I were talking; we were friendly, and I stuck by him. I'm sure I had told him Harvey's stories."
Though Sagemiller says she wasn't entirely silent about the encounters at the time, she was encouraged not to formally speak out. "I was never told, 'Are you okay? Do you want to say anything? Do you want to report this?' Nothing like that. It was just, 'That's Harvey.'"
Minka Kelly

Kelly shared her story in an Instagram post (opens in new tab) on Friday, stating that after meeting Weinstein at an industry party, he requested a general meeting in his hotel room. Uncomfortable wit this, Kelly said that she asked to meet at the hotel restaurant instead, with an assistant present. After five minutes, Kelly said, Weinstein asked the assistant to leave.
At this point, Kelly wrote, Weinstein said to her "I know you were feeling what i was feeling when we met the other night", and offered her "a lavish life filled with trips around the world on private planes," if she would agree to be his girlfriend. "Or, 'We could just keep this professional.' All I knew was not to offend this very powerful man and to get out of the situation as quickly as possible." Kelly said that she told Weinstein she was flattered, but preferred to keep their relationship professional, at which point he allegedly said "Fine. I trust you won't tell anyone about this.' I said 'Of course not. Thank you so much for taking the time to meet with me,'—the only way I could think to shut it down gracefully and excuse myself."
Eva Green

The actress told Variety (opens in new tab) that she met Weinstein for a business meeting in Paris, where "he behaved inappropriately and I had to push him off. I got away without it going further, but the experience left me shocked and disgusted."
Green went on to say in her statement that though she had previously not wanted to speak out, she was inspired to do so by the bravery of other women who have come forward. "I understand it is important to do so as I hear about other women's experiences. Women are often condemned when they speak out and their personal reputations tarnished by association. We should recognize that this sort of behavior exists everywhere and is not unique to the entertainment industry. The exploitation of power is ubiquitous. This behavior is unacceptable and needs to be eliminated."
Lysette Anthony
British soap actress Anthony told London's Sunday Times (opens in new tab) that she became friendly with Weinstein after meeting him in New York in 1982. A few years later, she told the paper that she met Weinstein for a drink at his rented home in London, and "The next thing I knew he was half undressed and he grabbed me...It was the last thing I expected and I fled. That was when the predatory stalking began."
At a later date, Anthony said that Weinstein raped her. She alleges that Weinstein showed up at her flat around 10am, where he "pushed me inside and rammed me up against the coat rack… He was trying to kiss me and shove inside me." She said that she pushed Weinstein away, but he was too heavy, and "finally I just gave up."
Anthony also described the incident to London's Metropolitan police, who are investigating her claim alongside three other sexual assault allegations.

Paula Wachowiak
In what may be the earliest alleged incident, Wachowiak told the Buffalo News (opens in new tab) that Weinstein harassed her while she was working as an intern on one of his movies; 1981's The Burning. Wachowiak claimed that Weinstein exposed himself to her in a hotel room, and asked her for a massage before making a lewd remark.
Wachowiak said that she was asked by an auditor to take some checks to Weinstein in his hotel room to sign. When she arrived, she said that he was wearing only a towel, which he dropped when he took the checks from her. Once naked, Wachowiak said, Weinstein engaged in a conversation with her about the movie's finances before asking her for a massage. "That's not in my job description," she says she replied, ""I told him that I was happy to be part of the project but I would not touch him. He finally gave up and signed all the checks." At this point, Wachowiak says, she left the room and burst into tears.
At a later date, Wachowiak says she encountered Weinstein again on set, where he asked "Was seeing me naked the highlight of your internship?" She says that she responded "Actually, Harvey, you disgust me," at which point Weinstein laughed and drove away.
Lauren Holly

The actress shared her account of harassment by Weinstein on the Canadian talk show The Social (opens in new tab). Holly said that the incident took place in the late 1990s, when she was in her thirties and already acquainted with Weinstein: "I was not a young ingenue, and I was certainly not new to Hollywood; I was a seasoned, Hollywood person."
Holly said that she went to a hotel for what she took to be a routine meeting with Weinstein, and though things began normally, Weinstein excused himself after some small talk. He returned wearing a bathrobe, she said, and spoke briefly about some scripts he felt could be a fit for her, before asking her to follow him into the bathroom. Holly recounted that once in the bathroom, Weinstein took off his robe, used the toilet in front of her, and then got in the shower.
"At this point my head was exploding," Holly said. "He keeps the conversation going, he finishes, he turns on the shower, he gets in the shower. He's continually talking to me, he's in the shower washing himself. Leaning out, asking me for responses." After he dried off, Holly said that Weinstein approached her while naked, asked for a massage, then began to threaten her when she refused, saying that she needed to "keep him as [her] ally" and that leaving the room would be a "bad decision." At this point, Holly said that she pushed him away and ran.
Lena Headey

The Game of Thrones actress said on Twitter (opens in new tab) that she first met Weinstein during the Venice Film Festival, during which he asked her to take a walk with him and "made some suggestive comment, a gesture," which she said she laughed off.
The next time she met Weinstein, Headey said, he asked her to meet hi for breakfast in LA. "He asked me a few questions about the state of my love life," Headey recalled, adding that Weinstein later asked her to come up to his room to retrieve a script. "We walked to the lift and the energy shifted, my whole body went into high alert," she wrote. "I said to Harvey, I'm not interested in anything other than work, please don't think I got in here with you for any other reason, nothing is going to happen.'" In response, she wrote, Weinstein was furious, and after failing to open his hotel room door, Headey said that he walked her back to the elevator, ordering her not to tell anyone about the encounter as she left.
Lupita Nyong'o

Nyong'o wrote an account of her harassment by Weinstein in an op-ed in The Times (opens in new tab). She wrote that she first met him in 2011 while a student at the Yale School of Drama, and that shortly afterwards he invited her to a film screening. On the day of the screening, she wrote, Weinstein's driver picked up Nyong'o and took her to meet Weinstein at a restaurant, where she said he tried to insist that she drink alcohol and called her "stubborn" for refusing. Though it was strange, Nyong'o said, he struck her as "pushy and idiosyncratic more than anything."
Nyong'o said that she and Weinstein arrived at his home to watch the film in his screening room, along with his domestic staff and young children. 15 minutes into the film, she wrote, Weinstein asked her to leave with him "saying he wanted to show [her] something." She reluctantly agreed, and went with Weinstein into his bedroom where he asked to give her a massage. "For the first time since I met him, I felt unsafe. I panicked a little and thought quickly to offer to give him one instead: It would allow me to be in control physically, to know exactly where his hands were at all times," she wrote. Because part of her curriculum included body work, she felt she could rationalize the massage "and keep a semblance of professionalism in spite of the bizarre circumstance."
Shortly after she began massaging him, Nyong'o wrote, Weinstein said that he wanted to take off his pants, and got up to do so did so even after she told him not to. At this point she said she left, telling Weinstein she was not at all comfortable with this. "He put his shirt on and again mentioned how stubborn I was," she wrote. "I agreed with an easy laugh, trying to get myself out of the situation safely."
While deeply disturbed by the incident, Nyong'o said that she was able to rationalize it as "inappropriate and uncalled-for, but not overtly sexual". She invited him to a school production she was in, hoping that in this way he would see her as a professional (Weinstein was unable to attend). A few months later, she wrote, Weinstein invited her to dinner in New York, during which he asked her to come up to his hotel room. She refused, and in response she said Weinstein "told me not to be so naïve," she wrote. "If I wanted to be an actress, then I had to be willing to do this sort of thing."
According to Nyong'o, she declined his offer, telling him "I would not be able to sleep at night if I did what you are asking." Weinstein's demeanour changed, she said, and he told her she could leave. They left the restaurant without having eaten anything, she said, and as she left in a cab she asked Weinstein if they were "good." "'I don't know about your career, but you'll be fine,' he said. It felt like both a threat and a reassurance at the same time; of what, I couldn't be sure."
After a screening of her film 12 Years A Slave in 2013, Nyong'o wrote, Weinstein approached her and apologized for the way he had treated her. "He said he couldn't believe how fast I had gotten to where I was, and that he had treated me so badly in the past. He was ashamed of his actions and he promised to respect me moving forward. I said thank you and left it at that. But I made a quiet promise to myself to never ever work with Harvey Weinstein."
This post will continue to be updated as more women share their stories.
Emma Dibdin is a freelance writer based in Los Angeles who writes about culture, mental health, and true crime. She loves owls, hates cilantro, and can find the queer subtext in literally anything.