'The Greatest Showman' Is a Lovable Mess, but That Doesn't Redeem Its Faults
The movie is essentially about a charming white guy who used people who were "different" for his own financial gain.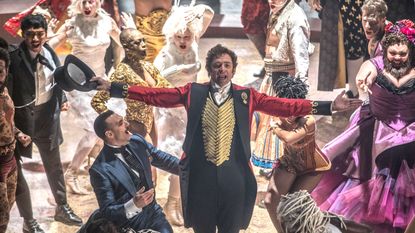 (Image credit: 20th Century Fox)
Ever since the debut of its somewhat insane trailer, I've been harboring an obsession with The Greatest Showman. It wormed its way into my vocabulary so much that my mom even posed the question: "What is your deal with The Greatest Showman?" Sure, part of it was morbid fascination. And another? Something resembling hope. You see, I love singing and dancing extravaganzas, so if a major studio is going to put out one of those and throw a buttload of money behind marketing it, you bet I'm going to be pumped. And I had a great time watching The Greatest Showman. Is it a masterpiece? No. Is it ridiculous? Yes. Is it somewhat offensive? You betcha.
But before we get to that, you're probably wondering: What the hell is this thing even about? Well, I'll tell you: The Greatest Showman is ostensibly the story of P.T. Barnum—Hugh Jackman at his most gregarious—and how he came to be a circus maestro. However, director Michael Gracey and screenwriters Jenny Bicks and Bill Condon play fast and loose with "facts," so it's more about the idea of P.T. Barnum. If you buy what they're selling, he was just a big dreamer who overcame the odds to help and inspire people—not someone who benefitted from other people's outsiderdom.
So, what we're left with is a pile of sugary nonsense that has a distinctly unpleasant aftertaste when you realize that the movie is essentially about a charming white guy who used people who were "different" for his own financial gain. But The Greatest Showman tells us it's okay to profit from otherwise ostracized members of the community, because you can give them a sense of purpose. It's fine! Everything is fine!
Now, it's not like the fictional version of Barnum is a saint. He's also portrayed a ruthless striver who ignores the needs of his dutiful wife Charity (Michelle Williams), who is pretty much solely defined by her devotion to her husband and her love of twirling. Meanwhile, the film's biggest song "This Is Me" comes when Barnum shuts the circus performers out of a fancy party because they'll offend the hoity-toity crowd he's trying to impress—which doesn't exactly paint a great picture of him. Lettie, the bearded lady, leads them in a rousing cry of defiance towards a man who only cares about them when it's convenient, which is a nice moment, sure. But that's still difficult to reconcile with the overall feel-good vibe in which Barnum's enterprises are actually deemed a "celebration of humanity" at the end.
But, really, to watch this film is to embrace cognitive dissonance of all sorts. Oh, you thought a character who is heralded as a famous opera singer is going to come out and sing opera right now? Nope, she's going to sing a pop ballad perfect for Leona Lewis or Kelly Clarkson.
And to be honest that kind of insanity is really fun to watch. The Greatest Showman is a lot of things, but it's not boring. The songs, by Justin Paul and Benj Pasek of La La Land and Dear Evan Hansen fame, are plentiful and insidiously catchy. Most of them are about following your dreams or reaching for the stars, and in the moment you'll think they are pretty monotonous, but then—without warning—days later they'll pop into your head and never leave.
The aesthetic of the numbers is reliably Baz Luhrmann-light. To that end, there's even one that's inexplicably set on a rooftop, where Williams seems at risk of hurling herself into the sky. The choreography overall is anachronistic and aggressive—lot's of energetic stomping and hip thrusting. Zendaya, who plays a trapeze artist named Anne Wheeler, swings through the air a bunch. If The Greatest Showman entirely consisted of these strung together music video moments I think I might adore it. Instead it's that plus half-baked ideas about self-acceptance.
What's especially strange is that, despite finding themselves making a movie with thorny issues, director Michael Gracey and his team seem afraid to include anything that might be deemed controversial. For example, racism shapes the love story between Anne and Zac Efron's upper crust Phillip Carlyle, but it's rarely addressed out loud. The two sing ballad about how they can't be with one another called "Rewrite The Stars"—which is supposed to come off as a widely applicable duet, and instead waters down racism and is a disservice to the movie.
In the song, Phillip suggests "What if we rewrite the stars? Say you were made to be mine," while Anne protests, "No one can rewrite the stars, how can you say you'll be mine?" Clearly the vague "stars" metaphor stands in for the racist society the characters inhabit, but it's not good enough—and it speaks to the great Greatest Showman conundrum. You want it to be fluff, just not completely hollow fluff.