What It's Like to (Literally) Party Like Marie Antoinette at Versailles
One night a year, the palace hosts a raucous flashback fete—and this time, I got to go. Let me eat cake?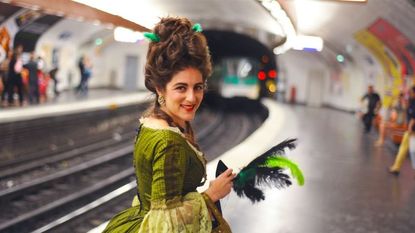 (Image credit: Krystal Kenney)
The sky over Versailles was turning a fuzzy pale pink and my hairsprayed-within-an-inch-of-its-life bouffant was sagging. The train of my dress was a wreck—covered in dirt and gravel dust and wet from the garden's morning dew. It was a new day, but I hadn't slept, so things seemed a bit…backwards. By about 225 years.
It's because I had attended the 5th annual Bal de Versailles, a masquerade party thrown by the King's Castle where thousands of costumed partygoers are permitted to roam around the palace like Marie Antoinette and Louis XVI, from 11:30pm until the first light of dawn. Tickets start at $86 and anybody can attend—so long as you're dressed appropriately. By which of course I mean a full-on corseted gown with era-appropriate accessories.
Before setting out for the bash, I spent hours teasing and spraying my hair into a giant pile on my head. I shimmied into a rental dress and set out for Versailles by a commuter train from Paris. I was the subject of unsolicited cell-phone photos from tons of tourists who could stand to learn some subtlety...but then again I *did* look like an eighteenth-century lady in waiting.
Fireworks crashed over the Fountain of Apollo as I arrived. Women in giant Baroque ball gowns and men in white wigs and waistcoats descended the stairs below the palace into the L'Orangerie, an outdoor garden and indoor central gallery originally created in 1684 to store orange trees, oleander, and palms during the winter. Michael Jackson's "Wanna Be Startin' Something" played, anachronistically, over the sound system.
A circular stage divided the space. A small, Hobbit-like door, which required a real bend-at-the-knees squat and duck (lest you be all "off with your head!") led to the the gardens, where a huge bonfire was lit. From there, you could access the VIP area, where champagne flowed freely and foie gras was spooned onto tartines. Those of us who hadn't splurged on special tickets were stuck paying upwards of $13 for a flute of bubbly or $7 for something resembling a grilled cheese.
Every 20 minutes brought a new spectacle: flame-throwers in leather fringe trousers, trapeze artists in mermaid costumes, topless women with sequined stars on their nipples cavorting around muscular men with sparkle masks around their eyes.
I strolled around solo a lot so I could take it all in. I'd often bump into someone I knew or came with: my yoga teacher Benoit, my Aussie and American friends Jess and Julie, my photographer Krystal, a man whose name I couldn't remember since I'd only met him the day before. We'd nod and smile at each other as if to acknowledge: "We're still awake! This is cool!"
As the night waned, things got a little kinky—I caught sight of at least four different couples going at it in the trees.
Wandering back and forth from outside to inside and back, I couldn't help but start peeking at my watch. I had danced. I had eaten cake. I had drunk bubbly. I had even guzzled rosé straight from a bottle that a friend had stashed in her underskirt, leading directly to an awkward attempt at lifting my dress to tinkle in a port-o-potty.
I knew if I lasted another hour I'd be granted the privilege of seeing the sun rise while eating croissants and drinking fresh OJ in Le Bosquet de La Salle de Bal, the grove of the ballroom. The light outside gave me a second wind—as did, naturally, the Lil' Kim-Pink-Christina Aguilera-Mya version of "Lady Marmalade" blasting over the speakers. There was much bouffant headbanging.
Finally, by about 7:30 a.m., my friend Jess and I decided to end on a high note—otherwise known as Beyoncé's "Single Ladies." We put a ring on it and began the journey back to Paris. I suspect our gal Marie Antoinette would have approved.
Celebrity news, beauty, fashion advice, and fascinating features, delivered straight to your inbox!