I Auditioned for This Season of 'The Bachelor' and It Was Truly Insane
From sobbing girls to unlimited drinks to a wildly personal interview.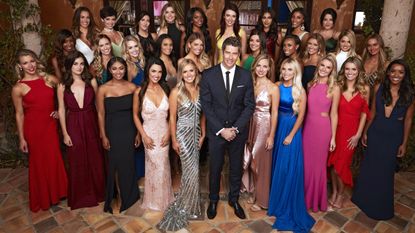 (Image credit: ABC)
Marie Claire Newsletter
Celebrity news, beauty, fashion advice, and fascinating features, delivered straight to your inbox!
Thank you for signing up to Marie Claire. You will receive a verification email shortly.
There was a problem. Please refresh the page and try again.

Last year, I joined a sea of giddy women in flirty sundresses and auditioned for The Bachelor. And as I surveyed the room from the discomfort of my three-inch heels, I wondered how, exactly, I ended up there. And then, I thought of Peter.
If you're one of the .001 percent of the population who's never caught an episode of The Bachelor, Peter Kraus was a contestant on Rachel Lindsay's groundbreaking season of The Bachelorette, the Bachelor spin-off in which 30 men compete for one woman, take romantic dips in the hot tub, fight with their fellow bros, and—eventually—propose after a few weeks of screen time and a few minutes of conversation.
When The Bachelorette aired in July 2017, the season's frontrunner was this guy (see above)—a Midwesterner who was tall, dark, handsome, and blessed with the kind of bright blue eyes that inspire poetry...or at least inspire a few hundred New York women to brave the rain and venture to midtown for a Bachelor audition.
Personally, I avoided watching the show for years even though my sorority sisters hosted breathless viewing parties and recapped the inevitable proposal, which took place on a secluded beach or mountaintop. But after bingeing UnREAL, the scripted drama based on the twisted set of The Bachelor, I was sucked into a universe where men can't ghost you (there are no phones in The Mansion), dates are far more romantic than after-work drinks, and hot tubs appear in exotic locales, like the middle of a running track.
In the Bachelor universe (fans are members of #BachelorNation), it's entirely normal for a few dozen women to compete for the love of one milquetoast man. But somehow, producers make the entire experience look appealing—and it all culminates in "the fantasy suites," when the lone man sleeps with his three remaining contestants over a period of a few days.
After watching Peter (the male model/fitfluencer who looks like he should be on the cover of a particularly steamy romance novel), compete for Rachel Lindsay's love, I decided it was time to try my hand at Bachelor superstardom. After all, rumor had it that Rachel would break up with him, and I wanted to be there to dry Peter's tears after the impending rejection.
To guarantee a chance with Peter (sliding into his DMs had proven ineffective), I found myself at ABC Studios in high heels better suited for a nightclub than a weekday afternoon, stealthily drinking a cocktail. I knew I'd become the next Andi Dorfman (southern) with a hint of Ashley I. (bonkers) thrown in for good measure. Sure, almost all 21 seasons had proven ineffective, but Peter and I were going to find love on our journey. Here's my diary of what actually happened.
5:45 p.m.
With visions of FabFitFun boxes and SugarBearHair gummies dancing in my head, I make my way to the ABC Studios in midtown Manhattan. Millennials in weather inappropriate rompers and wedges are already lining up, in hopes of becoming the next Bachelor contestant—or the next Bachelorette, if they're really lucky.
5:50 p.m.
On the subway, I refresh my makeup, opting for a Kylie lip, and wish there was time for eyelash extensions, lip injections, and a blowout that would make me look "naturally pretty."
5:55 p.m.
My friend and I surreptitiously pour ourselves cocktails using a small bottle of vodka and mixers on the train. After all, we need to be the right level of intoxicated—ready to don a dolphin suit and jump into a pool if necessary.
6:00 p.m.
We take the escalator to the second floor of ABC Studios and slip into the bathroom to change. I decide on a black Kenzo sweater dress with subtle openings at the top and bottom that ideally says "cool girl, but still serious about a relationship." I pair the LBD with chunky black Prada heels for a Corinne Olympios twist, sans cheesy pasta. I immediately wonder if a floral number from Raven's Arkansas boutique would have been more appropriate for this momentous occasion. After all, she was a fan favorite.
6:10 p.m.
We're given neon orange wristbands and I feel like I'm at a nightclub I'm already too old for. The young woman waiting patiently in front of us is wearing what appears to be a spandex prom dress complete with sparkling sequins on the bodice, as if she had been waylaid heading to a Say Yes to the Dress fitting down the street. She takes multiple selfies with a digital camera and I contemplate letting her know that iPhones exist for this very reason. That said, since phones aren't allowed on the show, she's already a natural. As the intern manning the door instructs her to go inside, he yells "Good luck!" and tells his fellow intern "We'll never see her again!" almost as loudly.
6:15 p.m.
The next room has yet another line. Some girls clutch single roses, while others drink tiny bottles of wine typically used for cooking. A fresh box of Dunkin' Donuts is sitting on the tables, and it's reminiscent of my college's sorority recruitment, in which the top tier house offered potential new members cupcakes, and then eliminated them if they made the mistake of eating one. I steadfastly avoid the donuts, just in case.
6:20 p.m.
Next, potential contestants are given detailed questionnaires to fill out. It's like applying for a job, only the job is becoming an influencer. I spill some of my cocktail on the page and immediately pen a quick apology. They've given us all Bachelor pens, but the blonde next to me brought her own pink sparkly writing utensil. "I need more pages!" she shouts while filling her form in letters so tiny they'd require the producers to have magnifying glasses, which I don't think DIFF Eyewear provides.
6:25 p.m.
The questionnaire asks if I drink alcohol, inquires as to what my favorite drink is (Tito's and soda, which must be the unofficial cocktail of #BachelorNation), and if I've ever been married or engaged (the answer is no, which means there's no possibility of a dramatic ex-boyfriend returning). It also poses the question "Are you genuinely looking to get married and why?" to which I respond, "Yes, because my mother is both Jewish and Southern." At 27, I'm already an old maid in Bachelor years. When asked, "Why would you want to find your spouse on our TV show?" I respond, "Because meet-cutes don't happen at bars, mutual friends are single for a reason, Tinder is awful, and my ex is engaged." Plus, I don't really want to freeze my eggs like Carly Waddell.
6:30 p.m.
The other prompts ask me to describe my ideal mate (smart, funny, kind of a jerk in the best possible way), list my hobbies and interests (trampoline classes), and any special talents (I've perfected the art of the Bumble opener).
6:45 p.m.
Potential contestants are photographed with a white board with all their personal information listed. Mine looks like a LinkedIn headshot.
7:00 p.m.
After joining another line, it's finally time to check out my competition, and I am not here to make friends (although I make a few in the bathroom line). It looks like everyone purchased their outfit through the same Instagram boutique.
7:30 p.m.
One girl arrives with her mother. The daughter is wearing an off-the-shoulder floral romper paired with booties, and is Skyping loudly—potentially with the rest of the family. I can't help but wonder if the mom will go into the room for the video portion of the interview and yell, "You're doing amazing, sweetie!" I text my own mom and ask why she didn't fly to New York for moral support. She tells me that she hopes I get on the show, because I need more Instagram followers. Another girl starts rehearsing practice questions with her friend, who asks about her past relationships. She promptly starts crying. Maybe she'll be the season's Ashley I.
8:00 p.m.
Finally, we're ushered into the conference room where "one-on-one interviews" are taking place—which basically consist of five people being interrogated all at once, but separately. By now, I've had enough vodka to give me the confidence that I will be receiving a Neil Lane diamond from Peter after knowing him for only a few weeks. I'm ready to prove to the young woman manning the camera that I'm there for the right reasons (love and Instagram followers). As I'm asked about my relationship status in detail, I'm reminded of being interrogated by distant family members during Thanksgiving.
8:30 p.m.
My interview ends and I wish I had more time, much like the women eliminated on the first night without ever "stealing the Bachelor for a second." The entire experience was longer than a Bachelor in Paradise episode, and even more dramatic. Leaving without asking the producers for Peter's contact information was the hardest decision I've ever had to make. The good news? This season's Bachelor ended up being Arie Luyendyk Jr.
Celebrity news, beauty, fashion advice, and fascinating features, delivered straight to your inbox!