Changing the Games: Meet Nigeria's First-Ever Winter Olympics Bobsled Team
The all-female, history-making team is going for the gold.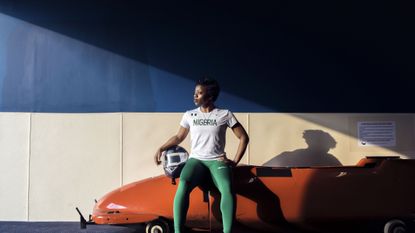 (Image credit: Molly Choma)
What am I doing? Seun Adigun wondered in 2015 at the top of a bobsled run in Lake Placid, New York. The former track star crouched behind her driver, gripping the push bars, ready to sprint 50 meters, leap into the bob, and hurtle down 1,130 meters of bumpy ice for her first ride. The sled shook, rattled, and lurched; it felt more like being inside a washing machine than on a roller coaster.
The whole experience made Adigun dizzy. There is NO WAY I am getting back in the sled, she thought. Then she uncoiled herself, rode to the top of the track, and did it again.
Conquering outlandish-seeming ideas is nothing new for Adigun, 31, the daughter of Nigerian immigrants, who was born in Chicago and raised in Evanston, Illinois. Audacity is a good trait in an athlete with her eye on a gold medal.
After just one season of bobsled competition, Adigun became a driver, recruited two fellow Nigerian-Americans to serve as brakewomen, and began training for the 2018 Winter Olympics in PyeongChang, South Korea.
The women will be the first athletes (male or female) to represent Nigeria in any sport in the Winter Olympics and the first to compete in bobsled from the entire continent of Africa. "This is a very special moment," Adigun says. "It's the beginning of a new era in winter sports—for Nigerians and for Africa as a whole."
Adigun, who has traveled to Nigeria throughout her lifetime and who visited her second homeland with her teammates last April, says the support they've received has been overwhelmingly positive.
"Nigeria is really catching up with the Western world when it comes to female athleticism," Adigun says. "There's a higher level of empowerment and encouragement for young women."
While in Lagos, Adigun and her brakewomen—Ngozi Onwumere, 26, and Akuoma Omeoga, 25—did radio and TV spots and explained their unfamiliar sport to schoolchildren.
"The younger kids were very excited, boys and girls alike," she says. "But the reality is that [a lack of] education about the sport is not limited to Africa. There are plenty of Americans who don't know there are only two bobsled tracks in the U.S.—in Park City, Utah, and Lake Placid."
While bobsled is a new sport for Adigun, competing at the highest ranks is not. Always athletic, she played tennis, basketball, and flag football as a kid before becoming an All-American sprinter at the University of Houston. After college, Adigun, who holds dual citizenship, ran track professionally for Nigeria, becoming a three-time national champion and a two-time African Continental Champion.
She represented Nigeria at the Olympics for the first time in 2012, running the 100-meter hurdles. But she was recovering from a stress fracture in her left tibia at the time, and the race didn't go well. She retired from track soon after the Games.
Two years later, while studying to be a chiropractor, she watched the 2014 Winter Games, and bobsled captured her imagination.
"I felt a void in my athletic life, and I wanted to have some Olympic redemption," she says. "I thought, I can do this."
Still, it seems like a big leap to go from hurdling on a rubber track to hurtling down an icy one. But many bobsledders are former track athletes, including Adigun's teammates: Onwumere ran track at the University of Houston, as did Omeoga at the University of Minnesota.
To qualify for the PyeongChang Games, the team had to finish at least five races on three tracks between October 2016 and January 2018, and Adigun had to rank as one of the top 20 drivers.
The team completed its final two races at the North American Cup in Calgary, Alberta, in November, following earlier tests in Park City and Whistler, B.C. The celebration of their ticket to the Games was joyful if quiet, given the intensity of training they still faced. "We had dinner together, listened to music, and thanked God for our journey so far," says Adigun.
Bobsled requires all of Adigun's prodigious problem-solving energy. She built a wooden practice sled, dubbed Maeflower, in her garage, and took to GoFundMe to raise $150,000 to cover equipment, travel, and training expenses.
The three women, based in Houston, trained around the edges of their lives—weight lifting and sled pushing at night after work. In order to train in Canada and South Korea, they put their lives on hold: Adigun paused her chiropractic studies; Onwumere and Omeoga quit their jobs."It's a once-in-a-lifetime opportunity to go to the Olympics," Onwumere says. "So you go all in."
Onwumere says the biggest challenge is not the training, but dealing with the cold. "This has given me the excuse to buy everything furry and over-the-top to keep warm," she says. "Furry boots, furry gloves, and a fur-lined onesie."
And, yes, they've all seen the movie Cool Runnings, the true-ish story of the 1988 (male) Jamaican bobsled team, but, no, it didn't provide "even a seed of inspiration," says Adigun. "Most people use it as an automatic reference point: 'You're a black girl who does bobsled.' It's inspiring to be compared to a legendary team, but it's not something I considered."
With any luck, they'll rewrite the narrative. It will star three young Nigerian-American women, who—with the support of family and friends, and the cheers of two home countries—shake, rattle, and roll their way down an icy track into history books. Each of the women is confident that the moment will influence the rest of their lives.
"I knew nothing about bobsled; now I'm going to the Olympics," says Onwumere, voicing a sentiment the whole team shares. "I can do anything I put my mind to."