20 Things You Didn't Know About the Making of 'Victoria'—Straight from Its Creator
Fun fact #1: They had to stop shooting a love scene between Victoria and Albert because an owl kept flying by.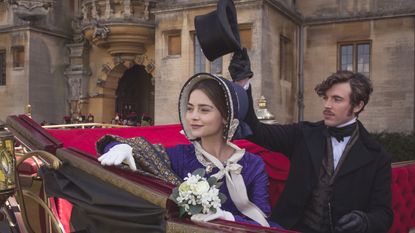 (Image credit: Masterpiece PBS )
Marie Claire Newsletter
Celebrity news, beauty, fashion advice, and fascinating features, delivered straight to your inbox!
Thank you for signing up to Marie Claire. You will receive a verification email shortly.
There was a problem. Please refresh the page and try again.
With all its royal drama, romance, and 19th century feminism, Victoria is the perfect follow-up to The Crown—and filming it sounds even better than watching it. In the interest of FOMO, creator Daisy Goodwin is sharing 20 things you never knew about making the show (and Queen V herself) with MarieClaire.com.
1. As the series goes on, we have more and more babies (and children) on set, and keeping them entertained can be really tricky. One of the tricks we use is to dress their mothers up as nursemaids to keep them right at their side—but sometimes the kids just won't play ball. In one episode, Victoria comes home after a trip to Scotland and rushes in all excited to see the children, but they didn't even turn round to look at her. A bag of sweets later, we got them at least to look up when their 'Mother' walked in.

2. During the filming of a particularly poignant scene between Victoria and Lord Melbourne, they had to stop filming because of a weird noise. Imagine my embarrassment when it turned out to be my very noisy sobs. I wasn't allowed back on set for some time.
3. It's been estimated that in her lifetime, Queen Victoria wrote no less than 62 million words.
4. Victoria was always known as Drina to her family. When she came to the throne she insisted on being called Victoria.
5. Victoria was the first royal bride to wear white. She wanted to emphasize that she was getting married as an ordinary woman and not as Queen. But the white dress started a trend of women getting a special dress to get married in, which carries on today. Before Victoria, women would simply wear their best dress.
6. The set where we film the Buckingham Palace scenes is in an old aircraft hanger, and is home to all kinds of wildlife. We had to stop shooting a very tender scene between Victoria and Albert because an owl kept flying through the frame, attracted by the jewels in Victoria's hair.
7. When Victoria had severe period pains she would take laudanum, a opiate derivative.
8. Victoria was the first English Queen regnant to have children while on the throne. She was overjoyed when offered chloroform to take away the pain of labor by Dr. John Snow, but before she could use it she had to get the permission of the Archbishop of Canterbury!
9. Some of the actors in the cast (no names) are very greedy and will eat all the food that has been prepared for the state banquet scenes, so there is none left when they come to do the close-ups. One way round it is to coat everything—including the tempting profiteroles—in a thin layer of varnish. If you see a surprised look on an actor's face during a meal scene, that will be why.
10. The French were not impressed by Victoria's dress sense. When she visited the French king, the courtiers laughed at her because she carried a bag embroidered with an image of a poodle that her daughter Vicky had made.
11. Victoria was so tiny at 4'11'' that she had to have a special throne made. And when she opened Parliament, they had to build a special flight of steps with very small rises so that she could glide in to the Palace of Westminster.
12. Jenna Coleman, who plays Victoria , says her worst moment on the show was when she had to sing in German. She said that was worse than having to ride side-saddle.

13. Tom Hughes, who plays Prince Albert, had never ridden a horse before Victoria, and he had to learn on the job.
14. Lighting all the 300 candles on the Buckingham Palace set takes an entire hour.

15. The dog who played Dash is actually called Tory, and she made her screen debut playing the same role in the film Young Victoria starring Emily Blunt.
16. Although Albert loved to swim (naked) in the River Thames, Victoria never learnt to swim herself.
17. Victoria and Albert built a special play house for their children in the grounds of Osborne House where they'd entertain their parents at tea.
18. The first thing Victoria did when she became Queen was to spend an hour alone. It was the first time in her life that this had happened.
19. Queen Victoria was the first person to send a telegram to America.

20. Victoria started the royal custom, carried on by our present queen, of wearing clothes to complement the country she was visiting. When she went to Scotland she wore the royal tartan, and when she went to Ireland she had shamrocks embroidered on her dresses.
Celebrity news, beauty, fashion advice, and fascinating features, delivered straight to your inbox!
Daisy Goodwin is a writer and television producer.
After reading history at Cambridge, she went to Columbia Film School as a Harkness Fellow. After ten years at the BBC making arts documentaries, she left to join the independent sector and created a number of programmes including Grand Designs which is now in its 18th year on Channel 4.
In 2005 she started Silver River productions, which she sold to Sony in 2012. Alongside her tv work , Daisy has written a memoir, Silver River and two novels My Last Duchess Uk/The American Heiress US and The Fortune Hunter, which were both New York Times bestsellers. In 2014 Daisy decided to concentrate on writing full time and was commissioned to write her first screenplay, Victoria, an 8 part series about the early life of Queen Victoria for ITV and WGBH Masterpiece Theatre.
She is now working on Season 2.
Daisy lives in London with her three dogs, two daughters and one husband.