Even If You Hated Skyler White on Breaking Bad, She Changed TV Forever
Ten years after the show premiered, our view of Strong Female Leads has evolved.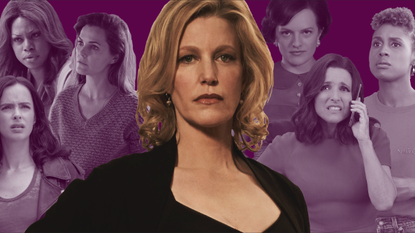 (Image credit: Morgan McMullen/Netflix/FX/AMC/HBO)
In the decade since Breaking Bad premiered, our expectations for prestige TV have gotten sky-high. We want stories that are compelling, characters who are messy, and as much moral ambiguity as possible. If a show doesn't end with us rejecting the concept that good or evil is a binary, did we even really watch it? But the biggest change of the last decade is that we now have a tolerance—nay, a craving—for shows with Strong Female Leads™. Nowadays, we want to watch a character who's more like Skyler White than her terrible husband, Walter.

That collective mental shift is quite a feat when you recall the absolute vitriol spewed at Anna Gunn, whose only crime was playing the woman who refused to take Heisenberg's shit. "It was very bizarre and confusing to us all," she told EW recently about the backlash:
"It was fairly early on that a guy stood up [at a panel] and said, 'Why is your character such a bitch? I mean, Walt is working and he's doing this for his family.' He was so clearly firmly with Walt, and thought Skyler was just this awful, nagging person. That was one of the first moments where it came right to me and it was shocking. I think we were all kind of shocked."
Maybe all Breaking Bad fans should have been kind of shocked. The show boasted a real lack of heroes—or even people who weren't just the absolute moral worst—making Skyler the closest thing to a protagonist the series had. She prioritized the safety of her children, she repeatedly tried to stand up to Walter (despite how dangerous it was to do so), and she continued to give Walt Jr. and Holly as normal a childhood as possible—even when Walt Jr. went out of his way to make his mother feel worthless. Whether we realize it or not, Skyler White's existence on TV has enabled us to celebrate the characters like her that have been written in the years since. In a way, Skyler White is the godmother of the modern-day Strong Female Lead™.
Of course, our definition of "strong" has evolved since the inception of the Netflix category that bears its name. Skyler White's strength wasn't celebrated until the end of the series when we, as viewers, began to form different relationships with our other favorite TV shows. This happened, in part, because of the new era of recaps and thinkpieces that dawned at the time: We read more deeply into shows and engaged in bigger cultural discussions about them. And what we've come to sort of agree on is that "strong," as a character description is arguably subjective and inarguably lazy.
By the time Breaking Bad ended, Mad Men's Peggy, Joan, and Sally had spent several seasons evolving into characters that could be described as "strong," and all for different reasons. You could say Joan was independent, that Peggy was headstrong, that Sally was a survivor—all variations of what strength looks like in a woman. Meanwhile, on Parks and Recreation, Leslie Knope was tenacious and committed to doing the right thing—another distinct show of strength. "Strong" is a catchall for the way we describe a woman with a narrative that exists outside of a man's, as if having her own agency is a feat worth celebrating. (It's as if the simple act of existing as something other than a foil for her male counterpart deserves a special designation.) On the other hand, we simply assume male characters are strong, just like we assume they're complicated.
That's what confused viewers so much about Skyler: Yes, her relationship with Walter was difficult—thanks to her potent combination of anger, disappointment, and disgust with his behavior—and so was she. But she was also a mirror, forcing Heisenberg to confront the monster he'd morphed into and, by extension, forcing viewers to confront themselves. After all, it's hard to romanticize a murderer like Walter in the presence of a moral compass like Skyler. And for those who'd been living vicariously through a science teacher-turned-drug-manufacturer-turned-criminal mastermind, her complications made it harder for them to escape into the fantasy. Skyler became a buzzkill, and that pissed viewers off.
But in the years since we said goodbye to Skyler, something surprising happened. As we began to unravel viewers' strained relationship with the woman, we also began to make space for characters like her. We took up with Veep's Selina Meyer as she strove for the White House while we ignored (or perhaps championed) her lack of ethics. We paid tribute to Stranger Things' Barb, the mopey teen who was killed after refusing to party with her friend indoors. We pored over the missions and murders of Cold War spy Elizabeth Jennings and her husband, Phillip on The Americans. Issa Rae's Insecure character is the everywoman strong female lead, dealing with her flaws and obstacles head-on and getting back up when she fails. Meanwhile, Jessica Jones is a bonafide hero. Six seasons after its premiere, we still follow the deeply complicated inmates of Litchfield Prison on Orange is the New Black. Oh, and don't even get me started on the end of The Handmaid's Tale season two, or the brilliance of the mutual admiration between agent and assassin in Killing Eve. Now these are complicated women. (Which, for the record, is better than merely being "strong.")
The ante's been upped in comedy, too, where female characters are being written who are more than just accessories to their male counterparts. The entire trajectory of The Good Place is built on Eleanor's revelation that good people can do bad things (and vice versa), while Crazy Ex Girlfriend sets its main character's complications and complexities to song. Even The Marvelous Mrs. Maisel, while delightfully upbeat, is quick to remind us that its characters are entrenched in the past and, as a result, will frustrate us as they make gender-centric decisions suitable for the 1950s (but painful for anybody watching in 2018).
In fact, no memorable female lead of the last few seasons has shied away from being Skyler-esque: Complex and three-dimensional, with just as much capacity for good as for the opposite. And thank goodness, because fictional men really don't care about being likeable and never have. Until female characters are free to be unlikeable and complicated, they're doomed to be relegated to the role of romantic interests or doe-eyed cheerleaders, rooting for some man to do great things.
The work isn't done, of course. As flush as we are in female characters who are "strong" (groan), complicated, flawed, messy, and human, we've still yet to see another one in the spirit of Skyler: a character whose trauma made her so messy and broken that she destroyed the mold as we knew it. We've been trying to rebuild and populate the space she left with women who are just as strong and just as difficult, but none have quite been as polarizing, as damaged, as fucked. Someone needs to write that character, one who dares to follow in Skyler's complicated footsteps and who we will root for anyway. And only once that happens can we congratulate ourselves on coming full-circle.
RELATED STORY
Marie Claire email subscribers get intel on fashion and beauty trends, hot-off-the-press celebrity news, and more. Sign up here.
Anne T Donahue is a writer and person originally from Cambridge, Ontario, and is the author of the essay collection, Nobody Cares.