15 New TV Shows With Well-Written Women to Watch in 2018
Because shows *without* well-written women should no longer be watched.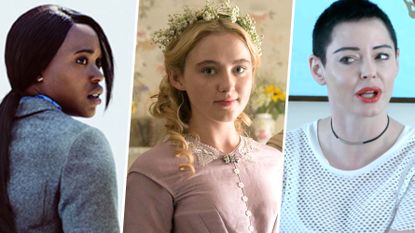 (Image credit: Netflix/BBC/E!)
Twenty-seventeen, while rough, was remarkable in terms of women supporting each other and forcing change. Empowerment has continued to be vital in 2018—both in real life and in pop culture—which brings us to a host of new shows created by and/or starring women. Finally!
While old favorites like Hulu's The Handmaid's Tale (opens in new tab) (which came back in April) and Netflix's Jessica Jones (which returned March 8) will continue to show women toppling the patriarchy in their own unique way, here are some new programs that are just as female-forward. This weekend, feel good about supporting sisterhood from your living room.
2 Dope Queens
HBO aired four live episodes of everyone's favorite Cocoa Khaleesi–hosted podcast on consecutive Friday nights in February—and while it is fun to see stars Jessica Williams and Phoebe Robinson IRL instead of just listening to them, the specials also let us fall in love with (perhaps) lesser-known and equally amazing comedians like Michelle Buteau and Naomi Ekperigin. An added bonus: Actress/comedian/all-around badass Tig Notaro directed all the episodes, which premiered February 2 on HBO.
Alone Together
This new comedy was co-created by and stars Crazy Ex-Girlfriend's Esther Povitsky as the female half of the world's most awkward friend-zoned relationship. (In the spirit of equality, we feel it's necessary to mention that comic Benji Aflalo is the other half). Watch it with someone you'd freely pee in front of but would never actually date. It premiered January 10 on Freeform; season two will be released tomorrow (!), August 1.
America Inside Out with Katie Couric
The venerable broadcast journalist's new series, which grew out of last year's Gender Revolution special, explores the untold stories in America from all political, religious, and social classes. The show includes a look at the white working class, Silicon Valley tech entrepreneurs who are disrupting our lives, and female Muslim interpreters in Brooklyn. It premiered in April on National Geographic.
The Chi
Lena Waithe, the Emmy-winning writer (and actress) from Netflix's Master of None, shows you a side of Chicago beyond what you might find in some glossed-over news reports. In her new series, which also counts musician Common as an executive producer, Waithe has created a world of interlacing stories that chronicle the subculture of the South Side—where men may feel like they need to step up and take care of things, but it's women who really run the show. It premiered January 7 on Showtime.
Citizen Rose
Wondering what Rose McGowan's experience has been since Harvey Weinstein reportedly squashed her attempts to hold him accountable for sexual assault? This new five-part documentary series from the producers of Keeping up with the Kardashians helps us find out. It chronicles the actress-turned-activist's journey as she releases her memoir Brave, and continues to fight for survivors of assault and harassment. It premiered January 30 on E!.
Good Girls
Retta, Christina Hendricks, and Mae Whitman star in this new dramedy about a group of moms who break bad when men, money, or some combination of both keep getting in the way of their abilities to get shit done. For anyone who's ever screamed silently on hold with an insurance provider, consider this show your new cathartic release. It premiered February 26 on NBC.
Killing Eve
Imagine Hannibal, only with women and less human flesh eating. Phoebe Waller-Bridge—a.k.a. the lady with the amazing gift for facial expressions in her Amazon show Fleabag—adapted this series about two powerful women from Luke Jennings' Villanelle book series. Jodie Comer plays an elegant, talented psychopathic assassin, who also happens to be obsessed with Sandra Oh's Eve, the unchallenged security service operative who in turn becomes obsessed with finding her. It premiered in April on BBC America and Oh recently got an Emmy nod for her performance.
Little Women
Are you a Jo or an Amy? This adaptation of Louisa May Alcott's novel—one of the most beloved and female-forward books ever written—stars Maya Hawke, Willa Fitzgerald, Annes Elwy, and Kathryn Newton as the four titular sisters. Emily Watson plays matriarch Marmee March and Angela Lansbury plays wealthy and opinionated Aunt March in this Civil War–era drama. It premiered May 18 on PBS.
This Close
Shoshannah Stern and Josh Feldman—who both happen to be hearing impaired—wrote, directed, and star as best friends who are at different phases of relationships (she, engaged to Zach Gilford's Danny; he, suffering from a breakup with Colt Prattes' Ryan). More funny than the show's premiere being Valentine's Day, is the not-so-subtle side-eye it gives to people who fail to treat deaf people with respect and normalcy. You can watch it on Sundance Now.
Seven Seconds
The Killing creator Veena Sud returns to a world of crime with this new anthology series that paints full human pictures of the stories that grab headlines. Case in point: The first season follows a cover-up that ensues when a white police officer accidentally hits a black teenager with his car. Regina King, who is no stranger to the anthology format after winning two Emmys for ABC's American Crime, stars as the mother of the slain boy. It premiered February 23 on Netflix.
Sweetbitter
Stephanie Danler's best-seller Sweetbitter (about a small-town girl who moves to New York to become anyone but herself) is getting the TV treatment (opens in new tab). Churchill's Ella Purnell stars as Tess, an uneducated waitress who quickly finds that drinks, drugs, dudes, and other thrills await behind the scenes of fine dining. It premiered this spring on Starz.
Vida
This a half-hour drama centers on Mexican-American sisters from East L.A. who can't seem to escape their roots once they find out some shocking details about their mom's identity. Mishel Prada and Melissa Barrera star. Watch it on Starz.
Sharp Objects
Gillian Flynn (opens in new tab)'s dark thriller about a journalist who returns to her hometown to report on a series of murders is now a miniseries on HBO. (Flynn is also the author of Gone Girl, in case you didn't know.) The series stars five-time Oscar-nominee Amy Adams as Camille Preaker, a reporter who suffers from self-harming tendencies. The series is on HBO now (opens in new tab).
Dietland
Based on Sarai Walker's best-selling novel of the same name, Dietland is a dark comedy that delves into many of the issues that women face in 2018—things like misogyny, rape culture, and unrealistic beauty standards. The series stars Joy Nash as Plum Kettle and was created by Marti Noxon, who also co-created Lifetime's UnREAL. It premiered on AMC in June.
Pose
Set in 1980s New York City, Pose explores different cultures in NYC, from the rising Trump-era luxury class to the ball culture world. Created by Ryan Murphy and Brad Falchuk, the series was met with critical praise and has already been renewed for a second season. The show premiered in June on FX.
RELATED STORY