The 7 Most Gripping Documentaries on Netflix Right Now
Subgenre: "Netflix and Learn."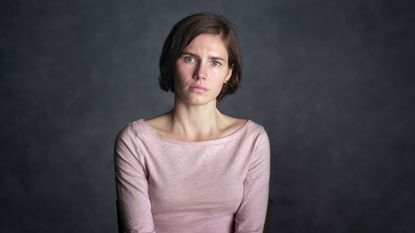 (Image credit: Courtesy of Netflix)
Marie Claire newsletter
Celebrity news, beauty, fashion advice, and fascinating features, delivered straight to your inbox!
Thank you for signing up to . You will receive a verification email shortly.
There was a problem. Please refresh the page and try again.
Documentaries so often get a bad reputation for being dull, slow-paced, and snooze-inducing, but the best of them will keep you on the edge of your seat, move you, and maybe teach you a thing (or three). Below, the best doc films that are available to stream on Netflix now (like, today!) , from the very new Amanda Knox documentary to the excellent Debbie Downer classic Blackfish.
'Amanda Knox'
One of the mostly highly anticipated documentaries of 2016 hit Netflix just last week (opens in new tab): a chronicle of the media frenzy surrounding the eight-year trial of American study-abroad student Amanda Knox. She spent nearly four years in Italian jail following the discovery of her roommate Meredith Kercher's body, found brutally murdered in her room. The intersecting lives of the suspects connected to the murder plus the media campaign to vilify Knox as a sex-crazed demon became key factors in Knox's prosecution; the trial and Knox's eventual acquittal gripped the world. Read a refresher on all the details of the spectacle here (opens in new tab) before you stream.
'Audrie & Daisy'
Another recent Netflix original documentary explores how social media and online bullying haunts the lives of sexual assault victims. A pair of teenage girls are sexually assaulted on two different nights, in separate towns, and as the Brock Turner (opens in new tab) case could tell you, the victim blame becomes a persistent threat to the girls' emotional stability leading up to and during the trial of their accused rapists.
'What Happened, Miss Simone?'
If the outrage over the Zoe Saldana-led biopic Nina can tell you anything, it's that people are hungry for more Nina Simone footage, but that nothing will come close to the real deal. What Happened, Miss Simone? does the late singer right, re-telling her story via rare archival recordings and never-released-tracks that will be catnip for any of her fans.
'Blackfish'
In one of the rare post-Morgan Spurlock (opens in new tab) moments where a documentary has sparked change in the world, one doc about killer whales in parks like SeaWorld became the center of a fight to stop keeping killer whales in captivity. The unexpectedly popular 2013 film Blackfish caused enough of a public outcry beyond the animal activist world that the park lost millions of dollars from American consumers. In November 2015—under intense public pressure, and in collaboration with the U.S. Humane Society—SeaWorld agreed to end its orca breeding programs and start phasing out orca shows at its parks (brava 🙌).
'Dior and I'
RIP, Raf Simons' reign at Dior 🙏. The genius former creative director at Dior is now holding court at minimalist heaven Calvin Klein, but in his heyday, Simons devoted his time to some of the most classically beautiful creations at the French house of design. Dior and I goes behind the scenes to capture the lead-up to the dark horse candidate's first haute couture collection for the design house, with all the anxiety of managing a team full of couturiers and the pressure of creating a knockout debut ensemble.
'Man on Wire'
Acrophobiacs beware. The mind-boggling story of Frenchman's Philippe Petit's palm-sweat-inducing walk across a wire that spanned the Twin Towers is one of the most exhilarating documentaries to watch, especially in our post 9/11 world. Watch the documentary and then the film-retelling in The Walk (starring Joseph Gordon-Levitt).
'The Witness'
You've probably heard of diffusion of responsibility (opens in new tab) before: the more people out there to witness an attack or murder, the greater likelihood that group mentality will kick in and make it feel acceptable for everyone to do absolutely nothing. It's a latent fear in big cities like New York City, and it happened to Kitty Genovese, who was murdered there in plain view of 38 witnesses who didn't stop to help her. Genovese's brother has been haunted by the murder for 50 years and this gripping documentary follows his quest for closure.
Follow Marie Claire on F (opens in new tab)acebook (opens in new tab) for the latest celeb news, beauty tips, fascinating reads, livestream video, and more.