How to Help California Firefighters and Others Affected by the Wildfires
If you're feeling helpless, here's what to do.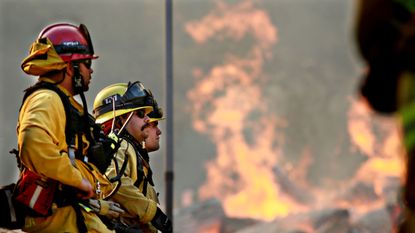 (Image credit: Sandy Huffaker)
Marie Claire Newsletter
Celebrity news, beauty, fashion advice, and fascinating features, delivered straight to your inbox!
Thank you for signing up to Marie Claire. You will receive a verification email shortly.
There was a problem. Please refresh the page and try again.
As you may know, over the weekend, three wildfires in California displaced thousands of people, destroyed homes, and killed at least 31 people. As of 9:29 a.m. Monday morning, only 20 percent of the fire has been contained, 91,572 acres burned, as well as 370 estimated destroyed structures with another 57,000 being threatened in Southern California in the Woolsey Fire. In Northern California, 25 percent of their fire, dubbed the Camp Fire, has been contained, and 113,000 acres have been burned, with 6,453 residences and 260 commercial structures destroyed, and a further 15,500 threatened. Celebrities like Miley Cyrus and Neil Young have lost their homes, and people are looking for a way to help in what has been considered to be most destructive fire in California's state history.
If you're like me and constantly looking for a way to help out when things go bad, you've come to the right place, and you're not alone.
First off: stop donating physical items.
So eager have people in Southern California been to help fire victims as well as firefighters, that the Los Angeles Fire Department had to come out and ask the public via Facebook to stop physically donating items.
"[T]he physical donation of donated goods, including personal care items, food and water on the fireline, at command posts or neighborhood fire stations is thankfully NOT needed or desired at this time!" the post says. "Sadly, we're not only emotionally overwhelmed with your profound kindness during the Woolsey Fire, but logistically as well. To the point that the well-meaning donation of physical goods to firefighters is at the brink of causing harm."
According to the Center for International Disaster Information, money, rather than physical goods, is almost always the most best and most efficient way to help during disasters. Those photo-ops of celebrities giving away goods during hurricanes are great, but they're not as helpful as actual money. Volunteers spend more time sorting through donated goods rather than purchasing the goods they actually need.
Know where your assistance is going.
As always, approach your donation with caution. It's great to be charitable and work with others, but make sure you do your research. Not every charity is necessarily charitable in a way that you'd like them to be and you want to ensure your money is going to a good place. I always recommend checking Charity Navigator before making any kind of charitable donation.
Want to help firefighters?
The Los Angeles Fire Department suggested a few nonprofits that are accepting donations for firefighters. First, there's Support the LAFD, who has organized a campaign with the Los Angeles Fire Department Foundation to purchase hydration backpacks for firefighters. You can make a donation to the Los Angeles Fire Department Foundation here. The Fire Family Foundation, the charitable faction of the Firefighters First Credit Union as well as the charity Widows, Orphans & Disabled Firemen's Fund, which helps the families of firefighters injured or killed on duty. There's also Entertainment Industry Foundation, which is a nonprofit started by Samuel Goldwyn, Humphrey Bogart, James Cagney, and the Warner brothers in 1942 that has a fund to help firefighters and other emergency workers. They also benefit the Los Angeles Fire Department Foundation to provide hydration backpacks and night vision goggles for helicopter pilots; another beneficiary provides meals for emergency workers and evacuees staying in shelters.
Want to help victims?
Your best bet is to encourage people to check in as "Safe" on Facebook, or even on the American Red Cross's website. The Red Cross has also opened shelters to help evacuees. To make a donation visit the redcross.org, call 1-800-RED or text the word REDCROSS to 90999.
There's also the California Community Foundation's Wildfire Relief Fund, which has offered aid to those affected by wildfires for 15 years and provided grants for rebuilding homes, providing financial and mental health assistance and helping those affected to get medical treatment; and the California Fire Foundation, which is an organization on the ground distributing financial assistance via pre-paid gift cards to those who lost everything in the fires.
And let's not forget our furry friends: the Humane Society of Ventura County is accepting donations for animals displaced in the Woolsey and Hill fires, as well as taking in domestic animals like dogs, cats, birds, as well as livestock.
For Northern California assistance, the North Valley Community Foundation based in Chico is raising money to support organizations that are taking in evacuees of the Camp Fire, and the United Way of Northern California has established a disaster relief fund to offer emergency cash and help those who have lost their homes. For Southern California assistance, the United Way of Greater Los Angeles is raising money for those affected by the Woolsey and Hill fires, specifically to assist low-income residents. Text "UWVC" to 41444 or you can donate here.
Crowdfunding!
Yes, we can come together with some of our favorite companies to help out, too. Airbnb hosts are offering free rooms in Ventura and Butte counties until November 29 for those affected by the fires. GoFundMe has a page that organizes all of the relief efforts in Northern and Southern California, including links for families who have lost their homes. Lyft is offering free rides to people in the areas. Dial 2-1-1 for assistance.
Together, we can all help the people in California during this trying time.
Related Stories
Celebrity news, beauty, fashion advice, and fascinating features, delivered straight to your inbox!
Amanda Mitchell is a writer and podcaster with bylines at Marie Claire, OprahMag, Allure, Byrdie, Stylecaster, Bon Appetit, and more. Her work exists at the apex of beauty, pop culture, and absurdity. A human Funfetti cake, she watches too much television, and her favorite season is awards season. You can read more of her work at amandaelizabethmitchell.com or follow her on Instagram and Twitter @lochnessmanda.