My Dad Was Injured in Afghanistan. Now I Take Care of Him Full-Time
As we honor our country's veterans, let's also acknowledge the 5.5 million Americans who care for them when they return from war.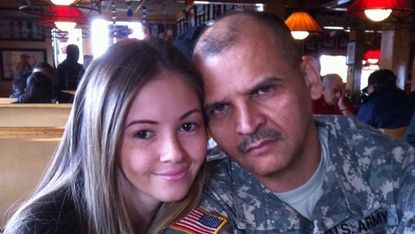 (Image credit: Courtesy )
In the summer of 2014, I was a student living in New York City with dreams of attending law school and pursuing a career in criminal justice. When my head wasn't buried in the books, I spent my time shopping, breaking a sweat at the gym, and going out for drinks with my friends (like most 24-year-olds). Now, looking back on that time in my life—when the only person who needed me was me—almost seems like a dream.
My world was turned upside down in July of that year, when my dad, Army Sergeant First-Class Luciano Yulfo, was serving in Afghanistan and got severely injured in a mortar attack. His injuries would change his life...and mine as well.
My dad was flown to Germany for initial treatment. Once he was in stable condition, he returned to the States to receive extensive treatment at Walter Reed National Military Medical Center in Bethesda, Maryland. At Walter Reed I saw the strongest man I knew laying before me weak, vulnerable, and almost unrecognizable. I had packed enough clothing for two weeks, but quickly realized that we would be there for much longer.
Weeks turned into months, and months turned into years. Before I knew it, I had spent two years living in the barracks at Walter Reed, supporting my dad through every step of his recovery. Another day, another diagnosis. Injuries both visible and invisible—Traumatic Brain Injury (TBI), Post-Traumatic Stress Disorder (PTSD), and a severely wounded left leg requiring multiple surgeries—his injuries literally stretch from head to toe.
Early on in my dad's recovery, a nurse pulled me aside and told me that my dad needed help, the kind of help a medical team would not be able to provide. He needed the support that only a close loved-one could give, but my mother wasn't able to be that person. I realized how much my dad needed me. For 20-plus years he had taken care of me, and now it was my turn to take care of him. In that moment, I remember thinking about everything my dad had done for me throughout my life: He was always there for me, teaching me how to ride a bike, how to tie my shoes, and how to cram for an exam. My dad was the one person who never asked for anything in return.
We are in the longest period of war in U.S. history, with many service members returning home like my dad, severely injured, forever changed, and in need of a full-time caregiver. There are more than 5.5 million loved-ones like me who've taken on the role of a military caregiver at home. We drop everything—including our careers, education paths, and goals for the future—to care for our severely wounded veteran. Our service is behind the scenes and often goes unnoticed. The care we provide is unending and the toll of providing it is profound.
Research tells us that military and veteran caregivers experience more health problems, depression, legal challenges, debt, strain in family relationships, and workplace difficulties than non-caregivers. These issues are particularly impactful on the 1.1 million of us caring for post-9/11 veterans—especially those caregivers who are 30 years old or younger. These statistics were completely foreign to me until they became my reality.
I don't say this for your pity or because I resent my dad. I simply say it because I want more Americans to know what's happening in a world beyond their own. A world in which people—and their families—are sacrificing for their freedoms.
Since returning back to our home in New York two years ago, my dad's recovery has been slow, but steady. Physical wounds heal more readily, their scars more apparent, their progress more predictable, than an invisible wound like a brain injury. In the beginning, I had a difficult time knowing and understanding how my dad was feeling. Now, I can tell how he's feeling through the smallest of indicators: the tightness of his smile, the brevity of his attention, or even the avoidance of eye contact. He tells me all the time that I know him better than he knows himself. I can't say I disagree.
I drive my dad to all of his doctor's appointments, manage his many medications, cook his meals, clean, and handle all other household chores. In addition to these practical responsibilities, I have to simply be there for him every day. He continues to struggle with the invisible wounds of war, even at one point attempting to take his own life. It is critical that I keep close tabs on the state of his mental health and support him emotionally.
Because of the caregiving role I've taken on, I've had to give up many things: finishing school on time, keeping up with my friendships, and celebrating special occasions that I used to take for granted, like a friend's birthday or graduation. I made friends with some of the other veterans and caregivers at Walter Reed, but there's not a lot of time for socializing at the hospital. Though I sacrificed the freedom that most people have in their mid-20s, the experiences I've missed out on have been replaced with something even more fulfilling.
For some, destiny simply happens, while others choose to shape it. I decided to be a voice for other caregivers, particularly young caregivers like me, through the Elizabeth Dole Foundation. Founded by Senator Elizabeth Dole in 2012, the Foundation works to empower, support, and drive positive change for military caregivers—spouses, parents, loved-ones, and children—who care for our country's wounded warriors at home.
In 2017, the Foundation selected me to represent the state of New York as a Dole Caregiver Fellow, to serve as a voice for the millions of military caregivers across the nation. I work with my elected representatives to pass legislation to improve caregiver support. I travel across the state to help communities launch local caregiver support efforts and across state lines to advise and educate leaders from the public and private sectors on how they can play a role in supporting military caregivers.
Awareness is key—just recognizing that when our veterans return from war, there are people, beyond medical personnel, who have to be there with them every step of the way. If you can, support military caregivers in your own community: offer to mow their lawns, run an errand, or deliver a meal. When you're caring for another person full-time it's not always easy to care for yourself.
Dreams delayed are not necessarily dreams denied. Helping my father has been my full-time "job" over the past four years but law school is still on my mind; I'm confident that the experience I've gained in caring for my dad and advocating for others will be a tremendous asset in the coming years. Becoming my dad's caregiver has not only given me a voice, but it has empowered me to step out of my comfort zone, share my story, and ultimately serve caregivers like myself who fly under the radar, but need our nation's support. For now, I may not have a law license, but at least I have my father.
RELATED STORY
Celebrity news, beauty, fashion advice, and fascinating features, delivered straight to your inbox!