How Whoopi Goldberg Made It in Hollywood
The iconic actress wants you to stop giving "a rat's butt" what other people think of you.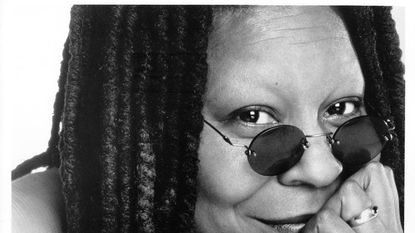 (Image credit: Timothy White)
The cohost of The View and star of the comedy Nobody's Fool, co-starring Tiffany Haddish, out now, on fearlessness, her audiobook habit, and what she thinks about throuples.
1. If I weren't an actor, I'd be: A shrink or a lawyer—one of the two—because you have to be able to tell good stories when you're a lawyer, and you have to be able to listen and know a bad story when you're a shrink.
2. Best career advice I've gotten: Came from Paul Simon and Art Garfunkel at the beginning of my career when they both said to me and my mother, "Make sure you enjoy this ride." It's important. Lots of people will try to stop you from having a good time, but the very first time is always wonderful, so enjoy it.
3. The three qualities that got me where I am today: Talent, luck, and humor.
4. Change I'd like to see in my industry: The fact that people get older seems to be a shock to the industry. I wish that they'd get over that. I'd like them to stop being surprised that someone has gotten older and smarter.
5. Moment I felt I made it: I was walking along the streets of New York with my very, very first publicist who stopped in the middle of the street and said, "Enjoy this now," because nobody was looking or waving or saying hello. She said, "Enjoy this because this is the last time you will be able to do this with nobody caring that you're on the street."
6. Most agonizing career decision I've ever made: I've never really agonized over anything. It works differently for different people.
7. Easiest career decision I've ever made: Saying "Yes" to Steven Spielberg.
8. Worst pitfall of the job: People forget that you're a human being so they will come up to you and say the strangest stuff. And now I think it happens to everybody, but people just forget that you're human or that you have a life or that you have a family that you want to hang out with, too.
9. How did you make your first dollar? I worked in a morgue.
10. Who do you admire and why? I admired my mom because she made me fearless, and that is a trait you have to have if you are going to do what I do.
11. Last thing I binge-watched: Castle Rock on Hulu.
12. Book that left a lasting impression on me: Well, the truth is—and this is going to sound crazy, but there is an amazing book called Toddlers Are A**holes (It's Not Your Fault) [by Bunmi Laditan], and it is wonderful. It left an impression on me because someone is telling you the truth about toddlers, and it's fun, and I love it. That's the last one that did.
13. Song that always makes me cry: "Nessun Dorma," by Puccini.
14. Song I'd want played at my funeral: "Always," written by Irving Berlin.
15: Cocktail of choice: I don't drink, but when I do, I only like cranberry juice with a little sparkling soda.
16. If I could live in a foreign country, it would be: Greece.
17. What every woman should try once in her lifetime: Not giving a rat's butt what other people think of her. That's the thing you should try in your lifetime.
18. How would your perfect day begin? With me waking up.
19. How would your perfect day end? With me going to sleep.

20. One thing I'm exceptionally good at: I think I'm good at seeing a bigger picture.
21. One thing I'm epically bad at: Hiding my feelings. Apparently, everything is on my face.
22. Something better in theory than in practice: Throuples.
23. If I could compete in an Olympic sport, I'd like it to be: A runner.
24. The last time I felt beautiful was: About a second ago.

25. Store I can't leave without buying something: Audible Books. You get hurt
trying to interrupt me while I'm listening.
26. The three qualities I thought I wanted in a partner: Heart, humor, and truth.
27. The three qualities I know now matter: Integrity, trustworthiness, and laughter.
28. Advice to a woman with a broken heart: Clearly, you can do better.
29. Relationship advice to my younger self: No, you never have to get married.
30. The craziest thing I did for love: Got married.
A version of this article appears in the December/January issue of Marie Claire.
Celebrity news, beauty, fashion advice, and fascinating features, delivered straight to your inbox!
ELIZABETH KATKIN , A LAWYER AND MOTHER OF TWO, IS A FORMER PARTNER AT A LARGE INTERNATIONAL LAW FIRM. A GRADUATE OF YALE UNIVERSITY AND COLUMBIA LAW SCHOOL AND SCHOOL OF INTERNATIONAL AND PUBLIC AFFAIRS, SHE LIVES WITH HER HUSBAND, RICHARD, AND THEIR "INCONCEIVABLE" CHILDREN IN DENVER. CONCEIVABILITY IS HER FIRST BOOK.