It's a Problem That We're Not Talking About Jimmy Kimmel's Mahershala Ali Jokes
What's in a name? When you're a minority, everything.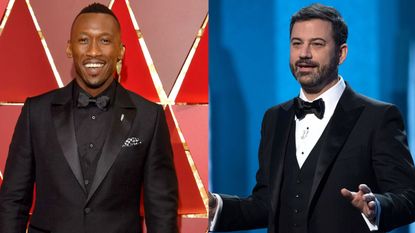 (Image credit: Getty Images)
Marie Claire Newsletter
Celebrity news, beauty, fashion advice, and fascinating features, delivered straight to your inbox!
Thank you for signing up to Marie Claire. You will receive a verification email shortly.
There was a problem. Please refresh the page and try again.
On Sunday night, Mahershala Ali became the first Muslim actor to win an Academy Award—best supporting actor for his tender performance as Juan in Moonlight. During his acceptance speech, Ali thanked his wife, Amatus Sami-Karim, announcing that she had just given birth to their daughter four days prior. It was a moment that felt both culturally historic and sweetly personal.
And it would have remained such had host Jimmy Kimmel not seen it as an opportune time to get a few laughs, joking to Ali, "You can't name her Amy." (It's not even an original joke. Kimmel said essentially the same thing during Ali's appearance on Kimmel's late night show in January.)
But the thing is, his seemingly harmless remark actually "others" Ali and his family. God forbid a black Muslim man simply be honored at Hollywood's most glamorous and esteemed event without facing the kind of microaggression that people of color do every single day.
But the host didn't stop there. During one of the night's comedic bits, Kimmel had the audience shout "Mahershala!" instead of "surprise" to welcome a tour group. As if Ali's name, his identity, is some sort of gimmick. Among the group was an Asian-American woman named Yulree and her husband Patrick. Upon learning their names, Kimmel said to Patrick, "See, that's a name."
I never felt more protected by and resentful of my own name than watching that exchange.
Dark, wild hair and big beautiful eyes—I named you after a very pretty woman," my father tells me, each year, on my birthday. My mother simultaneously scoffs and beams. "Your Papa was obsessed with Jennifer Hart. I would never have named you that. I would've chosen a blessed, Muslim name." I still wonder why she didn't. Nobody believes my name is actually Jennifer anyway.
In 1984, while my mother was in labor at Elmhurst Hospital in Queens, New York, my young father and his friends voted on the name of his firstborn. Though he didn't know what my gender would be, he thought of girl's names only. All he wanted was a beautiful baby girl. The baby girl that motivated him and my mother to leave West Germany (where they'd lived for five years as Bangladeshi migrants). Under German law, I would have no legal rights there. But in America, all our dreams could come true.
His baby girl's name would celebrate his family's new identity and life as Americans. Television provided insight into the glamorous, ostentatious culture of America in the '80s. My father was himself a larger-than-life personality and the names he chose for me reflected that: A brown baby girl named either Pamela, after the sophisticated oil tycoon-wife Pam Ewing on 'Dallas', or Jennifer, after the magnetic detective/journalist Jennifer Hart on 'Hart to Hart.'
Jennifer won because "she was smart, loving, and so beautiful, just like you," my father says.
As I got older, I realized his decision wasn't flatly cute or naive. Perhaps he knew what life as a brown person, as a Muslim in America, would be like during my lifetime. Perhaps he wanted to shield me from that. When asked, he first dismisses the thought. "Jennifer was the best name at the time." Eventually he concedes: "Yes, maybe I did want you to fit in."
At work yesterday, when I told a white co-worker that I didn't enjoy Kimmel's hosting, she replied that she "thought he did great." I kept quiet but should've pointed out the obvious: Except for the racist jokes, right? The comments you can so easily ignore because you never have to deal with casual racism. The comments that remind me that no matter what, even with the name Jennifer, I will never quite fit. The internet agreed with me:
oh that is a cool racist joke about Mahershala Ali's name. Fun fun way to shit on one of the best moments of his life. #OscarsFebruary 27, 2017
See more
@jimmykimmel can't let Mahershala Ali win without making fun of his name. Jimmy, your name ain't so common in 3/4 of the world #OscarsFebruary 27, 2017
See more
Names in America are loaded. Black names are categorized as 'ghetto' and 'unprofessional'. Asians often have alternative 'American' or 'Christian' names. Ying-Lee otherwise known as Susan. Joginder becomes Jack. Ashfaqul goes by Ash. We let people butcher the pronunciation of our names all the time, in order to ease white people into our worlds.
When I started meeting boys as a teenager, mostly Bangladeshi-American Muslim guys—because I dared not date outside my race—they asked me:
"Is that your real name?"
"Are you Christian?"
"Why don't you have a Muslim name?"
"What's your daak naam, though?"
Daak naam means "nickname" in Bengali, the language I speak with my parents. Bangladeshis always have a daak name. They have a bhalo naam (good name) for official purposes (school, work, marriage certificates) and a lively daak name that close friends and family members use.
My daak name is just as colonized as my bhalo naam: Jenny. I've never felt like my name really belongs to me. I never felt like a Jennifer C., as I was called in the 1st grade—one among three Jennifers. Growing up amongst the diversity of New York City, it was normal for my family to be proud of our ethnicity. Even as a child, Jennifer made no sense on my South Asian body.
It bothers me that I enjoy the perks of having a white name. There is so much privilege that comes with being a Jennifer. I was never teased for my name in school. When I started applying to jobs after college—mostly at glamorous fashion magazines like this one—my resume was most likely never passed over because my name was too hard to pronounce. TSA never looks at me twice because I'm a brown girl named Jennifer. I could be anything…but probably not Muslim.
But I do deal with the scrutiny of being a Muslim South Asian woman named Jennifer from white and people of color alike. Their puzzled expressions and invasive questions regarding the story behind my name make me feel like an imposter. When I introduce myself as Jennifer, there's always a disconnect between who I feel I am and who I say I am. My conflicted feelings about my name has resulted in a life-long curiosity of how others get their names.
When I found out Mahershala Ali was a converted Muslim, I wondered what made him choose his exact name. I'd never heard the name Mahershala before. I was astonished to find out that his first name, though Muslim-sounding, comes from the Bible and was chosen by his devoutly Christian mother.His birth name, Mahershalalhashbaz, was the name of of Isaiah's second son, a prophet revered in both Christianity and Islam.
Ali's name and success are representative of a unified world, despite the reality of Trump's America, where racism and religious persecution have seen a resurgence. Just last week, two Indian-Americans were shot by a white man, after he berated them with ethnic slurs. So while we might have the urge to dismiss Kimmel's joke as frivolous verbal vomit, we can't afford to do that. Something as seemingly innocuous as making fun of a Muslim-American's name is more loaded than it seems. Slaves lost their African names and histories during the Atlantic Slave Trade. Immigrant children often feel ashamed of their culturally rich names. For marginalized groups stripped of their histories and identities, names hold immense power.
Some of the most famous African-American figures in history changed their names to reflect their identities and beliefs. Malcolm X became Malik El-Shabbaz, Cassius Clay became Muhammad Ali. These were not decisions that were made lightly. Their names are a source of pride.
Had my parents not been worried about assimilation, I would've had a name more reflective of my history. I would've been named Zainab, the lyrical Arabic name of a fragrant, flowering tree. It's the alternative name my mother picked for me a few years ago, after years of conversations with her about how my name feels fraudulent, as if I'm somehow responsible for eradicating my cultural identity. It's how I'm referenced in her cell phone.
Kimmel's insensitivity and disrespect reminded me of a vow I'd taken at 17, to give my future children proud, South Asian or Muslim names. Ali named his daughter Bari, an Arabic name meaning, "of Allah."
During my senior year of high school, I came across a vivacious little girl with the most glorious name: Sunehra. It means golden, the exalted one. Sunehra became my moniker for micro-blogging sites, my Twitter handle, the name of the central character of my novel-in-progress. It's also what I hope to name my future daughter.
It's a hard name to pronounce (SOO-NE-RAH); even South Asian people butcher it. But I hope that my future daughter won't have to apologize for her name or live in a world where claiming a colonized first name is a source of pride of relief. I hope my generation of artists, writers, activists and changemakers so impact the world that being named Jennifer as a South Asian Muslim girl won't be considered a lucky, convenient measure—and that Mahershala will become just as American a name as Jennifer.
Follow Marie Claire on Facebook for the latest celeb news, beauty tips, fascinating reads, livestream video, and more.
Celebrity news, beauty, fashion advice, and fascinating features, delivered straight to your inbox!
Jennifer Chowdhury is an independent journalist based in New York City and Bangladesh. She covers the South Asian and Muslim diaspora with a specific focus on gender rights. She is passionate about covering stories on women of color around the world whose voices are stifled by patriarchal attitudes, systematic racism and socioeconomic burdens.