Amy Sedaris Is the Anti-Marie Kondo
At Home With Amy Sedaris is a celebration of the absurd.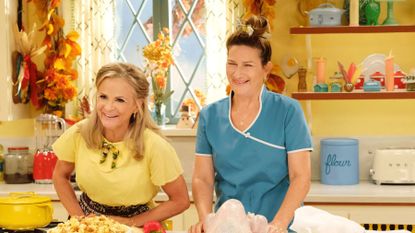 (Image credit: Courtesy )
On At Home With Amy Sedaris, Amy Sedaris plays a satirical version of herself—a homemaker television host, convinced that a better life is only a handful of pipe-cleaners and the perfect decorative gourd away. But while the comedic variety show hinges on a Pee Wee's Playhouse style of maximalism (on an upcoming episode, Sedaris is shrunk down in order to explore an ornate dollhouse and it makes perfect sense), Sedaris says her life is much simpler. Some might even argue her daily existence—more pizza with a handful of friends than seated dinner parties for 20—is in line with Marie "Sparks Joy" Kondo, not her extra alter ego. And not just, as Sedaris tells me proudly, because she doesn't need a storage unit for all the wigs, clothes, and props she owns for potential upcoming projects.
"I read her book and I got rid of it, because that's part of it, right?" she jokes of the famous organizer's system. "A lot of the stuff she had in the book I felt good about because I already did it. Everything in my apartment means something to me and has a story. And if I didn't like it, it would never be out in my apartment. I like everything I have out."
Sedaris has applied the same theory of sparking joy to the characters she's played across her three-decade long career. Among the highlights: Princess Caroline, Bojack Horseman's talent agent (who happens to be a cat); the belittled Mimi Kanassis on Unbreakable Kimmy Schmidt; and three seasons and a movie as Strangers With Candy's Jerri Blank, oft-self-described as "a 46-year-old ex-con, ex-junkie, ex-prostitute, and high-school freshman." But despite the cross-section of humanity she's portrayed, the 57-year-old comedian sees a common thread in most of her creations.
"I think everybody I play likes themselves and they're enthusiastic," she says. "Whether they're idiots or not, I think I like everyone I play. I recently had to play someone I didn't like and it was very challenging for me. Because that's not my go-to. I like playing villains and people that you don't [normally] like."
Now in its second season (which premiered last night on TruTV), Sedaris has returned to At Home's glitter-covered craft corner for another round of dark jokes, manic art, and holiday-themed song-and-dance numbers. Although the first season was nominated for an Emmy Award in the Outstanding Variety Sketch Series (it lost to Saturday Night Live), Sedaris says she didn't automatically assume she'd get the chance to put on her apron again.
"We look at it like there's a pile of wood in front of us, and [series co-creator] Paul Dinello better start chopping so I can decorate this Christmas tree," she says, her smile spiraling as she speaks. "Because holidays are coming in eight months. It's a chore and you always go into it thinking oh my god! How are we going to come up with ideas? And then like a jigsaw puzzle you start putting it together and watch it develop, like a werewolf looks at its fingernails. He can't believe his eyes and then he has to go out and attack somebody!"
Although she counts herself a fan of classic hospitality and cooking programs like The Galloping Gourmet, Julia Child, and The Dinah Shore Show ("When Tammy Faye Baker would do her cooking segment I was like, oh my god! That is a horrible idea! But she would be up there smiling and praying and doing it. I love that!"), At Home With Amy Sedaris takes a less straightforward approach to its segments, often stringing them together with chaotic plots like Sedaris' struggle to overcome "crafter's block" and make the perfect hat ("The little white gloves of the skull!"), or an elaborate tribute to Single White Female, during which she ends up creatively restrained by Rose Byrne.
"This season I call it our killing season because I feel like in every episode someone is trying to kill me," Sedaris says. "I don't know where that came from!"
In addition to herself, Sedaris plays multiple characters on the show, each in various shades of lonely or desperate, most of whom end up the butt of the joke. But while her and Dinello's humor veers toward absurd, they're always reading the room. The jokes are based on what makes them laugh, not an underlying sense of cruelty. In fact, everything on the show—including the so-bad-it's-amazing art hair lamp—is personal. So much that Sedaris has recruited her siblings to create many of the crafts seen on the show. Her brother David (yes, that David Sedaris) even pitched in, assisting her with naming one of her characters, an Inuit that he christened "Frostina."
"A lot of the stuff on the on the set is my stuff," says Sedaris. "A lot of the clothes are my own clothes. A lot of the props are my own props. A lot crafts are my own crafts. Pots and pans you see are my pots and pans. So, when something breaks on set I have a fit. I know it's probably something of mine."
At Home With Amy Sedaris is allowed to be a grab-bag of sentimentality and absurdity because it's ultimately comedic rejection of perfection. Creating a functional how-to show, or a straight-up sitcom was never the goal. Sedaris has no desire to teach people how to make a flawless pie crust, or even comment on the absurd quest for an Instagrammable life. After all, she's not perfect either. And if there's one thing she believes in, is the power of laughing at yourself.
"[Messy crusts] still tastes like lattice-top cherry pie, right?" she notes. "I remember Betty Crocker's Cook Book for Boys and Girls. We would always try to make that castle cake. It never looked like a castle, it always looked more like a courthouse. The kids across the street could do it!"
She groans theatrically at the memory.
"Nothing is worse than someone else being able to do it better."
For more stories like this, including celebrity news, beauty and fashion advice, savvy political commentary, and fascinating features, sign up for the Marie Claire newsletter.
RELATED STORY
Marie Claire email subscribers get intel on fashion and beauty trends, hot-off-the-press celebrity news, and more. Sign up here.