"Bill O'Reilly Made My Life a Nightmare"
When the Fox News host criticized my work on his show, I got over a hundred death threats.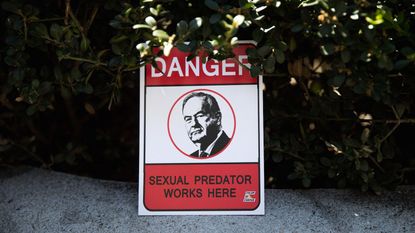 (Image credit: archive)
Marie Claire Newsletter
Celebrity news, beauty, fashion advice, and fascinating features, delivered straight to your inbox!
Thank you for signing up to Marie Claire. You will receive a verification email shortly.
There was a problem. Please refresh the page and try again.
After 15 years of providing legal protection and millions of dollars to his accusers, Fox News finally fired their marquis star, Bill O'Reilly, on Wednesday. In an age when a self-proclaimed "pussy-grabber" occupies the Oval Office, any public consequences for harassing women feel particularly significant. And this move was particularly satisfying for me—just a few years ago, O'Reilly sent a tidal wave of harassment my way.
On May 31, 2009, an anti-abortion zealot murdered abortion provider George Tiller. At the time, I was 21 years old and working as a counselor at an abortion clinic in Philadelphia. Dr. Tiller's murder drove a hot spike of fear and anxiety through my entire body. I walked through anti-abortion protestors a few times a week to get to work; I found their gruesome signs annoying, but not threatening. But Dr. Tiller's assassination forced me to confront the terrifying reality that my co-workers and I faced more than just screams. We could actually get killed for providing people with legal, safe, and compassionate medical care.
My boyfriend walked me to work the next day, a sweet but feeble attempt to shield me from the protestors. What could he actually do if one of them had a gun? Inside, my coworkers and I gathered to talk about how we felt. As I listened to each person share why they were still so committed to this work despite the danger, I wondered what it would be like for our stories and motivations to be shared in a bigger way. One colleague made a comment about all of us being Dr. Tiller now, and I texted my boyfriend—did he know how to make a website? And how much work would it take?
We stayed up all night with him writing code and me writing content for IAmDrTiller.com. The next day, I told my coworkers to take photos with a sign that said "I Am Dr. Tiller," and asked them to email me their own explanation of why they provide abortion care. My boss sent the website around to other abortion providers, and overnight I received dozens of submissions from abortion-clinic staff all over the country. Somehow, conservative media got wind of the website, and on June 10, Bill O'Reilly discussed the project on his show.
In the short segment, O'Reilly and a guest smarmily commented, "Why are they all hiding their faces if this is such a noble cause?" and, "If you want to make a political statement, show your face," completely ignoring the fact that just 10 days before, a doctor was killed because people knew what he looked like and where he worked.
Immediately after they laughed at my site—and by proxy, Dr. Tiller's murder—on the air, the hate mail started to roll in. Ten, twenty, thirty, ultimately more than 100 messages inspired by Bill O'Reilly's segment cluttered my inbox. People praised Dr. Tiller's death, wrote in character as dead fetuses, threatened my boyfriend and me, and worst of all, threatened the abortion providers pictured on the website. You can see a snippet of the hate we received below:
One person got creative and sent me an image of Dr. Tiller's head in a fire along with a custom-made YouTube video about how terrible hell is.
At first, these repulsive messages horrified me. What if these people figured out where I lived? Where I worked? But as I kept reading them (I couldn't help myself!), I noticed a pattern: lots of typos, lots of claims about having easy answers to some of life's most complex questions, and a seemingly bottomless pit of shame, judgment, and contempt. These were not compassionate, curious, or concerned individuals. They didn't deserve my emotional energy. Abortion providers and our patients did. So I stopped reading the messages, worked with my boyfriend to put up additional security measures on the site, and kept posting stories of abortion providers from around the world.
Bill O'Reilly explicitly targeted Dr. Tiller on his show, referring to him as "Tiller the Baby Killer," saying he "executed" babies, and, according to RollingStone.com, compared the doctor to Nazis and to Al Qaeda. He even encouraged people to take violent action against Dr. Tiller, saying, "if I could get my hands on Tiller – well, you know. Can't be vigilantes. Can't do that. It's just a figure of speech. But despicable? Oh, my God. Oh, it doesn't get worse."
But now we know the truth: O'Reilly didn't just encourage harassment of abortion doctors and others he despised, he was a practitioner of harassment himself. He was not the paragon of moral certainty and righteousness he claimed to be. Five women were paid a combined $13 million to keep them from speaking about the sexual harassment they accused O'Reilly of.
I don't believe that O'Reilly's departure from Fox News is a signal that the network cares about its female employees. As other have said, O'Reilly became "commercially unviable" as news about the sexual harassment allegations spread and advertisers fled the show.
O'Reilly no longer has the platform to encourage violence against abortion providers, or to tell his staff that he wants to fondle them "with a falafel thing". O'Reilly's departure is a small victory, yet reveals the depressing truth that for over a decade, Fox News has prioritized making money over protecting its female employees. Whether promoting the murder of an abortion provider or sexist views about women, the culture of hate isn't just an on-air performance, but a behind-the-scenes practice. We all need to stay vigilant in calling it out as often as we can.
Steph Herold, MPH, is an award-winning activist and social scientist with a background in abortion care, abortion funds, and reproductive health advocacy. She's written for Glamour, the Hill, Rewire, and Kveller, among others. She lives in Brooklyn, NY and you can find her on Twitter at @StephHerold.
Follow Marie Claire on Facebook for the latest celeb news, beauty tips, fascinating reads, livestream video, and more.
Celebrity news, beauty, fashion advice, and fascinating features, delivered straight to your inbox!