How True Is 'The Act'? The Hulu Series' Backstory Is Chilling
The horrifying tale gets an important revisit in this anthology crime series.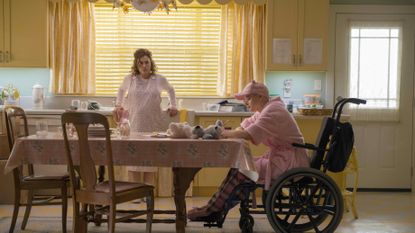 (Image credit: Brownie Harris/HULU)
Mother-daughter relationships are undeniably complicated, but few compare to the one depicted in the new Hulu series, The Act. Starring Joey King (The Kissing Booth) and Patricia Arquette, The Act follows the toxic and ultimately fatal relationship between Gypsy Rose Blanchard (King) and her mom, Dee Dee Blanchard (Arquette).
In the trailer, Dee Dee is portrayed as a mentally ill, overprotective parent who raises her daughter Gypsy Rose to believe she's terminally ill. Gypsy Rose's list of supposed illnesses and disabilities range from leukemia to paraplegia, epilepsy, heart murmurs, and more. But as Gypsy Rose grows older, she starts to uncover the truth, and soon learns that everything from her illnesses down to her age has been a lie perpetuated by her mother. The only way out of her trapped and tortured life, as Gypsy Rose sees it, is to kill her mother. And with the help of her internet boyfriend, that's exactly what she does.
It's a horrifying story to say the least, but even more awful is the fact that the entire series is based on a real-life story. The story of Gypsy Rose has previously been told in an HBO documentary and a Lifetime movie, after initially being brought to life by a BuzzFeed longread, but here's the haunting truth about the The Act, which hits Hulu on March 20.
Sign up for Hulu to watch 'The Act'
Gypsy Rose Blanchard was born in Golden Meadow, Louisiana on July 27, 1991. According to the 2016 BuzzFeed article, Gypsy Rose's father, Rod, recalls her being born a healthy baby. But when she was just three months old, Dee Dee became concerned that her newborn had sleep apnea. She began taking her to the hospital, and according to Rod, put Gypsy Rose through three rounds of tests and a sleep monitor. But the doctors still didn't find anything wrong with Gypsy Rose.
Nevertheless, Dee Dee insisted that her daughter actually had a chromosomal defect and was too ill to hold. And as Gypsy Rose grew older, Dee Dee's diagnoses became more and more serious.
Eventually Gypsy Rose was told she had cancer, epilepsy, and muscular dystrophy, and was placed on anti-seizure medication and began eating through a feeding tube. A 2018 ABC News article reported a closet full of medications that Dee Dee convinced doctors to prescribe to Gypsy—none of which she actually needed.
"The only thing I had wrong with me is I have a little bit of a lazy eye. Not all the time, but I have better vision in [my left] eye than I do [in my right] eye," Gypsy Rose said in an interview with 20/20."That's it."
It's thought that Dee Dee Blanchard had Munchausen syndrome by proxy.
According to the Cleveland Clinic, Munchausen syndrome by proxy is a mental illness also known as Factitious Disorder Imposed on Another (FDIA), which induces a person to act as if they are caring for someone with a physical or mental illness—or in Dee Dee Blanchard's case, both.
As Buzzfeed noted, with Dee Dee dead, there's no way to actually confirm she had the disorder. But all signs—from the false diagnoses and nonsensical list of drugs to the manipulative behavior—point to FDIA.
ABC reviewed Gypsy Rose's medical records and concluded that she was treated by at least 150 different doctors, but every appointment had one thing in common: Gypsy Rose never spoke. Dee Dee did all the talking, giving the doctors a detailed account of her daughter's symptoms, aches, and previous illnesses.
Gypsy Rose became a local celebrity
According to ABC News, in the aftermath of Hurricane Katrina in 2005, Gypsy Rose and her mother were housed in local shelter in Covington, Louisiana. After their story spread, they were moved from Louisiana to Springfield, Missouri. Dee Dee had already convinced doctors that Gypsy Rose's medical records were lost in the hurricane, along with many of their belongings.

Soon, the story of the displaced single mother-slash-caretaker and her disabled daughter caught media attention. Gypsy Rose and Dee Dee were moved into a house built by Habitat for Humanity and were flown across the country for celebrity meet-and-greets, concerts, speeches, trips to Disney World, and more. Gypsy Rose's medical bills were covered by Medicaid, though her mother convinced her that they were surviving solely on donations, food stamps, and social security.
Later on, Gypsy Rose discovered that her father had been paying child support her whole life—despite her mother portraying him as an alcoholic drug addict in order to maintain the public's sympathy and charitable donations.
Dee Dee refused to tell Gypsy Rose her real age
According to BuzzFeed, Rod Blanchard said that Dee Dee lied to Gypsy about more than just her illnesses: She refused to even tell Gypsy Rose her real age. Rod remembers calling to wish his daughter a happy 18th birthday, but before he could speak to Gypsy Rose, Dee Dee intercepted the call, cautioning Rod not to mention her age. "She thinks she's 14," Dee Dee said. She told Rod that revealing Gypsy Rose's real age would only upset her.
According to an ABC News article, Dee Dee forged Gypsy Rose's birth certificate on at least one occasion, changing her birth year from 1991 to 1995. Gypsy reportedly asked her mother several times how old she was, but each time Dee Dee would become more and more upset. "It was about a good span of time between, I want to say, 2001 to 2015, that I really wasn't sure of my age," Gypsy Rose told 20/20.
Gypsy Rose managed to develop a secret love online love affair
According to a Washington Post article, in 2012 Gypsy met her first boyfriend and future murder accomplice, Nicholas Godejohn. Based on Gypsy's actual birth certificate, she would have been around 21 years old.
The two met online on a website known as Christian Dating for Free, as reported by the Springfield News-Leader. The internet was a way for both of them to connect socially when the real-world was isolating: Gypsy was controlled by her mother's strict rules and watchful eye and Godejohn was an autistic man, whose job included holding a sign outside a local pizza place, according to the Washington Post.
Gypsy Rose Blanchard is currently serving a 10-year prison sentence for her mother's murder
The fake diagnoses, tests, and abusive behavior went on for as long as Gypsy Rose could take it. And then one day, she'd had enough. In June 2015, Gypsy, then 24-years-old, posted to her Facebook account: "That bitch is dead."
The next post described, with detail and profanity, how her mother Dee Dee had been killed and how Gypsy Rose herself had been raped. After a 911 call from a concerned neighbor, the police obtained a search warrant and found Dee Dee stabbed to death in the bedroom. According to BuzzFeed's reporting, she'd been dead for several days. Gypsy Rose was gone, though she was later apprehended.
She has since opened up about the murder, which she called "Plan B"
In a 2017 interview with Dr. Phil, Gypsy Rose explained what she and then-boyfriend Nicholas Godenjohn referred to as "Plan B"—their plot to kill Dee Dee Blanchard. She went into detail about sneaking out to see a movie with Godejohn, where afterward she asked him to kill her mother. She said that she had been desperate and saw saw murder as her only way out. Still, in the years since the death of her mother, she's expressed remorse.
Gypsy Rose, now 28 years old, serves a 10-year sentence at the Missouri Chillicothe Correctional Center. She was convicted of second-degree murder, while Godejohn serves life for the first-degree murder of Dee Blanchard.
Throughout the 21 years Gypsy Rose lived with Dee Dee, she endured countless forms of abuse—mental, physical, and emotional. Her story is a sad and unfortunate one, but one whose resurgence will likely continue the much-needed conversation around mental illness and the healthcare system that failed a little girl.
You can watch Gypsy Rose's story come to life with the new Hulu series, The Act, on March 20.
For more stories like this, including celebrity news, beauty and fashion advice, savvy political commentary, and fascinating features, sign up for the Marie Claire newsletter.
RELATED STORIES
Marie Claire email subscribers get intel on fashion and beauty trends, hot-off-the-press celebrity news, and more. Sign up here.
Alexis Jones is an assistant editor at Women's Health where she writes across several verticals on WomensHealthmag.com, including life, health, sex and love, relationships and fitness, while also contributing to the print magazine. She has a master's degree in journalism from Syracuse University, lives in Brooklyn, and proudly detests avocados.