Sound On: The Best Albums of May 2019
Plus, Carly Rae Jepsen made Marie Claire a mixtape!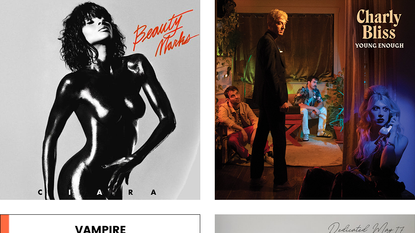 (Image credit: Courtesy)
Marie Claire Newsletter
Celebrity news, beauty, fashion advice, and fascinating features, delivered straight to your inbox!
Thank you for signing up to Marie Claire. You will receive a verification email shortly.
There was a problem. Please refresh the page and try again.
Big Thief, U.F.O.F.Vampire Weekend, Father of the BrideCharly Bliss, Young EnoughCiara, Beauty MarksThe National, I Am Easy to FindCarly Rae Jepsen, Dedicated
Welcome to Sound On, where we'll highlight the albums and songs that you should know about each month—from the hits that landed to the tracks you might have missed. We'll even tell you which moods each album evokes, so you know just when to turn them on to maximize their effects. Happy listening.
Yay, it's summer now! We did it! And there's an annoying amount of good music that came out in May that we can spend the next few warm months unpacking. Even better: Bands that don't put out records very often came out with big, interesting, complex new releases that we can't stop playing. Plus, there were some really fun surprises from artists trying new things.
But most importantly, the pop hero and sword-wielding icon Carly Rae Jepsen made Marie Claire a playlist of her favorite summer tracks! It's at the bottom of this post, so read on to get a whole slew of new warm weather tracks.
Big Thief, U.F.O.F.
Who:
It's the Brooklyn folk-rock four-piece led by genius Adrianne Lenker, who gets comparisons to Joni Mitchell for her staggering vocal range, cobweb-like whisper, and wrenching (occasionally abstract) songwriting.
What:
It's Big Thief's fourth album, and it feels like their fullest one yet. The songs are meditative and often sound like they're being played from a dream. Even so, they're not precious: Grungy guitar flourishes abound. But U.F.O.F.'s levity is a pretty big departure from a band who made their name singing about car crashes and abandonment. "U.F.O.F." and "Strange" are current standouts for me, but because my love for this record grows every time I listen, something else stands out each spin.
Best Time to Listen:
When you're lying on your bed and it's raining outside; sitting outside on a summer day feeling nostalgic.
Vampire Weekend, Father of the Bride
Who:
New Yorky preps Vampire Weekend return for their fourth album, and the first without co-songwriter Rostam Batmanglij. It also introduces the vocal work of Danielle Haim, whose partner Ariel Rechtshaid produced the record.
What:
Father of the Bride is a double album, chock full of 18 songs about love, commitment, and the strange sensation of getting older. (Just me?) It's often sparser and a lot sweeter than something like Modern Vampires of the City, the band's third record, but once again the influences unravel fast and furiously. Here, though, they're tethered together by this gentleness from frontman Ezra Koenig's voice, which is less snide than on other releases. (To be clear, I love all their releases, and this one. It's just different, okay?!) Check out "Sunflower (feat. Steve Lacy)" and the title track to get a feel, but honestly, this is an album that deserves to be listened to all the way through. Maybe numerous times.
Best Time to Listen:
In the bathtub; walking around a park in the autumn; on a road trip through the country.
Charly Bliss, Young Enough
Who:
New York-based pop-punks Charly Bliss are one of those bands where all the cool people I knew liked them before I knew who they were. Eva Hendricks has the kind of voice that you'd picture, I don't know, singing on the roof of the school at the end of Ten Things I Hate About You. Their songs are reliably raucous and catchy, and occasionally also perfect.
What:
This is their second record after 2017's addictively catchy Guppy, and you can just tell the band has grown up a little. Whereas that record was like high-level, '90s-cribbing garage pop, this one is synthy and takes its cue from the '80s charts. It's less Letters to Cleo, more The Go-Gos. Sure, jams like "Under You" and "Blown to Bits" will still make you want to break some windows, but the tempo has slowed way down in other places and it turns out they have the range. Also, it's just fun? Fun is good.
Best Time to Listen:
While taking shots of alcohol; driving alone at night through a city; getting ready for a party with your girlfriends
Ciara, Beauty Marks
Who:
Ciara! Oh come on, Ciara? CIARA!!!
What:
Ciara is just unreal. Did you see her performance at the Billboard Music Awards this year, where we were treated to the second-coming of Rhythm Nation-era Janet Jackson? Her moves! Her voice! Her look! She's perfect. This record is pretty classic: Some tracks are driving R&B jams ("Level Up"), others are swaying love songs ("Trust Myself"), and then there's "Thinkin' Bout You" which is just full-bore early '90s, deliriously anthemic pop.
Best Time to Listen:
At the club. Also, is it weird that I could see this being a jam at the car wash? Like, if car washes were still a place people danced around a lot? I don't know why I think that.
The National, I Am Easy to Find
Who:
It's hard to sum up who the National are. At one point, they were Brooklynites putting an orchestral spin on alt-country, but then a few years passed and they wrote several pristine albums about existential dread and moving away from your friends to have kids. Now, they're something else entirely.
What:
Someone once told me that this is a band that grows up with you because frontman Matt Berninger's lyrics are just impressionistic enough that they can mean different things as your experience of the world changes. So maybe I'm revealing too much when I say that the lyrics on songs like "Quiet Light" and "Roman Holiday" make me want to ask, "Matt, are you okay?" But he's always been like that. I don't know what this record is about. Fear, I think. Getting okay with being alone, maybe. The most noteworthy change is that where the band would occasionally enlist female vocalists to join Berninger's baritone on tracks—St. Vincent, Sharon Van Etten—they were often glittering in the background, layered under some other instrument. Here, they join him as equals. Gail Ann Dorsey gets prominent placement, to glorious effect. Van Etten is back, too, and Kate Staples (of This Is the Kit) is here. There's even an appearance by Mina Tindle, songwriter and wife of National member Bryce Dessner. The addition of these powerful female voices feels like a departure for the band, but somehow the whole of the album is still the same National we know and love. It's almost like a magic trick.
Best Time to Listen:
When you need a contemplative moment that borders on the depressing; long train rides.
Carly Rae Jepsen, Dedicated
Who:
Carly Rae Jepsen, who many a casual listener thought would peak at 2012's omnipresent "Call Me Maybe," turned out to be one of the best pop music songwriters of our generation. Sorry but if you don't have Emotion memorized in full I just don't know how much we could really have in common?
What:
Dedicated is the album I plan to listen to all summer. I want to dance with it and make out to it and drink on rooftops while playing it and have long philosophical discussions about what it all means. Did you know Carly Rae wrote 200 songs for this record, and the 15 that made the cut were the absolute best? It shows! They're synthy and danceable and yet full of melodrama—which Carly Rae has never shied from and that is why we stan a legend. As of this second, I really love "Now That I Found You" and "Want You in My Room" and "Feels Right," but I keep discovering new things to love.
Best Time to Listen:
All the aforementioned times but also there's no bad time to listen to Carly Rae. If you need to wash the day away and get deep into your feelings, put on CRJ. She low-key got me through a horrible breakup, and I will always be grateful.

Perhaps that is why I am so thrilled to announce that Carly Rae made Marie Claire a playlist! Here are some of the songs she's going to be listening to on-repeat this summer, plus why she loves them:
Thanks, Carly! Love you!!
For more stories like this, including celebrity news, beauty and fashion advice, savvy political commentary, and fascinating features, sign up for the Marie Claire newsletter.
Celebrity news, beauty, fashion advice, and fascinating features, delivered straight to your inbox!
Cady Drell is a writer, editor, researcher and pet enthusiast from Brooklyn.