In HBO's 'Euphoria,' Zendaya Is Already Taking Us On a Wild Ride
"This is what the kids are doing these days??"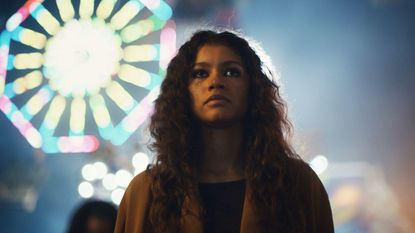 (Image credit: HBO)
Less than a month after the series finale of one its most popular shows, HBO has once again drawn in viewers with the season premiere of Euphoria, the Drake and Zendaya television collaboration that follows the complicated lives of suburban high schoolers. Despite the series of trippy promo shots and trailers, audiences really had no idea exactly what we were getting into—all we were promised were teenage drug abuse and copious amounts of full-frontal male nudity, which sounded...different, even by HBO's no-holds-barred standards.

The pilot episode of Euphoria aired last night, and I have to say that, brilliant as it was, it was a lot. Those trigger warnings? Totally necessary. We were introduced to Rue, a not-so-recovering teenage drug addict five days fresh out of rehab, and the other kids at her high school. Rue, played by Zendaya, has a complicated background that likely contributed to her dependency on drugs; she was born just days after 9/11, she received an early diagnosis of attention deficit disorder, obsessive compulsive disorder, and anxiety disorder, and her father died when she was only a kid. Rue has lived a hard life, to say the least. To cope with her pain, the teen turns to any and every drug that has every existed, and I mean every single drug. Even the hard stuff.
As a millennial who's inching closer to 30 by the day (*screams into the void*), I'm very far removed from the high school experience; I graduated from high school in 2011 and haven't looked back since. But what I do remember from my days of AP English and minimal school spirit looked nothing like what Rue and her classmates are going through on this show. Drugs? No ma'am. Sex? We didn't know her. Hookup apps where? We barely had just gotten access to Facebook!
However, drugs, sex, and social media are more than the reality in Euphoria—they're the driving force for many of the characters' storylines. And viewers young and old (mostly us olds) didn't even know what to do with this.
NSFWWYP (Not Safe For Watching With Your Parents)
me: mom let's watch euphoria mom: ok *not even halfway through the episode*#EuphoriaHBO #feelEUPHORIA pic.twitter.com/cSNLzA5pKZJune 17, 2019
See more
*me watching euphoria* *dad walks in and sees zendaya snorting crack*dad: ....... wasn't she on that disney show you used to watch me: pic.twitter.com/N09u3heY4IJune 17, 2019
See more
HBO: Warning: This show contains graphic nudity and ViolenceMe: 🙄Me: 30 Minutes in #EuphoriaHBO pic.twitter.com/iM3L3wtLmIJune 17, 2019
See more
The Millennials™ Are Concerned.
This is what the kids are doing these days? #EuphoriaHBO pic.twitter.com/WsJQAToVpeJune 17, 2019
See more
I know I am getting old because I just want to mother all these lost children and tell fhem about good sexJune 17, 2019
See more
Me watching #Euphoria and realizing how completely different my own teenage experience was #EuphoriaHBO #feelEUPHORIA pic.twitter.com/9IVxV0KsQwJune 17, 2019
See more
That. Ending!!!!!!!!
when dominantdaddy turned out to be mcsteamy #euphoria pic.twitter.com/6DXUBu7l9CJune 17, 2019
See more
okay but mark sloan??? as nate's dad??? cheating on his family???? #Euphoria pic.twitter.com/u1grlFeXA5June 17, 2019
See more
According to Zendaya, the first episode is the tamest of the entire season. If you're 21 and up, you might want to stock up on the vino—you're going to need it for this wild ride.
Euphoria is available for streaming HBO every Sunday night.
For more stories like this, including celebrity news, beauty and fashion advice, savvy political commentary, and fascinating features, sign up for the Marie Claire newsletter.
RELATED STORIES
Celebrity news, beauty, fashion advice, and fascinating features, delivered straight to your inbox!