Zendaya's New HBO Show 'Euphoria' Is a Wild Ride
Add "TV producer" to Drake's resumé, next to #daddy.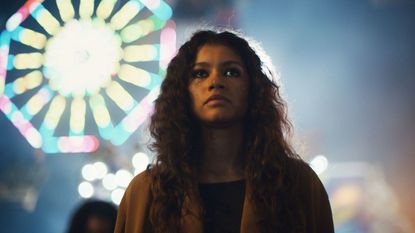 (Image credit: HBO)
Earlier this year, the news broke that Zendaya and Drake had joined forces to create a new HBO series titled Euphoria. The teen drama, picked up by the network that hosts popular series like Game of Thrones, Big Little Lies, and Westworld, stars Zendaya as the lead character. Per Deadline, Drake and his manager, Future the Prince, serve as executive producers, and it will be written by The Wizard of Lies' Sam Levinson.
Euphoria is based on the Israeli series of the same name from the HOT television network created by Ron Leshem and Daphna Levin, both of whom are also executive producers on the HBO remake. According to Variety, the show "follows a group of high school students as they navigate drugs, sex, identity, trauma, social media, love, and friendship." HBO's original series are notoriously mature in nature, which means that Euphoria will likely include graphic content—no Degrassi round 2 here. (Sorry, friends.)

Both Zendaya and Drake teased the series on Twitter. Zendaya tweeted a flashing, eery video of her and captioned it, "Euphoria. Coming soon" tagging HBO, A24 Entertainment Company (the people behind Lady Bird, Moonlight, The Florida Project, and more), and Drake.
Euphoria. Coming soon. ⠀⠀⠀⠀⠀⠀⠀⠀⠀⠀⠀⠀⠀⠀⠀⠀⠀⠀⠀⠀⠀⠀⠀⠀@hbo @a24 @Drake pic.twitter.com/H3ed73s8R3July 30, 2018
See more
Meanwhile, Drake reposted the same video and wrote, "Side effects include #EUPHORIA. Coming soon" and tagged Zendaya, A24, and HBO.

side effects include #EUPHORIA. coming soon @Zendaya @A24 @HBO pic.twitter.com/xAaYg1EdksJuly 30, 2018
See more
I don't know about you, but if Zendaya and the 6 God himself are involved, I'm already in. But, just in case you feel like you need a little more info on the teen drama, we got you. Here, everything we know about Euphoria so far.
It has an incredibly diverse cast.
Zendaya was handpicked to play the lead character Rue Bennett, a recovering drug addict thrown back into her old high school life after a stint in rehab. Storm Reid (A Wrinkle in Time, When They See Us) plays her younger sister Gia, and the casting is on point—the actresses are close friends IRL and even look alike!
Other stars in Euphoria include Maude Apatow (the daugher of Judd Apatow and actress Leslie Mann), Brian "Astro" Bradley (a rapper best known from The X Factor), Eric Dane (HI, MCSTEAMY!), Algee Smith (The Hate U Give), Alexa Demie (a singer), Jacob Elordi (an Australian actor who played Noah Flynn in The Kissing Booth), Barbie Ferreira (a model and actress who frequently speaks out about body positivity), Nika King (who played Veronica in 2 Broke Girls), Hunter Schafer (a rising model), and Sydney Sweeney (known for her role on the Netflix series, Everything Sucks!).
The storyline gets a little...dark.
Euphoria's plot is a lot more melancholy than one might expect for a teen drama; think less Manny Santos wearing a bright blue thong to school (iconic but a little innocent for this day and age), more existential crisis and generational trauma. At the crux of this story is Rue's ongoing battle with her drug addiction, and while the subject matter is far from easy, the show believes that its a necessary discussion to have. Many of the cast members feel a special burden for this particular theme. "On a personal level, it's not anything that's new," Storm Reid told Teen Vogue in her cover story. "[The opioid crisis] is something that's even affected people in my family, so it was something that I could draw emotion from, and I know how it makes me feel."
Having struggled with addiction himself, writer Sam Levinson wanted to approach the topic with authenticity while still being sensitive to the viewers. "I think any time you put anything on screen, you run the risk of glamorizing it just by the nature of it being on screen," he said at at the ATX Television Festival panel for the series. "I don't want [to be triggering], but we also have to be authentic about it. … I think people can tell if we're pulling our punches and not showing the relief that drugs can be. It starts to lose its impact."
The series will also feature a number of sex scenes. Though it may be uncomfortable seeing teenagers do the deed, the depictions make sense, as the teen years are often the time for sexual curiosity and awakening. Euphoria is intentional about framing these moments for what they often are: confusing, exhilarating, and uncomfortable. "In terms of the sex scenes, the main thing we tried to do is keep the camera still," said Lewinson. "You want to allow for the awkwardness and the discomfort to bleed into it."
It's already gotten rave reviews.
Just a week from its official television debut, Euphoria has already received praise from numerous critics for its raw portrayal of Gen-Z. The Hollywood Reporter gave it a glowing review, calling Euphoria "boundary-pushing, real and exceptionally realized" despite the fact that the audience will definitely need a trigger warning for every episode. And Decider called it "gripping, heartbreaking, surprising, and unmistakably cool."
Euphoria may be a teen drama, but its artistic inspection of the lives and minds of Gen-Z is sure to be something that both young (not that young—18 and up, folks) and old will enjoy.
You can catch the series premiere of Euphoria this Sunday June 16 at 10pm EST on HBO.
For more stories like this, including celebrity news, beauty and fashion advice, savvy political commentary, and fascinating features, sign up for the Marie Claire newsletter.
RELATED STORIES
9 Feminist Messages Hidden in Marvel Movies
Celebrity news, beauty, fashion advice, and fascinating features, delivered straight to your inbox!