'Good Girls' Is Returning for an Explosive Third Season
The girl gang will be introducing a new member.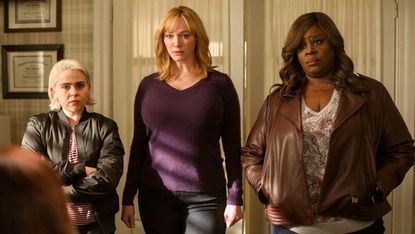 (Image credit: Getty Images)
The season two finale of the NBC crime dramedy Good Girls left viewers at the edge of their seats, clutching their pearls, and downing Olivia Pope-sized glass of wine all at once. Just in the last few episodes of the season, Beth, Annie, and Ruby's half-baked and highly illegal money-making schemes had come back to haunt them in a big way; ringleader Beth's problematic relationship with her love interest/dealer/thorn in her side Rio cost her the very thing she was trying to protect, and Agent Turner was right on her tail, still set on locking her away for her crimes. The high-energy season climax changed the trajectory of the show completely, as Beth made the split decision to get Rio out of the picture for good in order for the women to get in the driver's seat of their business.
The third season of Good Girls is scheduled to return to NBC on February 16, 2020. More good news: It'll have 16 episodes, more than the 13 episodes and 10 episodes of seasons two and one, respectively. It'll likely be on Netflix at some point, but it's not totally clear when.
This story of three Michigan mothers-turned-criminals is about to get even more complicated. Here's what we know about the next season so far.
The Book Club is on shaky ground.
Following the events of the last season, the moms aren't exactly on the same page. Ruby, after putting her relationship with her husband Stan in jeopardy, isn't keen on continuing in her line of work. Beth's younger sister Annie is also disillusioned by their long con, having discovered that her new beau Noah is actually an FBI trying to get the drop on her. With two out of the three unsure of the benefits of a life of crime, it's likely that Beth will have a very hard time convincing the team that this next business venture will be worth it in the long run.
Also, we doubt the fact that Beth's new buddy in Season 3 could change their minds. Her new friend, Rhea, played by Orange Is The New Black's Jackie Cruz, is no other than Rio's baby momma. (Cruz was cast in a recurring role, suggesting she'll be around for a while.) Noted creator Jenna Bans in an interview with TV Line: "When the other girls find out about Rhea's past, they question Beth's motives for befriending her."
TVLine also reports that since Beth's guilt of what happened to Rio hard to ignore, she feels the need to start a budding friendship with the single mother. The only problem? Beth has not shared details of who she is, leaving Annie and Ruby to question the real reason behind the new friendship.
A new good girl will be added to the roster.
Three's usually company, but the creators of Good Girls decided that adding a fourth accomplice to the mix would be great for the story. Per TVLine, Beth, Annie, and Ruby will be soliciting the skills of a graphic designer to help in their latest money laundering venture. Charlyne Yi, who you might remember from House, will take on the role to help make the girls some cash—a character with "mildly impaired social skills," says creator Bans.
But Bans warns that the new character, might be more trouble to the trio than help; she described the newest addition as a "a suburban mom with a questionable background and has no interest in being a 'good' girl." Gulp.
Rio might not actually be dead.
Excuse me while I scream.
*intense screaming*
Okay, I'm back.
He may not have been perfect or good or even decent, but gosh darn it, Rio was ours! And in the last episode of the second season, Beth took him away when she turned her gun on him and fired a number of fatal rounds into his body. Or did she?
Later in that same scene, Agent Turner was seen making a deal with what we can assume was a barely-alive Rio; he promised to call 911, but only if Rio would agree to owe him one. If Rio makes it out alive, it's safe to say that he'll be working with the FBI in order to take Beth down. What's worse, their love line is probably no more—would you want to have sexy time with the person who tried to kill you? I don't think so....unless you're into that? No judgment.
Even if he decides to side with the enemy, I for one will be ecstatic to see Rio on my screen again. Do the right thing, Good Girls.
You won't be seeing much of Mary Pat.
Mary Pat created numerous problems for our girl gang over the course of the last two seasons. The housewife and former member of the Secret Shoppers blackmailed the women into paying her thousands of dollars every month in exchange for keeping mum about their criminal affiliation and activities. Towards the end of the second season, she started working closely with Agent Turner in an attempt to exonerate herself from her own serious crimes, which included burying her husband's body in her backyard (!!) after his untimely death so that she could continue receiving his disability benefits and running over bad guy Boomer—multiple times.
However, Mary Pat's reign of terror may be coming to an end. Allison Tolman, the actress behind the ill-fated housewife, is currently starring in the new ABC series Emergence, an hour-long thriller that follows the story of a newly divorced mother (Tolman) in a sleepy New York town and the mysterious little girl she takes in. Emergence premiered earlier this month, so if all goes well for the ABC drama, Tolman likely won't have much time to cross over to Good Girls. Nice knowing you, Mary Pat!
Fans can anticipate the show's return February 16, 2020, falling right in the middle of television midseason as it usually does; the first season premiered in February 2018 and the second in March 2019. And Team Rio, there's yet another reason to get excited: Season three of Good Girls just added three episodes to its schedule, meaning that there are 16 episodes total!
Just in case you need a refresher on how exactly Beth, Annie, and Ruby got to where they are, head over to Netflix and binge-watch the first two seasons without shame. Happy streaming!
For more stories like this, including celebrity news, beauty and fashion advice, savvy political commentary, and fascinating features, sign up for the Marie Claire newsletter.
RELATED STORY
Celebrity news, beauty, fashion advice, and fascinating features, delivered straight to your inbox!