55 Quintessential '90s Songs That Will Give You Major Nostalgia
Behold, the best '90s songs ever. Our playlist of the quintessential '90s hits, via the fabulous women and girl groups who paved the way for artists today.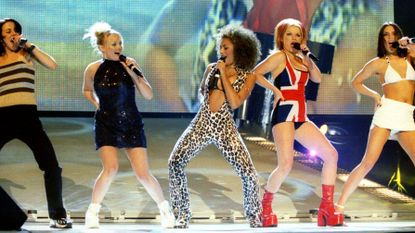 (Image credit: Alamy)
If it wasn't clear from the teeny sunglasses (opens in new tab), fanny packs (opens in new tab), and tiny backpacks (opens in new tab), the '90s are back (opens in new tab) and in full swing. When the decade in pop culture had such an impressive rallying cry of "girl power," it's hard not to celebrate the fact that it's making the rounds again. That's why we're spotlighting some of the quintessential hits of the '90s via the fabulous girl groups—including Destiny's Child, TLC, and the Spice Girls—and the solo acts who forged a path in their field from bubblegum pop greats to powerhouse experimental and R&B acts like Björk and Lauryn Hill. Listen to our favorite '90s songs by women, below.
"Waterfalls" - TLC
---
"Ray of Light" - Madonna
---
"Who Will Save Your Soul" - Jewel
---
"Goodbye Earl" - The Chicks
---
"Supernova" - Liz Phair
---
"Say My Name" - Destiny's Child
---
"...Baby One More Time" - Britney Spears
---
"Candy" - Mandy Moore
---
"Lovefool" - The Cardigans
---
"The Boy Is Mine" - Brandy and Monica
---
"Kiss Me" - Sixpence None The Richer
---
"Torn" - Natalie Imbruglia
---
"Genie in a Bottle" - Christina Aguilera
---
"If You Had My Love" - Jennifer Lopez
---
"Crush" - Jennifer Paige
---
"Man! I Feel Like a Woman!" - Shania Twain
---
"Killing Me Softly With His Song" - Fugees
---
"No Scrubs" - TLC
---
"Barbie Girl" - Aqua
---
"Dreams" - The Cranberries
---
"Just A Girl" - No Doubt
---
"Never Ever" - All Saints
---
"Tom's Diner" - Suzanne Vega
---
"Spice Up Your Life" - Spice Girls
---
"Together Again" - Janet Jackson
---
"It's Oh So Quiet" - Bjork
---
"Fantasy" - Mariah Carey
---
"Criminal" - Fiona Apple
---
"Un-Break My Heart" - Toni Braxton
---
"Adia" - Sarah McLachlan
---
"The Sign" - Ace of Base
---
"Stay" - Lisa Loeb & Nine Stories
---
"Ironic" - Alanis Morissette
---
"Sunny Came Home" - Shawn Colvin
---
"If It Makes You Happy" - Sheryl Crow
---
"Doo Wop (That Thing)" - Lauryn Hill
---
"Let's Talk About Sex" - Salt-N-Pepa
---
"My Heart Will Go On" Celine Dion
---
"No Ordinary Love" - Sade
---
"Nothing Compares to U" - Sinéad O'Connor
---
"This Kiss" - Faith Hill
---
"U.N.I.T.Y." - Queen Latifah
---
"My Lovin' (You're Never Gonna Get It)" - En Vogue
---
"I Try" - Macy Gray
---
"I'm Goin' Down" - Mary J. Blige
---
"Believe" - Cher
---
"Where My Girls At" - 702
---
"I'm Every Woman" - Whitney Houston
---
"Just Kickin' It" - Xscape
---
"Bitch" - Meredith Brooks
---
"I Don't Want to Wait" - Paula Cole
---
"Nobody's Supposed to Be Here" - Deborah Cox
---
"On & On" - Erykah Badu
---
"Are You That Somebody" - Aaliyah
---
"I Touch Myself" - Divinyls
RELATED STORIES