The 32 Most Iconic Supermodels of the '90s
It's not just the Big Six!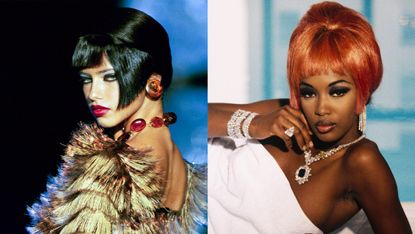 (Image credit: Getty Images)
These days, you may be familiar with some of the top models working in the industry today—Kaia Gerber, Kendall Jenner, the Hadid sisters, and Emrata, just to name a few. But in the 1990s, supermodels weren't just in, they were it, from the popularization of the Victoria Secret "Angels," to the famous January 1990 American Vogue cover, to Cindy Crawford's Pepsi commercial and George Michael's "Freedom" video, just to name a few iconic moments. Most people were most familiar with the so-called Big Six (that's Linda Evangelista, Claudia Schiffer, Kate Moss, Naomi Campbell, Christy Turlington, and Cindy Crawford), particularly Evangelista's infamous joke that they didn't get out of bed "for less than $10,000 a day." But there were a ton of working models in the '90s you may not be familiar with, particularly ones who were breaking boundaries and starting to bring a smidge of awareness to the fashion industry about diversity.
Keep scrolling to learn more about the most iconic '90s supermodels that you may have forgotten about—and what they might be doing now.
Bridget Hall
Hall, who hails from Texas, was discovered at 10 and made Forbes top 10 highest-earning models list by 1995 (when she was only 17). She graced ELLE, Cosmo, and Allure covers, as well as a number of campaigns and runways. She was still working in 2013 for Rag & Bone and for a feature in DuJour, but her life today seems low-key based on her Instagram.
Angela Lindvall
Lindvall was discovered at 14 then skyrocketed to fame, appearing on magazine covers including American Vogue and appearing in a multitude of campaigns. She also worked as an actor, most notably in the Shane Black noir comedy Kiss Kiss Bang Bang and Roman Coppola's CQ (as well as a host on Project Runway All Stars!). These days, she still does modeling work, and she's an activist, doula, and yoga instructor, per her Instagram.
.
Nadja Auermann
Fun fact: Auermann used to have the longest legs in the world, according to the Guinness Book of World Records. She's walked the runway and appeared in prestigious campaigns, as well as covers like American Vogue and Harper's Bazaar. She was even considered one of famed fashion photographer Peter Lindburgh's muses.
Yasmeen Ghauri
With an iconic walk, Ghauri was a natural on the runway. She became the face of a number of couture brands, and also walked the Victoria's Secret fashion show in the late '90s. According to Instagram, she calls herself a "former model," wife, mom, and interior design enthusiast.
Eva Herzigova
Czech model and actor Herzigova became instantly recognizable after she starred in a Wonderbra ad (remember her controversial, skin-baring "Hello Boys"?). She's worked for preeminent fashion houses including Louis Vuitton and Versace as well as covers for American Vogue and Marie Claire. She's still a working model and editor-at-large for Vogue Czechoslovakia, according to her Instagram.
Jenny Shimizu
Shimizu, who was the first Asian woman to walk the Prada catwalk, also appeared on America's Next Top Model and Make Me a Supermodel, as well as alongside Angelina Jolie in Foxfire. She is an out and proud lesbian, and she and Jolie even had a relationship in the mid-'90s. She told Allure that she, too, confronts beauty and aging standards, but loves being called "handsome." She's married and settled in California, and still does modeling from time to time.
Alek Wek
The South Sudanese-British model appeared on a number of magazine covers and features in the '90s (in a time when that was rare for a Black woman with darker skin), and she appears in music videos like Tina Turner's "GoldenEye" video for the Bond movie of the same name. Pek still models, and was featured for the September 2023 cover for Vogue Brasil.
Carla Bruni
Bruni, who's also a musician, started modeling in the '80s and became one of the highest-paid models in the '90s, working with (among others) Christian Dior and Givenchy. More recently, you may be familiar because she's married to former president of France, Nicolas Sarkozy (after dating Eric Clapton and Mick Jagger). She started singing and modeling again after Sarkozy left office. In 2023, she made news because she disclosed she'd had breast cancer in 2019.
Karen Mulder
Known as a "real-life Barbie," the model and singer was an original Victoria's Secret Angel and a Sports Illustrated swimsuit model, but before that she modeled for fashion houses including Dior and Chanel. She's also a singer and performer, and she has been critical of the modeling industry as of the '00s and beyond.
Stephanie Seymour
Another Sports Illustrated swimsuit model and face on the cover of American Vogue, Seymour was also a Victoria's Secret Angel. She technically originally rose to prominence in the '80s and continued working through the '90s. She wrote Beauty Secrets for Dummies in 1998; she continues to work, and was named the face of Estee Lauder in 2014.
Beverly Peele
Appearing on hundreds of covers, Peele was a contemporary of Naomi Campbell (she technically started working in the late '80s), was the face of Versace at age 12, and walked the runway for fashion houses including Chanel. She also acted in the '90s, including on Sister, Sister and the movie Sweet Friggin' Daisies. In 2021, she came forward alleging assault by Peter Nygård.
Kathy Ireland
Another prominent model who rose to fame in the '80s and continued her career in the '90s, Kathy Ireland had a long and fruitful relationship with Sports Illustrated as a swimsuit model. She's also appeared on covers, including for American Vogue and Seventeen. Fun fact: She's also considered one of the most successful models-turned-entrepreneurs, as the founder of kathy ireland Worldwide (kiWW).
Laetitia Casta
The classic French '90s model, Casta might be most recognizable to you as a Victoria's Secret model and spokesmodel for L'Oreal. She's also appeared on hundreds of covers and dozens of runways—and has acted in a number of (mostly French) movies. She is still working, including for Dior and Calzedonia (and even the cover of ELLE France!).
Beverly Johnson
The first Black woman to appear on the cover of American Vogue in 1977, Johnson was still working in the '90s (she has appeared on more than 500 magazine covers). She had an acting career (including on Sabrina, the Teenage Witch, 3rd Rock From the Sun, and even the Britney Spears movie Crossroads in 2002), was a judge on She's Got the Look, and has written two books.
Shalom Harlow
If you recognize Harlow from TV, she had a role in How to Lose a Guy in 10 Days and co-hosted MTV's House of Style. But, she also was a prominent, well-paid supermodel, even appearing in Alexander McQueen's infamous 1998 show (in which she was spray painted). She's still involved in the fashion world including on the runway.
Tatjana Patitz
Tatjana Patitz, originally from Germany, was a beloved muse for Peter Lindburgh. Notably, Patitz was a member of his iconic January 1990 American Vogue cover with Naomi Campbell, Christy Turlington, Cindy Crawford, and Linda Evangelista. She wasn't as visible as some of the other "supers," partly because she lived in California, not New York, partly because she cultivated a more "mysterious" reputation in her personal life. Unfortunately, Patitz died in January 2023 of breast cancer—she was only 56.
Kimora Lee Simmons
Before she was the founder of Baby Phat, star of Kimora: Life in the Fab Lane, and former wife of record executive Russell Simmons, Kimora Lee Simmons was a model who was recruited to Chanel at the age of 13(!). She became a supermodel in her own right, including a cover of American Vogue and runway for Fendi.
Niki Taylor
The former contestant on The Celebrity Apprentice and TV host was also one of the youngest people to have an American Vogue cover, the youngest person to walk the runway at New York Fashion Week at the time and the youngest person to become spokesmodel for CoverGirl. She still works as a model.
Helena Christensen
Helena Christensen, probably most well-known for being a Victoria's Secret Angel, also was a spokesmodel for Revlon and starred in the very sexy music video for "Wicked Game." Nowadays, she's an ambassador for the United Nations High Commissioner for Refugees and is still a working model.
Amber Valletta
If Valletta looks familiar to you, it's probably because she had an acting career spanning decades and starting in the early '00s (What Lies Beneath, Hitch, and most recently, Blood & Oil). She cohosted House of Style on MTV and worked for fashion houses including Gucci, Chanel, and Prada. She still walks runways!
Milla Jovovich
One of the former models for Revlon is now most known for her acting (see also The Fifth Element and allll those Resident Evil movies). She says she started working at age 9, and appeared on more than 100 magazine covers as well as being spokemodel for L'Oreal and Mango.
Padma Lakshmi
Yes, that's right: Before she was the host of Top Chef and creator of Taste the Nation With Padma Lakshmi, the author and actor was also a model in the '90s. She says that her "exotic" look made it difficult for her to get work until noted photographer Helmut Newton started using her as a muse, including prominently featuring the long scar on her arm. Among others, she modeled for Versace and Armani.
Claudia Schiffer
Sometimes thought of as the Brigitte Bardot of the '90s, Claudia Schiffer was a prolific appearance on fashion show runways, magazine covers, and campaigns (including her most memorable one for Guess?). Now, she lives a quieter life but still works, including walking the runway of Versace's Spring 2024 show!
Christy Turlington
One of the Big Six models of the '90s, Christy Turlington actually started working in the '80s and ended up on iconic campaigns, including for Calvin Klein and Maybelline, and magazine covers. As founder of Every Mom Counts, Turlington is currently spending much of her time as a humanitarian. She also still works, closing out the Ralph Lauren September 2023 show.
Linda Evangelista
Appearing on 700(!) magazine covers, Evangelista is considered one of the most influential models of the '90s (and was one of the Big Six major models of the time. Due to adverse effects from a medical procedure and breast cancer, she has mostly withdrawn from modeling, but she still appeared on the September 2023 cover of British Vogue alongside Cindy Crawford, Naomi Campbell, and Turlington.
Heidi Klum
Heidi Klum has been a lot of things—TV host of Project Runway, producer, actor, and Halloween costume enthusiast, to name a few—but before that she was a Sports Illustrated swimsuit model and ultimately one of the most famous Victoria's Secret Angels to ever walk the catwalk. Of course, she's done lots of campaigns and fashion week appearances, too.
Giselle Bündchen
Sometimes known mononymously as "Gisele," she's consistently been one of the highest-paid models since the early '00s. She began her career walking on runways in the late '90s (hence her inclusion on this list) but really rose to stardom at the turn of the century. Bündchen recently returned to modeling full-time and has since been on the August 2023 cover of Vogue Brasil, among others.
Adriana Lima
Adriana Lima, who became a Victoria's Secret Angel in 1999, is one of the "late '90s" models to grace this list, whose career would continue to grow into the '00s (sometimes known as the "New Supers"). She was also a global spokesmodel for Maybelline (returning to the brand in 2023) as well as a number of other high-fashion campaigns.
Tyra Banks
Tyra Banks started her career in the early '90s, making a big splash at places like Paris Fashion Week, but when she became a Victoria's Secret Angel in 1997, literally everyone knew her name (and that same year she became the first Black woman on the cover of Sports Illustrated swimsuit issue). She'd go on to have a long, fruitful career into the '00s and then go on, of course, to create America's Next Top Model and The Tyra Banks Show.
Cindy Crawford
If you only know Cindy Crawford as "mom to Kaia Gerber," you should check out her early work. She was one of the most popular '90s models and delved into acting (see also her iconic Super Bowl Pepsi commercial and her appearance with other models like Naomi Campbell in George Michael's "Freedom! '90" video). She also wore one of the second most-well-known Versace dresses of all time, attending the Oscars with then-boyfriend Richard Gere.
Kate Moss
If you ever delved into the deliberately thin eyebrows trend, you were influenced by Kate Moss. Discovered at just 14, she's been modeling since she was a teenager and appeared on virtually every major magazine cover at the time (not to mention dozens of runways and campaigns). She's a contributing fashion editor at British Vogue, and she's still a presence on red carpets and at fashion week events.
Naomi Campbell
The top of the top models, Naomi Campbell broke boundaries in an industry dominated by white models, becoming the first Black model to appear on the covers of TIME and French Vogue, and the first Black model to appear on the September cover for American Vogue. She's also been an actor and singer (and actually started life out as a dancer), and also works as a humanitarian. She's as busy as ever: The V&A Museum is dedicating a retrospective exhibition to her in June 2024.