The 76 Most Memorable '90s Fashion Moments
I'd wear Princess Di's off-duty outfit today.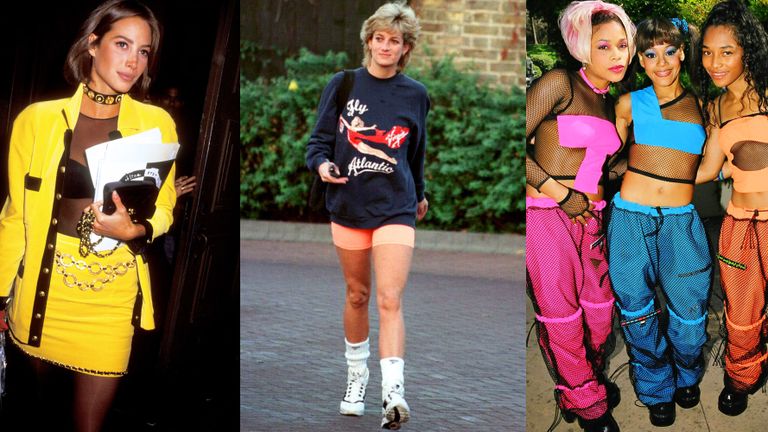 (Image credit: Getty Images)
Looking back, the '90s feels like a golden era—the Game Boy! The Spice Girls! The last cell phone-less generation!—most of all when it comes to '90s fashion. Scrunchies, acid-wash jeans, tube tops, and capri pants reigned supreme, along with crimped hair, Mary-Kate and Ashley Olsen, and punk rock. It was a glorious time, made only more glorious by the A-listers who blithely wore their '90s finest on the red carpet and out and about, secure in the knowledge that they would never have to look back on these iconic looks and feel anything other than pride.
Unfortunately, in the year of our Lord 2021, these looks...hit a little different. So sit back, grab a packet of Pop Rocks, and instead of wondering how 1990 can be as far away from the present day as 205o (!), enjoy these looks, which represent the very best (if "best" is the right word here) of '90s fashion.
1/76
Mary-Kate and Ashley Olsen
No one did twinning better than these two. The Olsen sisters matched in black cardigans and fringe skirts at the movie premiere of Anna and the King in 1999.
2/76
Angelina Jolie
The singer attended the 1997 Cable ACE Awards and proved then and now that the slip dress is a classic piece to have in your wardrobe. Try styling it with a velvet cape.
3/76
Jennifer Aniston and Brad Pitt
The only thing more memorable than Aniston's Rachel Green haircut/outfits was who she was dating at the time: Brad Pitt. We'll just leave this here.
4/76
Vivica A. Fox
The actress hit all the '90s fashion benchmarks in this outfit: the purple bandanna, the see-through matching purple shirt, a skinny chain belt, and slightly flared jeans.
5/76
Christina Aguilera
The singer went for a head-to-toe gold look. Personally, we're getting Academy Award statue vibes.
6/76
Angela Bassett
The star and Janet Jackson dressed up in blazers to attend the 66th Academy Awards Nominees Luncheon in 1994. Bassett went with a bold fuchsia color while Jackson kept it classic in all white.
7/76
Cindy Crawford
The supermodel attended the Second Annual Revlon's Unforgettable Women Contest in 1990 at the MET in New York City. She wore a striking halter neck red dress nude tights and red heels. We're eyeing the sparkly diamonds on her neck and ears too.
8/76
Melissa Joan Hart
Who grew up watching Sabrina the Teenage Witch? Here's the actress, circa 1990, in a genie-like costume, complete with a long braid.
9/76
Halle Berry
The star was a fan of rocking two pieces on the red carpet. She wore this flashy pink fringe outfit to the MTV Movie Awards in 1990.
10/76
Jada Pinkett Smith
Also in 1990, Jada Pinkett Smith debuted this shimmery green skirt and top set. We're getting mermaid vibes.
11/76
Sarah Michelle Gellar
We love a '90s matching moment. Here, Brittany Daniel, Shane McDermott, and Sarah Michelle Gellar coordinated outfits in a promotion for Swans Crossing in 1992.
12/76
It seemed like everyone owned a lace slip dress back in the '90s. Here, Blair wore one at the premiere of Cruel Intentions in 1999.
13/76
Natasha Richardson
The actress played one of the most stylish moms on TV in The Parent Trap and her fashion sense IRL was equally as good, as this blazer skirt (dress?) set proves.
14/76
Mandy Moore
The actress and singer showed off a matching graphic set in 1990. We're taking bets on what the print is.
15/76
Linda Evangelista
The '90s supermodel's crop blazer top and high-waisted pants is a look we still love today.
16/76
Gwen Stefani
The singer was known for adding a little glamour to her punk rock looks in the '90s. Here, Stefani arrived to the 1998 MTV Video Music Awards in a fuzzy blue bikini top that matched her icy blue hair and...face jewels.
17/76
Lil' Kim
Always known for pushing the fashion envelope with her style, at 1999 MTV Video Music Awards, Lil' Kim hit the red carpet in an unforgettable boob-baring one-shoulder jumpsuit. The rapper finished off the look with a purple wig.
18/76
Kate Moss and Naomi Campbell
This model duo owned the '90s with their fashion. Moss and Campbell were spotted leaving a London Fashion Week event hand-in-hand in 1991, wearing their own renditions of school-girl-chic attire.
19/76
Aaliyah
Aaliyah mastered streetwear long before the term became a fashion phenomenon, as evidenced by her Tommy Hilfiger yellow tracksuit in 1997. The singer was the poster child for the modern-day phrase "chill but still a big deal."
20/76
Dontalla Versace and Jennifer Lopez
Proof Dontalla Versace and J.Lo go way back. The two posed for the cameras while wearing some glitzy '90s fashion looks of sparkles and metallics.
21/76
Christy Turlington
The model casually out and about while rocking Versace. Iconic! We're getting Cher vibes, except Turlington's sheer top makes the outfit slightly more risqué than Alicia Silverstone's.
22/76
Janet Jackson
This laidback but classic '90s look by the singer and actor can easily be recreated present day. The Poetic Justice star tucked a long-sleeved boatneck tee into a belted pair of mom jeans and wore a newsboy cap over her long box braids.
23/76
Mary J. Blige
In 1996, Mary J. Blige attended the Grammy Awards wearing a full leopard print ensemble with velvet gloves and dark sunglasses. It's safe to say this print will never go out of style. What a lewk.
24/76
Madonna and Michael Jackson
Name a better duo than this King and Queen of Pop. In 1991, Madonna and Michael Jackson arrived to the 63rd Annual Academy Awards in the most glamorous Hollywood outfits. Madonna wore a glittery strapless gown, a fur stole, and Harry Winston jewelry while Michael went for a sequin cream blazer paired with his iconic gloves.
25/76
Julia Roberts
That time Julia Roberts stunned in a suit and tie at the 1990 Golden Globe Awards. The actress had stunned in a variety of dresses in Pretty Woman (released in 1990!) but we love her in this oversize masculine suit just as much.
26/76
27/76
Mariah Carey
Singer Mariah Carey stole the show at the 1997 MTV Video Music Awards by baring her abs in a bandeau top and showing off her legs in a high-slit skirt. Mimi's glamorous bombshell style has continued to serve as style inspo for decades to come.
28/76
Fran Drescher
If you've never seen The Nanny, I don't know you. Fran Drescher's outfits on the show, which included teeny-tiny sweaters and body-hugging miniskirts, were iconic looks. Drescher's real life style was a little more toned-down glamorous, like this white halter-neck dress though she did find ways to jazz things up (see: her floral head piece).
29/76
Tia and Tamera Mowry
If we were to name a more iconic duo than Mary-Kate and Ashley Olsen that would be Tia and Tamera Mowry. The twins were the stars of Sister, Sister and their closets (both on the show and off) were amazingly good. Think everything from covetable denim overalls and bucket hats to these mini shift dresses with the scarves (!!). Someone bring back these exact looks on the runway, please.
30/76
Lisa Bonet
Let this photo of Lisa Bonet in the '90s be proof that her daughter Zoë Kravitz is the spitting image of her. In addition to being a sought-after actress during that time, Bonet was known for her free-spirited, bohemian style. Her outfits, like the one on the left, were an expression of her artistic perspective.
31/76
Nicole Kidman and Tom Cruise
The two took couple matching to the next level when they were spotted in Los Angeles wearing white button-down shirts and jeans.
32/76
Drew Barrymore
With her unique flower-child-meets-wild-child look, Barrymore was one of the decade's most badass style stars. She borrowed elements of grunge—dark makeup, choppy hair, tattoos—and mixed them with bohemian staples like daisy chains for a style that was all her own. Here she is rocking a fanny pack covered in the word "fuck," because why not.
33/76
Mandy Moore
Before her A Walk to Remember Days, Mandy Moore was an established singer (remember "Candy"?) and definitely a '90s gal. Her style was defined by simple tank tops and bottoms with a thin chain belt running across. This photo is peak '90s.
34/76
Madonna
Madonna is a fashion icon for the ages, but one of her most memorable (and most copied) signature looks was the cone bra that Jean Paul Gaultier designed for her Blond Ambition Tour in 1990.
35/76
Alicia Silverstone
Before Clueless took the '90s fashion world by storm, introducing Cher Horowitz–plaid and an obsession with Alaïa, Alicia Silverstone's personal style could best be described as laid-back. The actress wore a pair of t-strap Mary Janes with a long skirt and slouchy sweater (because comfort is key, folks).
36/76
Chloë Sevigny
Since her breakout role in the controversial cult film Kids, Chloë Sevigny has been a "cool girl" beyond typical grunge queens and bubblegum pop girls. Known for her obsession with vintage and her playful take on fashion (she's considered one of the first true street style stars), she became the ingenue every designer wanted as their date at awards shows.
37/76
Winona Ryder
Ryder was the ultimate '90s It girl. In the early part of the decade, she scored a number of roles in cult-classic films, including Edward Scissorhands and Reality Bites, and her tomboyish style quickly caught the public's attention. Raven-colored hair and all-black red-carpet ensembles became her signatures.
38/76
Winona Ryder and Johnny Depp
Yes, Ryder was a style star on her own. But there's a reason the fashion world is still obsessed with Winona and Johnny's relationship today—the duo were the definition of gothic chic. The couple arrived hand-in-hand at the 48th Annual Golden Globe Awards in 1991 looking like they came straight from the set of a Tim Burton film.
39/76
Courtney Love and Kurt Cobain
The king and queen of Seattle grunge, Kurt and Courtney were more or less the most influential couple of 1990s fashion. The Nirvana singer arguably started the entire grunge trend, with his mismatched, oversized outfits and shaggy mop of hair. Similarly, the Hole frontwoman was known for her torn, sheer slips, dark makeup, and babydoll dresses.
40/76
Liv Tyler
Liv Tyler was the ultimate '90s babe—who could forget her role, alongside Alicia Silverstone, in the '93 video for Aerosmith's "Crazy?" In 1992, Tyler's wardrobe was filled-t0-the-brim with edgy dresses (like this one) and long skirts.
41/76
Princess Diana
Princess Di wore this daring LBD the same night Prince Charles' tell-all interview about their life came out. It was dubbed the "revenge dress" because the princess didn't let anyone, or anything, hold her down from shining that night. The off-the-shoulder design and asymmetrical hemline made a major style statement and is one of the most iconic looks of British royalty to date.
42/76
Elizabeth Hurley and Hugh Grant
The couple arrived to the post-premiere party of Grant's film, Four Weddings and a Funeral in London. Hurley left her style mark that night in this iconic Versace pin dress. Since then many celebrities have tried this look, including Irina Shayk at the 2018 Cannes Film Festival.
43/76
44/76
Katie Holmes and James Van Der Beek
Dawson's Creek fans will love this throwback moment from its two cast members at the 47th Annual Emmy Awards. Van Der Beek looked dapper in a suit while Holmes rocked that square neckline gown (that style is now back in fashion) with a ball-shaped floral bag (also back in fashion).
45/76
Sarah Jessica Parker
Two words: Carrie Bradshaw. We can't even begin to count how many trends Sarah Jessica Parker's character singlehandedly started in the late '90s, but many of the world's most well-known fashion brands (we're looking at you, Manolo Blahnik) owe her quite a bit of thanks. Here, three years before the premiere of Sex and the City, Parker preluded Bradshaw with this pink, feathery ensemble.
46/76
Jennifer Aniston and Matthew Perry
It's impossible to conjure an image of the '90s without picturing the cast of Friends (and, in particular, Jennifer Aniston's now-famous Rachel haircut). In 1995, co-stars Aniston and Matthew Perry walked the 47th Annual Primetime Emmy Awards red carpet in ensembles that defined the decade: Aniston opted for a strapless, floor-length gown, complete with a pair of silky gloves, while Perry paired a classically '90s vest with an ill-fitting suit.
47/76
The Spice Girls
A mid-'90s British invasion came in the form of five bubbly ladies in some seriously flashy outfits. The Spice Girls celebrated girl power and individuality: Scary, Baby, Ginger, Sporty, and Posh each contributed unique looks that young women all over the world admired. We can credit the Spice Girls with the popularity of platform shoes, pigtail buns, and—of course—body glitter.
48/76
Halle Berry
At the 50th Annual Primetime Emmy Awards in 1998, style icon Halle Berry walked the red carpet in a so-pretty, bejeweled gown and tiny sunglasses. It goes without saying that this outfit has definitely been recreated in recent years.
49/76
Johnny Depp and Kate Moss
Post-Winona, Depp took up with Kate Moss—a duo that became arguably as iconic as the gothic exes. In 1995, they arrived at a Los Angeles premiere looking the part of a high-fashion pair.
50/76
Kate Moss and Johnny Depp
Moss and Depp also shined style-wise off the red carpet—the couple dressed down in sleek coats and leather boots for the perfect combination of disheveled and chic.
51/76
Sarah Jessica Parker
SJP arrived at the 49th Annual Tony Awards in 1995 in the '90s outfit of our dreams: a part-silky, part-sheer dress topped off with a pair of strappy, silver sandals.
52/76
Brad Pitt and Gwyneth Paltrow
As one of the most beloved couples of the '90s, Brad and Gwyneth's relationship was well-documented until the pair parted ways in 1997. The duo was often photographed on the red carpet in coordinating outfits—and for a short period, matching haircuts—and their looks spanned the spectrum of '90s trends, from stark minimalism to grunge to preppy chic.
53/76
Winona Ryder and Claire Danes
My So Called Life meets Heathers! Winona Ryder and Claire Danes debuted matching pixie cuts and badass dresses at the Los Angeles Fire and Ice Ball in 1996.
54/76
Sarah Jessica Parker
If one thing is clear about red carpet events of the '90s, it's that SJP had a knack for arriving in outfits that only she could pull off. Here, Parker wears an early version of "the naked dress" to the VH1 Vogue Fashion Awards.
55/76
56/76
Nicole Kidman
The lace! The shawl! The hair! Nicole Kidman looked to be the belle of the ball in an epic '90s look at the American Film Institute Awards in Melbourne.
57/76
Destiny's Child
It's no secret that the ladies of Destiny's Child had their outfits down. Here, the group posed in matching fabric at the The London Aquarium. If a photo like this doesn't make you want to start a girl group right this very second, you aren't looking close enough.
58/76
Kirsten Dunst
Even before she owned the box office in the early aughts with classics like Bring It On and Spider-Man, Kirsten Dunst had a way of making an impression at events. In 1998, she attended the 8th Annual Environmental Media Awards in Los Angeles wearing a strappy black-floral dress and Mary Janes (the shoe that you and the rest of the world probably owned multiple pairs of in the '90s).
59/76
Jada Pinkett Smith
A pregnant Jada Pinkett Smith attended the Woo premiere in 1998 wearing the Ultimate '90s 'Fit: Maternity Addition. The actress paired an all-black jumpsuit with a sheer, button-down top. And what would a red carpet be without a pair of tiny sunglasses?
60/76
Britney Spears
The late '90s ushered in an era of bubblegum pop, with Britney Spears leading the pack. Her sexy, belly-baring schoolgirl uniform in the video for "…Baby One More Time" paved the way for the low-slung jeans, navel rings, miniskirts, and bedazzled tank tops that would characterize the end of the decade's style.
61/76
Naomi Campbell and Kate Moss
Supermodels Naomi Campbell and Kate Moss reigned Queens of the '90s Modeling World. They were spotted, towards the end of the decade, at the Versace Diamonds are Forever show in London wearing the coolest, slinkiest slip dresses.
62/76
TLC
When TLC hit the scene, the music world went nuts—the drama! The music! The money! The girl gang defined their style with baggy athleisure pants, oversized tees and sweatshirts, and cropped tops. Their coordinating outfits epitomized an era of in-sync girl squads.
63/76
Naomi Campbell
Towards the end of the decade, Campbell stunned at the UNICEF party in London—the model contrasted her vibrant dress and matching shoes with a bright-white bag.
64/76
Gwen Stefani
The face of the SoCal ska-punk movement happened to be a ball of energy by the name of Gwen Stefani. The No Doubt frontwoman was known for her athletic build and style, often performing in nothing but cargo pants and a cropped beater. Here she is perfecting the art of matching your hair with your shoes.
65/76
Cameron Diaz
Cameron Diaz's outfit at the 56th Annual Golden Globe Awards in 1999 was so freaking '90s it hurts. The actress paired grungy eye makeup and crimped hair with a pant-dress combo and tiny purse.
66/76
Tyra Banks
At the 1999 ESPY Awards, supermodel and fashion icon Tyra Banks wore an ultra-coordinating look—her rose hair clips matched the floral print on her dress and shoes.
67/76
Cindy Crawford
Cindy Crawford wore this now-iconic Versace dress at the Rock N' Rule Benefit For AmFar. It's not hard to see why it made such an impact!
68/76
Reese Witherspoon
Fashion in the '90s was all about going back to the basics: a good button-down, a trusty pair of jeans, and simple, clean makeup. This outfit that Reese Witherspoon wore in 1994 checks all the right boxes.
69/76
Destiny's Child
I'll leave this here in case you needed more proof that Destiny's Child were some of the OG fashion icons! The group rocked purple from head to toe at the 13th Soul Train Music Awards back in 1999.
70/76
Gwyneth Paltrow
Paltrow went on to win the Oscar for Best Actress for her role in Shakespeare in Love while wearing this classic bubblegum pink Ralph Lauren gown way back in 1999—and it still remains a classic to this day.
71/76
Liv Tyler and Stella McCartney
The year was 1999 and the Met Gala theme was "Rock Style," so who better to don some edgy graphic tees than Liv Tyler and Stella McCartney? McCartney made these tees for them both on the day of the gala and it worked!
72/76
Jennifer Lopez
The '90s were all about the classic slip dresses, and no one wore them quite as well as Jennifer Lopez did over the course of the decade. Case in point: she donned this slinky sheer number for the 17th Annual CFDA Awards in 1998.
73/76
Iman and David Bowie
Talk about a power couple! Iman and David Bowie had many fashionable moments throughout the '90s, but this coordinating look of theirs at the 69th Regiment Armory in 1990 is one of the best.
74/76
Salma Hayek
Hayek wore this beaded Armani gown to her first-ever Oscars in 1997—and may have single-handedly started the tiara trend as a result.
75/76
Shania Twain
A longtime lover of all things glittery, Shania Twain rocked this sequined turtleneck gown to the GRAMMY Awards back in 1999.
76/76
Victoria and David Beckham
This is the definition of a daring couples look if I've ever seen one! The Beckhams wore head-to-toe leather outfits to the Versace Club Gala Party in London way back in 1999.