5 Ways to Live a More Balanced Life
How to balance work, play, and rest.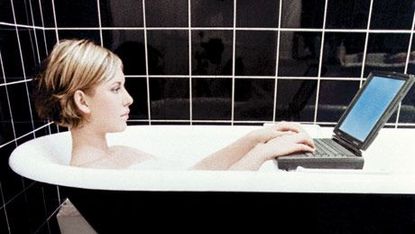 (Image credit: J. Naughten)
1. FORCE YOUR BRAIN TO DRAW A LINE BETWEEN WORK AND HOME.

"Your ability to do a good job at work depends on whether you have a personal life that refreshes and restores you," says social psychologist Jane Adams. If you can't stop thinking about work after you leave the office, create a mental filing cabinet. "Sit down in a quiet place, open it, and deal with your work worries. Then, mentally close the cabinet and do something else," she suggests. Try this on Fridays before leaving the office for the weekend — or each night. Mentally lock the cabinet, if necessary.
2. LEAVE MULTITASKING AT THE OFFICE.

You may subconsciously take your office habits — especially multitasking — home with you. You might find yourself washing dishes while phoning your mom, or checking your BlackBerry while in a movie. "We've become so used to living in overdrive that we take it as normal, but our bodies don't," says stress expert Kathleen Hall. To balance work, play, and rest, write down five ways work blends into your playtime. Then, choose one to focus on. If you obsessively check your BlackBerry during your time off, cut back — first by half, then more until you get it down to once a night. By transforming mindless habits into conscious choices, you'll limit your body's stress and gain control of your day — and night.
3. MAKE FRIENDS WITH PEOPLE OUTSIDE OF YOUR PROFESSION.

To lead a more fulfilling personal life, expand your exposure to people you don't work with, says Douglas Rushkoff, author of Get Back in the Box: Innovation from the Inside Out. Otherwise, you'll constantly be pushed into the role you play at the office. Sign up for an art class, or at yoga, introduce yourself to the woman who's downward-dogging next to you. Can't tear yourself away from your desk? Try an Internet-based service like meetup.com that allows people with similar interests to meet and interact online.
4. PUT A TIME LIMIT ON YOUR TALK ABOUT WORK.

If all of your friends work in your industry, set rules when you socialize. Agree to vent, gossip, or strategize for a specific amount of time — say, 10 minutes — and appoint a timekeeper. When the allotted number of minutes is up, deliberately switch the topic — to anything from politics to Paris Hilton.
5. MAKE HOME YOUR SANCTUARY.

To prevent work from invading your home, create a personal project — it will help you recharge and relax but still feel active. Buy canvases and paint, make CDs for friends, or begin a home-improvement project, says Christine Hassler, a life coach for 20-something women. Another tip: Consider cooking. Eating meals in your own kitchen makes your home feel less like a hotel.