How Murtagh Dies in the Outlander Books
The book is very different from the TV show.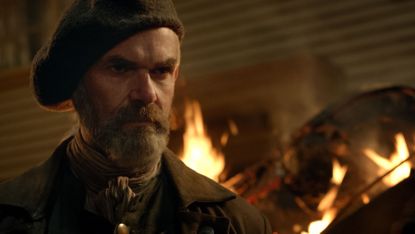 (Image credit: Starz)
**Warning: Spoilers ahead for Outlander Season 5, Episode 7**
There are several ways in which the Outlander TV series is different from Diana Gabaldon's books. "It's very tough to try and fill up all of the different threads, and to have everything come together," Caitriona Balfe explained to MarieClaire.com in an interview last season about why the TV series strays from the original books. "These books are so dense, and there's so much to it. There are times when you are disappointed by some of the stuff that gets changed, but I also think, I don't know that they would have been able to tie up all of the things correctly, just in terms of the time constraints." This has held true through the entire series, but the disparate storyline that sticks out the most is Murtagh's.
Murtagh is a vital link to Jamie's past. He was the Scot who rescued Claire at the beginning of the Outlander saga from the evil Black Jack Randall and brought her back to meet the other Highlanders on the run from the British in 1743. When Jamie was caught by the British, Murtagh, his godfather, helped Claire find him. In the books, Murtagh and Claire bring Jamie to an Abbey in France to recover after he is rescued. Finally, Claire and Jamie let Murtagh in on their secret–that Claire is from the future.
Claire knows that the Scots will be defeated by the British army–slaughtered at the Battle of Culloden. The Highland way of life will be destroyed. She, Jamie, and Murtagh try to change history to prevent that from happening, but find themselves at Culloden in April of 1746 on the eve of the battle. After Jamie kills his uncle Dougal, he knows he is a dead man. His uncle's followers will kill him. He decides he'd rather die in the Battle of Culloden. But he orders Murtagh to lead the Frasers of Lallybroch–Jamie's estate–back home. He doesn't want his men killed in a hopeless battle. Murtagh refuses the order. He says he'll set the men on the road and turn back to fight alongside Jamie till the end. Meanwhile Jamie takes Claire to the stones and makes her go back to the future to save her and the child she carries.
Jamie, crazed with grief at losing Claire, throws himself into the battle, determined to die. Yet while all around him Scots are being cut down by English canon fire and bullets, Jamie is unscathed. He actually reaches the English lines and kills some of the soldiers there. And this is where the book and the show diverge. In the book, when he turns to cross back to the Scottish lines, he finds Murtagh mortally wounded in the field. Jamie cradles his dying godfather who comforts him by saying exactly what he said in tonight's season 5, episode 7: "Dinna be afraid, a bhalaich, it doesn't hurt a bit to die." A bhalaich is an endearment a godfather might say to a beloved little boy. In both the book and the TV show, the moment is heart-wrenching.
The producers of Outlander's TV show decided to keep Murtagh alive because he was such a popular character. In the show, Murtagh is captured at Culloden and there is a surprise reveal when we first see him with Jamie at Ardsmuir prison. When the prison is closed, Murtagh is sent to the colonies as an indentured servant with the other prisoners–all but Jamie. More than 20 years later, Jamie discovers Murtagh working as a blacksmith in North Carolina. Murtagh is overjoyed to hear that Claire has come back to him and that he has a daughter. He's able to be reunited with Claire, meet their daughter, Brianna, and start a romance with Jamie's Aunt Jocasta before being killed at the battle of Alamance after saving Jamie's life.
While his death in the TV series was probably inevitable (and we should have seen it coming—Sam Heughan did accidentally spoil this major plot point after a few drams of whiskey), it's no less heart-breaking—especially as we've had an additional two or three seasons to fall in love with Duncan Lacroix's character. Slàinte mhath, Murtagh!
RELATED STORIES
Marie Claire email subscribers get intel on fashion and beauty trends, hot-off-the-press celebrity news, and more. Sign up here.