The 'Nine Perfect Strangers' Finale, Explained
Are we hallucinating or. . .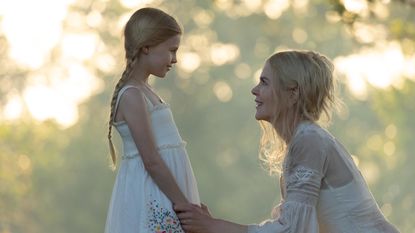 (Image credit: Hulu)
Was Hulu miniseries Nine Perfect Strangers (opens in new tab) an overly complicated story about forgiveness, healing, and wellness (opens in new tab) or a trippy tale about grifting? Depends on who you ask (and how many drug-induced hallucinations you're experiencing). If you're in the camp of the former, well, then the show ended succinctly, providing everyone a (albeit undeserved) happy ending. Personally, I prefer the latter, in which Masha is a criminal genius who extorted her way out of jail and into a yellow Lamborghini, and the show is a cultural commentary on the power of persuasion. So let's use that lens to unpack what happened to our strangers in the finale, "Ever After." (opens in new tab)
Carmel
The finale picks up with Carmel admitting that she was the one who shot Masha all those years ago, and that it's also been her sending Masha those taunting texts (via a phone hidden in her room's lamp shade). She reveals that she didn't mean to shoot Masha at the time, but Masha's dismissive attitude made her pull the trigger. And thanks to some impressive makeup skills—courtesy of her theater days—she was able to pull off the disguise and get away unnoticed.
She tells Masha to turn her in, but Masha absolves Carmel of the crime because it led Masha to open Tranquillum House. After her reveal, Carmel awakens in a sensory deprivation chamber that Masha/Glory left her in "for her own protection." After a brief panic attack, Carmel escapes the pod into a locked room. The rest of the strangers eventually come to her aid only to end up trapped with her. Masha/Glory/Yao begin their "fire therapy" which involves starting a fake fire outside of the the locked room so that the guests have near-death-experience revelations. Carmel realizes that she finally has the forgiveness she needs to move on. At the end we see Carmel, stronger and calmer than ever before, leading a group therapy session.
Yao and Delilah
Yao spends the majority of the episode standing by Masha's questionable decisions. He also witnesses the Marconi family's heartbreaking hallucinations of their son. Delilah breaks out of Tranquillum and goes to the police, bringing them back to the wellness resort. Yao and Delilah reconcile and the flash-forward shows the happy couple volunteering with the Peace Corps.
Jessica and Ben
Jessica and Ben, (opens in new tab) newly connected, decide to renew their vows. Ben also discovers that his Lamborghini is missing. During their fake near-death experience Jessica reveals that her ultimate dream is to be a "girl boss" and Ben wants to go back to work. In the flash-forward, we see that Jessica and Ben now run Tranquillum House.
Lars
After Lars attempts to out Masha's intentions to the Marconis (and ultimately fails to dissuade them) he watches and records their hallucinations. Eventually, he leaves, feeling like it's not his place to bear witness to their pain, and returns to the rest of the group. In his near-death experience he realizes he made a mistake in his relationship and his ultimate desire is to be a dad.
His flash-forward reveals that Lars did indeed reunite with his significant other, became a dad, and also penned a glowing profile of Masha and her wellness techniques for the cover of The New Yorker.
The Marconi Family
Trigger warning: reference to death by suicide. Despite some initial hesitation, the Marconis dive head first into Masha's LSD cocktail, ultimately seeing Zach. They each get the closure they needed as Zach tells them its not their fault that he died by suicide and it's time for them to move on and stop mourning. It's painful but transformative, and their flash-forward repeats the first episode's scene of Napoleon, Zoe, and Heather riding in the car together—this time though Heather is driving, and they all look at peace.
Tony and Frances
Tony and Frances reconcile in the finale, with Frances admitting she was scared to let her emotional guard down. They pack up and decide to leave the wellness resort early, especially after being spooked by Masha's strange behavior, only to rejoin the group to help find Carmel. They get trapped in the fake "fire room" and it only solidifies their feelings for each other (and desires to get a house and dog). We also see Frances protecting Masha during police questioning by lying and saying it was her who accidentally locked everyone in the fake fire room.
We then see Frances and Tony having dinner together at the Four Seasons (where Tony places an absolutely A+ order of two cheeseburgers, a soda, and an ice cream sundae). Frances asks for a pen and some paper and begins to furiously scribble down ideas. The scene is spliced with footage of their fellow strangers' flash-forwards making the audience wonder if these scenes—Jessica and Ben running Tranquillum; Yao and Deliliah joining the Peace Corps; Lars having a baby; Tony and Frances getting that house, dog, and spending time with Tony's estranged kids—are just figments of Frances' writing or actually what came to pass. (I think it was all just in the book.)
Masha
Oh, Masha, where to begin? The episode shows Masha, now very high after drinking the cocktail she prescribed the Marconis, begin to unravel and struggle to contain the guests at Tranquilium. Her main focus is joining the Marconis in the forest in hopes that their delusion of Zach will help spurn her reconnection with Tatiana, the seven-year-old daughter she lost in Russia due to a car accident. Thanks to Zoe's guidance, Masha is able to finally see Tati in a "snow-covered" field and hold her for several hours before the police come to take her away. Masha seems unconcerned about the investigation. And turns out Masha was right not to worry: Her guests, thankful for Masha's healing process, all protect her from being incriminated.
At the end of the episode (opens in new tab), we see a happy Masha driving in Ben's car as the hallucination of Tatiana sits in the passenger seat. On the dashboard lays a book, Nine Perfect Strangers, penned by Frances. The scene hints that while the rest of the flash forwards were potentially just part of the book's narrative, Masha's outcome actually happened. It's all very meta, considering the show was based on a book (by Liane Moriarty, not by Frances).
Related Stories
As Marie Claire's Entertainment Director, Neha oversees and executes strategy for all editorial talent bookings and culture coverage across the brand's print and digital entities, including covers, celebrity profiles and features, social takeovers, and video franchises as well as handles talent relations for MC's flagship summit, Power Trip. She's passionate about elevating diverse voices and stories, loves a hot-take, and generally hates reboots. She's worked in media for more than 10 years and her bylines about pop culture, film & tv, and fashion have appeared on Glamour, Vanity Fair, GQ, Allure, Teen Vogue, Brides, and Architectural Digest. She is a graduate of the Columbia School of Journalism.