Unmissable True-Crime Documentaries of 2020
You'll be sleeping with the lights on tonight.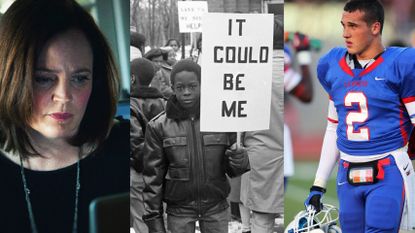 (Image credit: Showtime/HBO)
Whether it's to satisfy your inner detective or because you already barreled through our list of our favorite true crime podcasts of 2020, you've arrived at the list because you're ready to watch some great new true crime documentaries. Fortunately, there's no shortage of documentaries and docuseries that will entertain even the most seasoned true crime buff. I mean, who doesn't love to unwind with stories about real-life debauchery, murder, and scoffing of the law?
Allow us to present: Our list of the very best true crime documentaries released this year. Perfect for those Saturday night binge-fests or those moments when you're looking for something new to obsess over.
Trial 4
Trial 4 tells the story of Sean K. Ellis, who was wrongfully convicted as a teen in the 1993 killing of Boston police officer John J. Mulligan. The series follows Ellis' fights for his freedom, while simultaneously exposing systemic racism and corruption in the justice system.
---
American Murder: The Family Next Door
This creative true crime documentary tells the story of the 2018 Watts family murders in Frederick, Colorado, but does so using almost nothing but archival footage—social media videos and posts, law enforcement recordings, text messages and home video footage—to recreate the events leading up to and following the murders.
---
The Vow
HBO's docuseries The Vow digs deep into the fascinating (but complicated and confusing) world of the NXIVM cult, which boasted celebrity members and whose leaders have been accused of sex trafficking.
---
Athlete A
In Athlete A, viewers follow investigative reporters at the Indianapolis Star as they worked to expose the years of abuse perpetrated by doctor Larry Nassar, who was exposed for assaulting young female gymnasts.
---
Fear City: New York vs The Mafia
This series, told from the point of view of FBI investigators, digs into New York City's Five Families—the Gambino, Colombo, Bonanno, Lucchese, and Genovese crime families—and the government's efforts to bring them down.
---
World's Most Wanted
In this docuseries, you can learn about five of the world's most wanted criminals—and, of course, the crimes that made them so infamous.
---
The Last Narc
If drug-focused true crime is your thing, Amazon's The Last Narc, about the 1985 death of U.S. DEA agent Enrique "Kiki" Camarena, is worth a watch. The series includes interviews with DEA agents and witnesses to Camarena's death who claim he was murdered by Mexican drug lords—but with the complicity of the CIA.
---
The Innocence Files
Each episode of The Innocence Files focuses on a wrongful conviction case and the impact wrongful convictions have on people and communities. The series is based on the work of the Innocence Project.
---
A Perfect Crime
If you're up for true crime with subtitles, then A Perfect Crime, a docuseries about the assassination of German politician Detlev Karsten Rohwedder, head of the Treuhandanstalt, is one to add to your queue.
---
Bad Boy Billionaires: India
Even though our brains tend to immediately turn to gruesome, often-unsolved murders, true crime stories can focus on all kinds of crimes—including financial crimes. Bad Boy Billionaires: India is an Indian documentary about four of India's biggest businessment: Vijay Mallya, Nirav Modi, Subrata Roy and Ramalinga Raju, whose successes were tainted when they were accused of corruption. The documentary series follows several of India's major financial scams and the people behind them.
---
Carmel: Who Killed Maria Marta?
This Argentinian documentary series is your next true crime obsession. The series tells the story of the still-unsolved death of María Marta García Belsunce in 2002, the very controversial criminal case that followed.
---
The Business of Drugs
This six-part docuseries on Netflix delves into true crime of a different sort—the illegal drug trade. Each episode in the series focuses on a different drug, giving viewers a look into the underground (and above ground, in some cases) worlds associated with different substances.
---
Tiger King: Murder, Mayhem and Madness
This truly WTF story is proof that truth is sometimes stranger than fiction. The captivating docuseries follows the Tiger King, Joe Exotic, a man who owned a private zoo in Oklahoma where he bred tigers for years, incurring the wrath of tiger activist Carole Baskin. The strange tale is full of twists and turns leading to Exotic's eventual arrest in a murder for hire plot against Baskin.
---
Killer Inside: The Mind of Aaron Hernandez
This docuseries tells the story of former professional football player Aaron Hernandez, who was convicted of the 2013 murder of Odin Lloyd. The series explores Hernandez's public rise and fall and his upbringing and personal life, as well as his eventual suicide in prison.
---
Time
An indictment of the American criminal justice system, Time explores the 20-year fight of Sibil Fox Richardson (a.k.a. Fox Rich) to free her incarcerated husband, Robert. While the young couple committed an armed robbery together in 1997, a Louisiana judge handed down starkly different sentences: Rich, a mother of four who was pregnant with twins, was sentenced to two and a half years; Rob, a first-time offender, was given a 60-year sentence.
Time focuses on the aftermath of the crime as opposed to the crime itself. Incorporating home-video diaries Rich recorded for her jailed husband, director Garrett Bradley (who worked on Ava DuVernay's When They See Us) provides a sobering, raw glimpse into how mass incarceration disproportionately disenfranchises and destroys Black families under the guise of rehabilitation and public safety.
---
The Painter and the Thief
When Czech artist Barbora Kysilkova has two of her own oil paintings stolen, she decides to confront Karl-Bertil Nordland, one of the culprits apprehended for the heist. While most would expect Kysilkova to condemn Nordland, she asks to paint him instead.
Enter The Painter and the Thief—a story of robbery and redemption. Kysilkova not only discovers that Nordland has no recollection of stealing the paintings, but learns of the man's inner demons and motivations.
The Painter and the Thief is a refreshing addition to the true crime documentary genre. It reels you in with the allure of an art heist, but refuses to partake in a standard "good vs. evil" narrative.
---
Assassins
The media was abuzz in 2017 after news broke that Kim Jong-un's exiled half-brother, Kim Jong-nam, was assassinated in a Malaysian airport. The story took a bizarre turn when surveillance footage surfaced showing Siti Aisyah and Đoàn Thj Huong—one of whom was wearing a t-shirt with "LOL" emblazoned on the chest—covering Jong-nam's eyes and smearing the VX nerve agent onto his face.
Ripped straight from the headlines, Assassins investigates whether the duo are cold-blooded killers or pawns manipulated to commit one of the boldest hits on a political figure in recent memory. The film then explores the political consequences of Jong-nam's assassination, and the overall role of social media and viral culture.
Assassins also addresses some burning questions we have, even years later: Why did the nerve agent kill Jong-nam within an hour but spare the two women? Did the women really believe they were participating in a Japanese reality show when they inadvertently killed Jong-nam?
---
Murder to Mercy: The Cyntoia Brown Story
You might remember this case from back in 2017 when a number of celebrities called for the release of Cyntoia Brown, who, at 16, fatally shot a 43-year-old real estate agent who paid $150 to have sex with her.
Brown was sentenced to life in prison, despite testifying that her boyfriend-turned-pimp pressured her to have sex with the man, who Brown said had reached for a gun. Though evidence suggested the shooting was self-defense, Brown served 15 years in a Tennessee prison before her life sentence was commuted last year.
Murder to Mercy: The Cyntoia Brown Story analyzes procedural failings in Brown's 2004 trial. Daniel Birman (who also directed the 2011 PBS documentary, Me Facing Life: Cyntoia's Story) uses Brown's words and interviews with her biological and adoptive mothers to show how crucial factors in Brown's case were overlooked, and her trauma was both inherited and bestowed upon her. The result is the characterization of Brown as a victim of circumstance, not a callous killer.
---
Ted Bundy: Falling for a Killer
Many people are aware of the prolific serial killer's crimes (which are often glamorized), but few know much about his victims. Released on the 30th anniversary of execution, Ted Bundy: Falling for a Killer was deliberately shot through a feminist lens.
Falling for a Killer strips Bundy of his eccentric, misunderstood persona—he's portrayed as a violent misogynist with a deep-seated hatred for women. Director Trish Wood includes commentary from the slain women's families and Bundy's girlfriend. The goal is to put an end to the erasure of victims when it comes to serial killers.
---
Atlanta's Missing and Murdered: The Lost Children
The disappearances and murders of at least 30 African-American children and young adults in Atlanta, Georgia, from 1979 to 1981 should be a story etched into our minds. But somehow, it isn't.
This may be due to how quickly the case was closed. When a Black man named Wayne Williams was convicted of the two final murders (which were men, and notably older than the other victims), all 30 cases were pinned on him despite the evidence of his involvement being dubious at best.
Atlanta's Missing and Murdered: The Lost Children achieves what very few true crime documentaries can—it takes an extremely complex case and packages it in a way that isn't overwhelming. Through never-before-seen footage, interviews, and court documents, the docuseries offers new theories about who could've been responsible and how racial tensions affected the case.
Most notably, Atlanta's Missing and Murdered doesn't offer a resolution, but demonstrates how the lack of one, decades later, is its own injustice.
---
The Trials of Gabriel Fernández
One of the most heartbreaking, infuriating cases in recent years was the murder of young Gabriel Fernández by his mother and her boyfriend. It was no secret that Fernández was tortured for months before his death, and the Netflix docuseries shows just how preventable and senseless his murder was. How people knew what was happening to the 8-year-old. How his mother and live-in boyfriend abused him because they believed he was gay (a theme that arises throughout the series). How social workers apparently missed evidence of abuse.
The Trials of Gabriel Fernández is anything but a feel-good story, but it's one that extremely necessary to tell.
---
Outcry
The Showtime docuseries untangles the complex case of high school football star Greg Kelley, whose life came to a screeching halt in 2014 when he was convicted of sexually assaulting a 4-year-old boy and sentenced to 25 years in prison without parole.
As Outcry presents, Kelley's conviction was controversial for several reasons. There was evidence suggesting police rushed their investigation, the victim never identified Kelley in court, and a second 4-year-old boy who reported abuse later recanted his story. These and other factors influenced a Texas appeals court to vacate Kelley's conviction last year.
Outcry will leave you conflicted about how to grapple with cases like this, but it doesn't force you to pick a side. The documentary will leave you feeling sympathetic to the victims—but grappling with how such a broken system could ever offer them justice.
---
I'll Be Gone in the Dark
An adaption of Michelle McNamara's book of the same name, the series chronicles the late author's deep dive into the crimes of the East Area Rapist, or Golden State Killer, who terrorized California in the '70s and '80s, committing 12 murders and dozens of rapes.
The six-part docuseries blends excerpts from McNamara's book with interviews with survivors, investigators, and McNamara's husband, comedian Patton Oswalt, who reveals how tirelessly his wife investigated the cold case.
I'll Be Gone in the Dark feels like a somber dedication to McNamara, who died two years before the capture of Joseph James DeAngelo Jr. But it also centers on and empowers the women who survived his crimes.
---
Trial By Media: The Truth Behind the Crimes
Avoiding sensationalism, Trial by Media is a fact-heavy documentary critiquing the media's coverage of six high-profile cases. Chock full of archival footage and retrospective interviews with people connected to the stories, the docuseries offers an objective perspective of how the symbiotic relationship between news organizations and the police influenced the handling (and mishandling) of these cases.
From Illinois governor Rod Blagojevich's corruption scandal to"'Subway Vigilante" Bernhard Goetz, Trial By Media spans decades but handles the varying subject matter with ease. For those into true crime and the media, this is the documentary for you.
---
The Lost Boys of Bucks County
When the bodies of four men appear on a Pennsylvania farm in 2017, police are not only tasked with connecting the murders, but finding the perpetrator. The Lost Boys of Bucks County shows how the string of murders rocked a small, tight-knit town. In a much-needed change of pace, the Investigation Discovery documentary highlights the four slain men instead their killer. Through interviews with the men's families and investigators who tirelessly worked the case, you'll find yourself engrossed in a case that, at some points, appeared unsolvable.
---
McMillion$
Combining two typically American loves—money and burgers—McMillion$ tackles one of the oddest (and very successful) scams in history.
"The game was rigged from the start" is the perfect way to describe McDonald's Monopoly game in the '80s and '90s. Customers collected tickets affixed to food items in hopes of winning valuable prizes.
McMillion$ starts off by dropping a bombshell: There have been nearly no legitimate winners in the two decades McDonald's has run the promotional game. But that fact becomes less shocking when you learn this: A security guard at a marketing company that managed the production of the game tickets was stealing the winning pieces and selling them to friends and family.
This documentary somehow rises above the absurdity of the crime it's covering. You'll become the biggest fan of Doug Mathews, a rookie FBI agent who's assigned to the case. If the scam itself doesn't keep you hooked, the characters certainly will.
Related Stories