Margaret Thatcher's Children: What 'The Crown' Got Right
She definitely did have a favorite.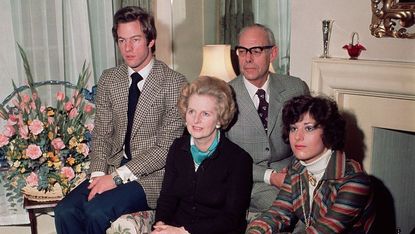 (Image credit: Hulton Deutsch/Getty Images)
Though most parents try to shy away from blatantly choosing favorites among their children, as seen in the fourth season of The Crown (opens in new tab), Margaret Thatcher wasn't like most parents. And while it's probably unlikely that she would've been so casually forthright about her favoritism during a meeting with Queen Elizabeth II—subsequently sending the queen on a bizarre journey to determine the favorite of her own four children—there's little doubt that Britain's first female prime minister did indeed favor her son Mark over his twin sister Carol.

This is perfectly exemplified in The Crown's portrayal of Thatcher's frantic response to reports that Mark has gone missing during a 1982 car race, which really happened and really resulted in Thatcher shelling out thousands of pounds to aid in the search for her son. Here's the true story behind Mark's international drama and Thatcher's relationship with him and Carol.
What happened when Mark Thatcher went missing?
In Jan. 1982, Mark, his co-driver, and their mechanic went missing in the Sahara Desert for nearly a week while competing in the Paris-Dakar Rally, an off-road race spanning France and West Africa. A massive search ensued, with multiple countries dispatching military aircraft and ground troops to find the missing car. Mark's father, Denis Thatcher, flew immediately to Dakar, Senegal, and his mother contributed more than £1,700 to the search, according to the BBC (opens in new tab).
The crew was finally found by the Algerian military on Jan. 14, 1982, about 30 miles off course.
Decades later, in a 2004 article (opens in new tab) for The Guardian, Mark described the experience. "I did absolutely no preparation. Nothing. I did half a day's testing and the day after that we were driving out of the Place de la Concorde in Paris. I was thinking, 'OK, I wonder how this is going to go?' I soon found out," he confessed.
He went on to note that his mother's response to his going missing was the correct one, due to a lack of accurate information about the situation. "One of the biggest problems was that no one knew what was happening. What is more, any information that was getting back to London was almost entirely inaccurate," he wrote. "So The Boss (the prime minister) does entirely the right thing, picks up the phone to the ambassador in Algiers and says, 'Can you find out what is going on?' The ambassador then rings the prefect of the region who says there are four people missing and that I am one of them."
Was Mark really his mother's favorite?
By many accounts—including from his twin sister Carol—yes. Carol told (opens in new tab) The Guardian in 2005 that in contrast to her "glamorous" brother, "I was one-dimensional and dull." Of growing up with the PM for a mother, she added, "My mother was prone to calling me by her secretaries' names and working through each of them until she got to Carol."
If that wasn't clear-cut enough, The Independent reported (opens in new tab) after Margaret Thatcher's 2013 death that Carol had once said, "I always felt I came second of the two. 'Unloved' is not the right word, but I never felt that I made the grade."
She also had a sharp response to questions about Thatcher's complaints about her children both moving far away from their parents as adults: "A mother cannot reasonably expect her grown-up children to boomerang back, gushing coziness and make up for lost time. Absentee mum, then gran in overdrive is not an equation that balances," Carol said, per The Guardian.
What is Mark and Carol's relationship like?
Whether it's the effects of their mother's clear favoritism or typical sibling rivalry, Mark and Carol don't seem to be particularly close. The twins, who were born in Aug. 1953, were said to be unable to even be in the same room in 2015, when Carol arranged to auction off her half of the belongings they'd inherited after their mother's death.
"For once, Mark is on the side of the angels," a Tory party source told (opens in new tab) The Daily Express at the time. "His only concern is to protect his mother's legacy, and he thinks this sale is simply abhorrent. They were extraordinarily close, and he would never sell anything of hers."
The outlet also reported that, by the time of their mother's death, tensions were so high between Carol and Mark that they opted to communicate about all matters of her estate via lawyers.
Where are Mark and Carol Thatcher now?
Thatcher's twins have lived remarkably different adult lives. After his short-lived racing career, Mark became a businessman and moved to the U.S., where he met and married his first wife, Diane Burgdorf, with whom he has two children. His business dealings have often been the source of controversy, facing allegations of unfairly profiting from his mother's position and questions of legality over the years. Additionally, in 2005, he was fined and received a four-year suspended prison sentence in South Africa due to his involvement (opens in new tab) in an unsuccessful coup in Equatorial Guinea.
Carol, meanwhile, became a journalist and reality star, and has never married or had children. She began her reporting career in Australia before returning to England to contribute to the BBC, The Daily Telegraph, and more. She also published several books and produced a documentary about her parents before dabbling in reality TV, winning the fifth season of I'm a Celebrity...Get Me Out of Here! in 2005 and appearing as a celebrity guest on Most Haunted in 2007. However, her career faltered after she used a racial epithet to describe pro tennis player Jo-Wilfried Tsonga while off the air in 2009, prompting the BBC to announce (opens in new tab) she would no longer appear on any of their programs.
Andrea Park is a Chicago-based writer and reporter with a near-encyclopedic knowledge of the extended Kardashian-Jenner kingdom, early 2000s rom-coms and celebrity book club selections. She graduated from the Columbia School of Journalism in 2017 and has also written for W, Brides, Glamour, Women's Health, People and more.