Noma Dumezweni Is Hollywood's Newest It Girl
The powerhouse actress has built an enviable resumé—but she's still getting used to her own success.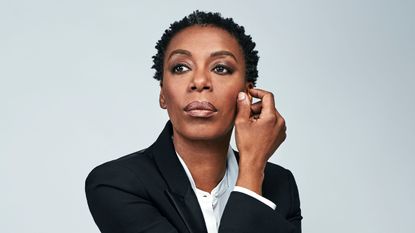 (Image credit: Rachell Smith)
"What the fuck?" is perhaps Noma Dumezweni's most used phrase, and fittingly so, since the British actress considers the expression the best description of her life's journey thus far. At 51, she's one of Hollywood's most sought-after actresses, following a rare successful crossover from theater to film and television. "The universe seems to be delivering really lovely surprises, which I am really grateful for but I would never [have] put in my narrative," she says, lounging on a mustard-yellow sofa in her sunlit Manhattan apartment. She's as warm and unexpected as her surroundings, even as she spills coffee—a stark departure from her cool, calm, and collected demeanor as Haley Fitzgerald in last year's standout The Undoing. The role cemented her boldfaced-name status and was a natural entrée to her next project, Made for Love. In the HBO Max dark comedy, premiering April 1, Dumezweni plays Fiffany, a marine biologist with a unique affinity for the subjects she studies. Here, she speaks candidly about conquering impostor syndrome, her love-hate relationship with social media, and why she's glad she found success later in life.

Marie Claire: Made for Love is a doozy—terrifying and claustrophobic—right off the bat. What drew you to the project?
Noma Dumezweni: I remember reading the script and going, "What the fuck is going on?" Already, my interest [is] piqued. And my character's called Fiffany, which always makes me laugh.
MC: You wonder, "Is this going to be Black Mirror? Are we in Westworld?" And then it's really funny.
ND: I remember, years after it had come out, finally watching Breaking Bad. In that very first episode, I'm literally going, "I had no idea." I love that feeling ... It's that kind of kinetic energy of storytelling. We have to be ahead of the audience.
MC: The Undoing is a perfect example of the audience being hooked. Are you a person who watches what the Internet is saying?
ND: I am. And there are days I really wanna throw my phone out the fucking window and let it crash ... When The Undoing was coming out in October [2020], I gave myself the month of August off. And I actually just shut down my Instagram and my Twitter, and I literally just went and disappeared.
MC: Made for Love is so much about being forced to be plugged in—not having control and agency of it.
ND: I just know that every human being needs to connect. That's where this story moves forward from. Who do you connect with and how do you connect with them?
MC: I was surprised to read that, despite your character [in The Undoing] seeming so together, you were very nervous on set.
ND: I was scared ... I genuinely thought I was gonna be fired... There was one particular day I came back crying 'cause I'd gotten myself into such a twist that I wasn't good enough. It's that awful voice that comes in, going, "You don't know what you're doing. I'm too loud. I'm not small enough." Later, I watched that scene and [I could not tell]. If there's anything I could offer anybody: Stop making excuses. I was the one who was making excuses why I shouldn't be there.
MC: Did anyone on set give you advice that helped you push past that feeling?
ND: I do remember having lovely conversations with Hugh [Grant] about it. He was going, "It never gets easier." I was like, "What? Even for you?" He said, "I've even spoken to Meryl Streep and Tom Hanks about this."
MC: There was a lot of racist discourse when you were cast as Hermione in 2016's Harry Potter and the Cursed Child. Since, as you said, you tend to be checked into what people are saying, how did that affect you?
ND: When I started seeing [the racist comments], I was like, "I'm not gonna engage in this." But I also knew that the producers had my back and J.K. [Rowling] had my back.
MC: Did it affect the roles you considered later on?
ND: No. If anything, I was getting cynical about people's motives [when casting me now] … because I realized, Oh, it's not about me; it's about the optics of me. Especially as a Black person, I'm so very aware.
MC: Was there a time when you were younger that you were ready to throw in the towel?
ND: I think it was about 28 or 29. That was a year I spent in bed. I was like, "There's no room for me in this business." Twenty years ago, it was, "Well, there's already that Black actress who's in that. They're not gonna get another one of those."
MC: Do you wonder, if you'd found this level of success in your 20s, whether you would have been able to react to the negativity with the same strength and poise?
ND: Because I've had my pain, in terms of who I am, what I am in my late 20s/early 30s, everything's a bonus right now. Let's take those risks. If I am a poster child for people taking risks and it paying off, I am really happy to be part of that.
MC: I have to ask you about being cast in the live-action Little Mermaid film. What can you tell me about your role?
ND: [grinning] I can tell you that I'm doing it. I can tell you I'm very excited. I can tell you I had a chat with hair and makeup the other day and it was like, "Yay!"
MC: With all the parts you've played, the women are really strong and really smart. Has that been an intention of yours?
ND: There's a thing about meeting the character you need to meet at the right moment for you. What do I fulfill? What's gonna challenge me? That's what I'm interested in. I do also know that with Hermione [in Cursed Child], she's also a mom. That was a huge thing for me. This girl, who was the brightest witch of her generation, the greatest witch of her generation, gets to be a mom as well. And she's the Minister of Magic. I think I'm lucky enough to have felt that [the parts have] always been interesting humans, interesting women, and there's still a part of me going, "There's still more I can do."
A version of this story appears in the April 2021 issue of Marie Claire.
RELATED STORIES
Celebrity news, beauty, fashion advice, and fascinating features, delivered straight to your inbox!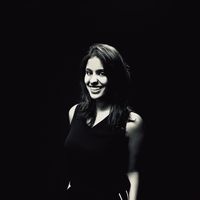 As Marie Claire's Entertainment Director, Neha oversees and executes strategy for all editorial talent bookings and culture coverage across the brand's print and digital entities, including covers, celebrity profiles and features, social takeovers, and video franchises as well as handles talent relations for MC's flagship summit, Power Trip. She's passionate about elevating diverse voices and stories, loves a hot-take, and generally hates reboots. She's worked in media for more than 10 years and her bylines about pop culture, film & tv, and fashion have appeared on Glamour, Vanity Fair, GQ, Allure, Teen Vogue, Brides, and Architectural Digest. She is a graduate of the Columbia School of Journalism.