The 17 Best TV Shows of 2021
Cancel your weekend plans.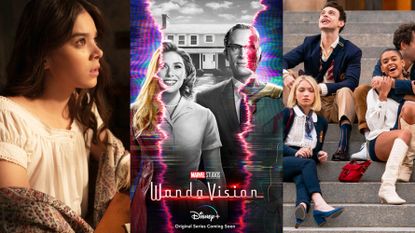 (Image credit: Getty/ Morgan McMullen)
If you're like me, you spent the majority of 2020 and much of 2021 stuck at home, passing the time by binge-watching every new TV show out there and rewatching old favorites (I may or may not have spent three straight months on a Gilmore Girls bender, although I obviously bowed out before the lackluster Netflix reboot). And though it's almost 2022 (THANK GOD), it looks like we're still a ways away from fully rejoining society...so you're going to need some viewing material to get you through. That's why we rounded up the best TV shows coming out in 2021. From the ones that will help you escape our 2021 reality (Dickinson!) to those that remind you of simpler times (Gossip Girl!), this is your watchlist.
Dickinson (Apple TV+)
If you're going through Bridgerton withdrawal and/or extremely sad that Regé-Jean Page won't be returning for season 2, catch up on Dickinson, a period drama starring Hailee Steinfeld as a moody, teenage Emily Dickinson. A saucy, feminist tale with a literary twist? Sign us up. The second season just hit Apple TV+.
WandaVision (Disney+)
Elizabeth Olsen and Paul Bettany star in this refreshingly not-Marvel-aesthetic Marvel show. In it, Scarlet Witch (Olsen) and Vision (Bettany) are the classic suburban couple...until they have to fight crime. It's like the I Love Lucy x Avengers crossover you didn't know you needed.
The Falcon and the Winter Solider (Disney+)
Another day, another hit Marvel show. This one is more action-packed than WandaVision, but no less creative. Each episode follows two Captain America series characters, Sam Wilson and Bucky Barnes (a.k.a., the Flacon and Winter Solider), six months after the events of Avengers: Endgame. Expect lots of fighting montages and things blowing up!
Gossip Girl Reboot (HBO Max)
The show the defined an era (and inspired a mass plaid skirt and headband obsession) is back with a whole new cast of glossy high school student and the omnipresent informant who knows all of their secrets (who now uses Instagram to post pics and troll Upper East Siders instead of a blog). Though it hits a different note than the original, the reboot is still worth a watch for both OG fans and newcomers. Also, CHILLS that Kristen Bell is still voicing GG herself. XOXO.
Mare of Easttown (HBO)
Come stay for the riveting crime drama, stay for the incredibly....bad? good? Philly accents. Kate Winslet stars as a basketball start turned small-town detective who is investigating a local murder.
White Lotus (HBO Max)
Everything seems rather picturesque in The White Lotus, a luxury Hawaiian resort. But over the course of six episodes, the audience discovers that the guests—and hotel staff—are not what they seem. This mini-series is a creepy and cutting social satire.
Loki (Disney+)
The God of Mischief finally gets his own show with this Disney+ original. With just 6 mind-bending episodes, Tom Hiddleston's Loki, armed with charisma, captures the hearts of viewers and is making us rethink this whole "hate the villain" thing. Warning: Don't watch if time travel drives you CRAZY.
The Nevers (HBO)
Set in the late Victorian era, The Nevers follows a group of women with supernatural, mysterious powers—and of course, their enemies.
Handmaids Tale (Hulu)
Will June EVER get out of Gilead? Only season 4 (hopefully!) will tell. The hit series is back on Hulu this spring and from the looks of the trailer, the handmaids, marthas, and others held hostage by the oppressive regime that took their freedom are fighting back, hard.
Nine Perfect Strangers (Hulu)
We might have the next Big Little Lies on our hands. No, really: Nicole Kidman stars in the upcoming limited series, based on Liane Moriarty's book by the same name. In the show, nine "city dwellers" head to a boutique health and wellness resort. But tranquility might not be the only thing they signed up for...
Friends Reunion (HBO)
After 17 years, the HBIC of all sitcoms made its triumphant return—and the full gang (Jennifer Aniston, Courteney Cox, Lisa Kudrow, Matthew Perry, David Schwimmer, and Matt LeBlanc) all signed on.
Hacks (HBO)
Jean Smart plays Deborah Vance, a Las Vegas comedian who teams up with writer Ava, a canceled Gen Z comedian, to keep her routines socially relevant.
The Underground Railroad (Amazon Prime Video)
Colson Whitehead's #1 New York Times bestseller The Underground Railroad gets a TV adaptation this year, directed by Barry Jenkins. Read the book first, and then settle in to see the on-screen adaptation unfold.
Succession (HBO)
The world's most petty-yet-wildly-entertaining family is back! The hotly-anticipated third season of Succession finds the Roy family embroiled in scandal (yet again) and clawing each other's eyes outs (yet again).
Premiere Date: October 2021
Inventing Anna (Netflix)
Anna Delvey seized the headlines in 2018 when a New York Magazine feature revealed that the party girl heiress was really a fraudster who had swindled the city's elite. The Netflix show starring Julia Garner is ripe with juicy source material, but add Shonda Rhimes to the mix (she'll be producing) and you have the recipe for a a delicious weekend watch.
Premiere Date: TBD
Atlanta (FX)
Fans of Donald Glover's hit comedy-drama show Atlanta have been itching for a season 3 for years, and it's finally on the horizon. The third season is apparently in production in 2021. No word yet when it will make it to small screens, but our fingers are crossed.
Premiere Date: TBD
Dead to Me (Netflix)
Will justice come for best friends turned partners in crime Jen and Judy (played by Christina Applegate and Linda Cardellini)? Only time (a.k.a. season 3) will tell.
Premiere Date: TBD
RELATED STORIES
Marie Claire email subscribers get intel on fashion and beauty trends, hot-off-the-press celebrity news, and more. Sign up here.
Megan DiTrolio is the editor of features and special projects at Marie Claire, where she oversees all career coverage and writes and edits stories on women's issues, politics, cultural trends, and more. In addition to editing feature stories, she programs Marie Claire's annual Power Trip conference and Marie Claire's Getting Down To Business Instagram Live franchise.