10 Affordable Holiday Gift Ideas
Tap into your creative side this gift-giving season.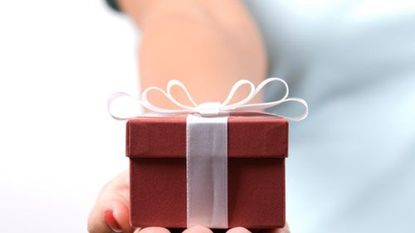 (Image credit: muharrem öner)
Save money this season by tapping into your creative side before your wallet. Check out these fun and affordable holiday gift ideas for just about everyone on your list:
For the movie buff…
Scout the internet for photos from her favorite movies. When you're set on the best 12 images, take them to Kinko's to have a calendar printed. Everyone loves reminiscing about the flicks they love.
For the busy mom…
Make her an appointment for a mani and pedi and offer to take care of her home while she's off getting pampered. Trust us. She'll be ever so grateful.
For the writer…
Help improve her writing chops by giving her a certificate to take a writing class in her neighborhood. Every good writer knows that improving her craft is about practice, practice, practice.
For the chef…
Fill a notebook with some of the recipes you've tried, tested and approved. To make the book even more special, place a photo of the two of you on the cover.
For the music lover…
Make a modern day mix tape. Burn a CD with songs that define your relationship. She will think of your friendship every time they hit play on their stereo.
For the fashionista…
Everyone's wardrobe needs an update from time to time. Get together with your fashion-forward friend or loved one for a clothing swap. Each of you is bound to find an item or two to add to your closet—free of charge.
For the athlete…
Hit the gym or park for a good workout. Having a partner to stay motivated during exercise is one of the best ways to build your endurance—and an even better way to bond.
For the favorite kid in your life…
Invite him or her over to your place for a day of games. Give them the freedom to choose the games to play and don't forget to buy some snacks to add to the fun.
For the pet owner…
Caring for a pet is serious work and a busy schedule usually means it might have been a while since the cat or dog was groomed professionally. Offer to take the pet for a bath and brush, haircut, and nail clipping services.
For the globe-trotter…
Many people have yet to explore the tourist attractions in their own hometown. Do a little research to find out the must-see places in your loved one's area and buy them advance tickets to explore a few of the top sights.