Famously Fran
The '90s icon behind The Nanny is as relevant as ever. Just ask her.
Marie Claire Newsletter
Celebrity news, beauty, fashion advice, and fascinating features, delivered straight to your inbox!
Thank you for signing up to Marie Claire. You will receive a verification email shortly.
There was a problem. Please refresh the page and try again.
Before there was Kim, before there was Paris, before there was Chiara or Charli, there was Fran. Before a generation of celebrities turned being yourself into a brand, Fran Drescher built a career on and perfected the art of being unapologetically herself—fabulous, funny, and born to be famous.
But much like happenstance is crucial to the success of influencers, Drescher's journey to stardom, she explains, has been a product of being in the right place at the right time. The theme song to The Nanny—the '90s sitcom that turned the actress into a household name—may have said it best: "She had style. She had flair. She was there."
Fittingly, that's exactly how she became the co-creator, executive producer, and star of her own prime-time show: She was there, on a flight to London, with Jeff Sagansky, who was then the president of CBS Entertainment. From her Malibu home, the 63-year-old, clad in a white bathrobe and little else, recounts a tale she's told so often, it's practically Hollywood legend. "I ran into the bathroom to put some makeup on," she says. "And I'm saying, 'Carpe diem, carpe diem' as I'm powdering my face, 'cause I knew this was an opportunity of a lifetime. I started talking to him when I came out, basically telling him, 'Have I got a show for you, for me.' He finally said, nine and a half hours later, 'When you get back to L.A., call my office. They'll put you up with comedy development, and you can pitch your idea.' "
That patented blend of confidence and chutzpah is how many of Drescher's famed anecdotes, from what she calls the "gay '90s," came to be. Consider the time Gwyneth Paltrow introduced Drescher to her then-husband, Chris Martin.
"I was in a restaurant. I was on a first date with a guy. … Next thing you know, Gwyneth is walking over to our table. … She says, '[My husband] is in love with you. And would it be okay if I bring him over?'… Next thing you know, I'm inviting myself to the Hard Rock Hotel in Las Vegas to see [Coldplay] perform. I said, 'Can you arrange the tickets for me to come backstage?' And they said, 'Sure. The band would be so thrilled. We watch [This Is] Spinal Tap when we're on tour.' "
Then there was that night in 1999 when she, Jennifer Lopez, Chris Rock, Ben Stiller, Cameron Diaz, and Edward Norton took a stretch limo from a Miami "disco" to Lenny Kravitz's house. "Lenny said, 'Gee, you know, we should all go back to my house, but how are we gonna get outta here? And who's got a car?' And I said, 'I got a car! We can all fit in it.' That whole crowd piled into my car with my girlfriends. This is a night we're still talking about. And we got to Lenny Kravitz's house. He makes us take off our shoes, because he has these red floors. And a room that has all kinds of cubes in it that everybody climbed into. And some of us started making out with some of us—me included, of course."

And don't forget the iconic evening she rubbed elbows with Princess Diana at the 1995 CFDA Awards.
"Princess Diana hosted a cocktail party for the presenters and the winners," Drescher describes. She leans in close to her phone's camera, her smile widening as she settles in to share a fond memory. "It was wall-to-wall people, and she stood in the center of it, with a roped-off area. … [I told my manager] 'I'm not getting this close and not meeting her.' So I said, 'Pardon me, excuse me, pardon me,' and everybody just got out of my way. … When I did my presentation, I made up a whole story [about our meeting]. We happened to both be in Mr. Blackwell's best- and worst-dressed list [that year]. I said [onstage], 'I met the princess, and I said to her, "Princess, we're both on Mr. Blackwell's list." And she said, "Yes, but I'm on the best-dressed, and you're on the worst-dressed." And I said, "But you got Princess Margaret on your list, and I got Demi and Madonna on mine. You're on the wrong list, Princess." ' And [Diana] was in the front row, bellied over, laughing."
She shares these stories, finessed and fine-tuned. Like an influencer who knows her angles and hashtags, Drescher knows her greatest hits, when she's nailing her punch line, or when the listener's attention is waning. She rewrites her own sentences to be grabbier sound bites. ("I try and live my life by the Buddhist philosophy. I'm a Bu Jew!") And like any naturally gifted storyteller, Drescher already has the moral of her stories queued up. "You're dealt a hand of cards, and you have to play it, as courageously and elegantly as you possibly can," Drescher explains of her ethos. "So I'm always trying to see: Why is this presented to me, and how can I turn this experience into a learning experience or something positive? … I still woulda been on the plane. I still woulda been at the CFDA Awards. I still woulda been at that club in Florida. But if you are the type of person that gets intimidated and you don't carpe diem, then you miss the opportunities. If you're not intimidated, amazing things can happen."

It would be easy to assume Drescher is always playing a character (her on-screen counterparts are often named Fran, and the Nanny, in particular, was an over-the-top version of herself), but it's more apt to say she simply is a character. Not in some contrived or exhausting way, though—she's just a born entertainer aware of her fans' and followers' desires.
For someone as comfortable as she is playing herself, it's almost surprising that, in 2021, she still hasn't gone down the reality-television path. She's open to the idea, at least for a season, maybe in another city.
"I'm such a fish out of water that it would, I think, be interesting and funny at the same time," she says without hesitation, like she's always poised to pitch herself to a network exec.
While her escapades from two or three decades ago may have been prime fodder for glitzy TV à la Keeping Up with the Kardashians, her current reality is much more aligned with Real Housewives or maybe The Simple Life. During the pandemic, Drescher says, she's found comfort in baking ("I've become quite the Bundt-cake queen") and keeping her home's white floors pristine. ("I discovered that I'm a good little housekeeper.") She's been binge-watching Bridgerton, The Great British Baking Show, and All Creatures Great and Small. She also runs her nonprofit, Cancer Schmancer, and offers medical advice to friends and family coping with health issues. (She's 21 years free from uterine cancer.)
Her time is further occupied with producing the Broadway adaptation of The Nanny, which was announced last year. Drescher reveals it'll be very funny and "much bigger than the TV show." She teases feather-duster dance numbers for Mr. Sheffield's staff and that she may consider playing Sylvia Fine (her character's mother) onstage. She wants to make sure, though, that the musical can "stand on its own" without her name on the marquee.
Drescher's still working on casting the titular role: "If we can discover the next Streisand, that would be amazing." For now, she has her eyes on a particular unnamed pop star who has crossed over into movies.
She ran into the singer at a star-studded Christmas party in Southern California. Never one to not shoot her shot, Drescher floated the part to her preferred leading lady. "Her eyes kind of lit up," Drescher begins her story.
If things go well, you'll hear all about it one day.
FASHION EDITOR: BRENDA COOPER / HAIR: NICOLE PEARCE. / MAKEUP: GREGORY ARLT AT FORWARD ARTISTS FOR MAC. / MANICURE: CHANTALYNN, CELEBRITY NAILSTYLIST. / PRODUCTION: CHRIS CHARLTON FOR BAM PRODUCTIONS.
This story appears in the April 2021 issue of Marie Claire.
Celebrity news, beauty, fashion advice, and fascinating features, delivered straight to your inbox!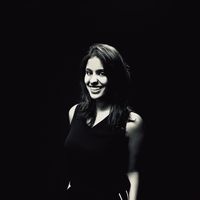 As Marie Claire's Entertainment Director, Neha oversees and executes strategy for all editorial talent bookings and culture coverage across the brand's print and digital entities, including covers, celebrity profiles and features, social takeovers, and video franchises as well as handles talent relations for MC's flagship summit, Power Trip. She's passionate about elevating diverse voices and stories, loves a hot-take, and generally hates reboots. She's worked in media for more than 10 years and her bylines about pop culture, film & tv, and fashion have appeared on Glamour, Vanity Fair, GQ, Allure, Teen Vogue, Brides, and Architectural Digest. She is a graduate of the Columbia School of Journalism.