Why Playing Guitar Should Be Your New Hobby
The guitar is the ultimate self-care tool you can start practicing now.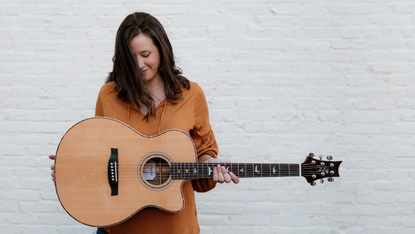 (Image credit: Hunter Selman)
Marie Claire Newsletter
Celebrity news, beauty, fashion advice, and fascinating features, delivered straight to your inbox!
Thank you for signing up to Marie Claire. You will receive a verification email shortly.
There was a problem. Please refresh the page and try again.
Over the last year and a half, many of us have picked up new hobbies to fill the hours spent at home: bread-baking became so ubiquitous there was a period when you couldn't log onto Instagram without seeing an artfully-formed amateur loaf and learning Tik Tok dances is now so mainstream even dads are doing it. Another hobby that's a little more timeless and a little less sweaty (hey, kneading bread can be hard work!) and that proves to be a popular and relaxing pick-me-up is learning to play guitar.
The guitar has, of course, been a favorite hobby for ages, but now, more than ever, it's the perfect time to try it out yourself. Consider the self-care benefits: Sitting with a guitar and learning to strum the chords to a favorite song helps improve concentration and increase attention span. Learning to navigate the fretboard will help develop your hand-eye coordination as your hands, fingers, and mind work together to combine notes, chords, and scales. Playing the guitar has the same benefits as journaling: the instrument helps you express yourself and acts as a creative channel to communicate your feelings to others or even just to yourself.
Another major benefit of dedicating time plucking those guitar strings is it can actually help you get over heartbreak. (Finally makes sense why there are so many songs about getting over that ex, huh?) The guitar can even serve as an outlet to help lower stress and anxiety—almost like a "therapy" instrument to help you through tough times.
The instant you pick up your first guitar, you're also joining quite the club: Take 30 seconds to search any guitar hashtag on Instagram and you'll see there are millions of guitar enthusiasts waiting to welcome you to the fold and cheer you on. Investing in an instrument from a trusted brand like PRS means you can enjoy the benefits of a well-crafted guitar now and eventually pass it on to the next generation guitar-lover in your life when you're ready to welcome them to the band.
Need extra inspo to start channeling your inner Kacey Musgraves? Recent studies have shown that in some cases, women account for half of new players, and are dominating the emerging guitar market. Learning the guitar is a skill that can be picked up at any age and the positive effects can be felt from day one. So, while learning to make the perfect sourdough might be a tasty way to spend a few hours, we'll be over here reaping the benefits of mastering our favorite breakup ballad.
Celebrity news, beauty, fashion advice, and fascinating features, delivered straight to your inbox!