What We (And You!) Read in 2010
We asked what your favorite new books were in 2010here are your answers!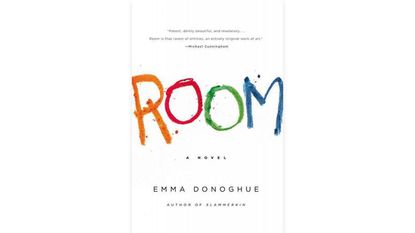 (Image credit: Little, Brown)
It's been a great year in the literary world, despite the dearth of new Rowling or Meyer releases (kidding!). In fact, my own list of 2010 favorites is so long, I've had to set up a whole new bookshelf to accommodate them all. We asked a few weeks ago which books you loved this year — here's what some of you said.
Room
Emma Donoghue's haunting ripped-from-the-headlines story about a kidnapped woman, impregnated by her captor, told from the POV of her heartbreakingly sweet, smart, brave 5-year-old son, who has never been outside the room they share. Released 9/2010 by Little, Brown.

(Loved by: Marieclaire.com user bracedforsurvival)
Travels in Siberia
If you think Siberia sounds boring, think again: New Yorker contributor Ian Frazier's travelogues of his many trips to Siberia and western Russia in the last 20 years are fascinating, hilarious, and illuminating. Released 10/2010 by Farrar, Straus, and Giroux.

(Loved by: Marieclaire.com user LavanyaSun)
Thin, Rich, Pretty
Chick lit master Beth Harbison's 2010 beach read about two friends who met at camp 20 years ago and now struggle with family, friendship, and love. Rife with plastic surgery and dickish boyfriends, it's a fun page turner. Released 7/2010 by St. Martin's.

(Loved by: Marieclaire.com user vmichelle)
Super Sad True Love Story
Critically acclaimed novelist Gary Shteyngart's new tale of America's dystopian future became an instant classic and knocked Shteyngart right into literary super-stardom. Released 7/2010 by Random House.

(Loved by: Marieclaire.com reader Lina, via email)
Still Missing
Chevy Stevens' first novel provided a great alternative to everyone who's totally over the Stieg Larsson books. Her story of a 32-year-old realtor kidnapped and held captive in a remote cabin was both clever and heart-poundingly suspenseful. Released 7/2010 by St. Martin's.

(Loved by: Marieclaire.com user bracedforsurvival)
The Immortal Life of Henrietta Lacks
Science writer Rebecca Skloot's novel-like tale of Henrietta Lacks, a poor Southern tobacco farmer who unwittingly donated cells from her removed cancerous tumor. Those cells went on to become some of the most important — and notorious — in the world of scientific research. Released 2/2010 by Crown.

(Loved by: Marieclaire.com reader Lina, via email)
The Thousand Autumns of Jacob de Zoet
British novelist David Mitchell's complicated new book, set in feudal Japan, might keep you completely engaged with the intricately-researched, precisely-described tale of its protagonist, or might drive you completely nuts. Released 6/2010 by Random House.

(Loved by: My friend Jason. Hated by: My mom and my high school English teacher. Feedback via Facebook.)
Gunn's Golden Rules: Life's Little Lessons for Making It Work
Our own "Gunn Laws" columnist (and Project Runway mentor) brought us a multifaceted self help book chock full of juicy stories about our favorite fashion divas, alongside his spot-on advice for "making it work" in your relationships, wardrobe, and life.Released 9/2010 by Simon & Schuster.

(Loved by: Amanda, via Facebook.)
Oldies but Goodies
We also asked whether you'd revisited any classics this year, and the answer was an enthusiastic yes. Marieclaire.com user lawsonl6, in particular, cracked open several golden oldies: Anna Karenina by Leo Tolstoy, One Hundred Years of Solitude by Gabriel García Márquez, and Atlas Shrugged by Ayn Rand. What we want to know is how she had time to get through all of those — and still keep up with MarieClaire.com!
So what do you think? Agree? Disagree? Did we forget your fave? And which buzzy 2011 releases are you looking forward to most? Let us know in the comments!
Anna Maltby is an award-winning journalist and editor and was most recently the executive editor of Elemental, Medium's in-house health and wellness publication. She was previously the deputy editor at Real Simple magazine and a deputy editor at Refinery29, and also held staff positions at Men's Health, Marie Claire, SELF, Fit Pregnancy, Natural Health and Condé Nast Traveler. Her writing has appeared in such outlets as The Wall Street Journal, Cosmopolitan, Glamour, O, Family Circle, Fitness, Redbook, Vogue.com, TeenVogue.com, MensJournal.com, CondeNastTraveler.com, FastCompany.com_ _and Brides.com. She received her BSJ and MSJ from the Medill School of Journalism at Northwestern University. Anna is also an American Council on Exercise–certified personal trainer and functional training specialist, a certified prenatal and postnatal exercise specialist, and a certified mat Pilates teacher. She lives in Brooklyn with her husband, two children, and two tuxedo cats.