Top 40 Fave KT Tunstall is Hipper Than You Think
The Scottish singer sits down with Marie Claire.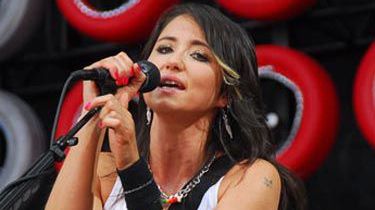 (Image credit: Theo Wargo)
On the day KT Tunstall agrees to give me a guitar lesson (which winds up being more like a private performance when I prove hopeless with chords), she's wearing a crazy getup of black cropped pants, kick-around saddle boots, a black-and-white tunic that wouldn't have been out of place at a Clash show, and a necklace that looks like it could seriously injure a small child. A chunk of her bangs has been bleached; her nails are below-the-tip short. Her guitar has a giant divot near the sound hole from her aggressive strumming.
"I've always listened to more alternative music than I make. I love Arcade Fire and Beck and Tom Waits and The Flaming Lips—bands that push boundaries," says the Scottish singer. Her other idol? Jack White, whom she met backstage at a festival they both played. She handed him a note. "It said, 'Did I ever tell you you're my hero?' He gave me a big hug. That made my summer."
Tunstall, 32, blew up stateside last year with the release of the platinum-selling, Grammy-nominated Eye to the Telescope, a sunny collection that featured the gems "Black Horse and the Cherry Tree" and "Suddenly I See," which backed the opening montage in The Devil Wears Prada. "After the first album, my record company and my manager were like, 'We knew you were going to be this big.' And I was like, 'No, you didn't.' Because, on paper, '28-year-old Scottish folk singer' is not a good recipe for global success. Sounds like Phoebe from Friends."
This month, she releases her sophomore effort, Drastic Fantastic. "There's definitely a bit more punk spirit in this album than in the first one, so we might see fewer grannies at our shows," she laughs. "But I love grannies!" Though she's got serious indie cred on her iPod, her goal is to write songs everyone can enjoy. "I hate music that's exclusive and makes people feel they shouldn't be at a show. It's such rubbish. It's a place for people to congregate, not to judge each other."
Celebrity news, beauty, fashion advice, and fascinating features, delivered straight to your inbox!