The Ultimate Rom-Com Dessert Guide
You're never alone with a good rom-com and a damn good tray of desserts. Check out our mouth-watering recipe guide here.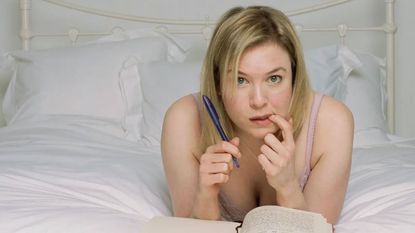 (Image credit: AP/Ronald Grant)
Flick: He's Just Not Into You
Treat: Hershey's Kisses Cookies
The Gist: A movie filled with men who are emotionally unavailable, pulling bootleg breakup moves, and give shady excuses for not committing.
Why You're Watching it: This is the movie that you watch when that guy you've been dating six months pulls a Houdini and disappears. Or the guy who takes you to the Olive Garden for your two year anniversary. Or the guy who is "too tired" for sex Monday through Sunday even if you are naked in bed with him. We're going with a tray full of Hershey's Kisses cookies to kiss those lame bodies goodbye. Get some champagne too, it's a celebration ladies!
Flick: The Sweetest Thing
Treat: Sugar Cookies
The Gist: A comedic, "you go girl," wedding-crashing take on fresh heartbreak but with a happy ending. It stars the ultimate early 2000s trinity of actresses: Cameron Diaz, Selma Blair, and Christina Applegate.
Why You're Watching It: You want to laugh uncontrollably. It is a movie that will give you hope that nice guys exist, that spaghetti strap tank tops will one day make a comeback, and remind you why you don't date men with genital piercings. It's light and funny, that's why it's snack twin is the sugar cookie.
Flick: Bridget Jones' Diary (1,2,3)
Treat: Cookie Dough
The Gist: The main character Bridget Jones (Rene Zellweger) makes New Year's resolutions regarding health and dating (natch, she doesn't follow any of them), and ends up smoking packs (and packs) of cigarettes while on-again, off-again dating her sleazy boss, played by Hugh Grant. Yet, there is a nice guy who makes an appearance throughout the series with a very happy ending to the third installment.
Why You're Watching It: It's the mother of all rom-coms. Get a diary, put a spoon in a fat tub of cookie dough, and start watching.
Flick: How to Lose a Guy in 10 Days
Treat: Fruit Tart
The Gist: Like your grannie says, "It's all fun and games until someone gets hurt." Tell that to character Andie (Kate Hudson) who takes on quite the first person assignment for her editor to investigate how to actually lose a guy in 10 days by emphasizing the most obnoxious traits possible. We find out the guy of interest, Ben (Matthew McConaughey), bounces back with a surprise of his own.
Why You're Watching it: You're carefree and single! The world and all men in it are your oyster! You're out there dating and if you want you can serenade some new guy with Carly Simon's "You're So Vain" or name his penis "Princess Sophia" and not give a shit, until you fall in love with him. Like a fruit tart, you're going to cringe at some parts of this movie, but get a very sweet aftertaste.
Flick: Must Love Dogs
Treat: Frosted Animal Cookies
The Gist: Get ready for a look back at antiquated Internet dating with this animal-loving rom-com. The film is centered around actress Diane Lane as Sarah Nolan, a new divorcee, who wants to find love after losing it all. Sarah meets potential dog-loving suitors like Jake Anderson (John Cusack) and Bob Connor (Dermot Mulroney).
Why You're Watching It: You're an animal lover and you're into John Cusack.
Flick: Love Actually
Treat: Chocolate Cupcake
The Gist: It's kind of like a cute soap opera but on Christmas and without the heinous acting. Get ready for 10 separate love stories that all are intertwined together.
Why You're Watching It: Do you believe in six-degrees of separation? Did you like Goosebumps books where you can pick your own chapters? Then this movie of connected fates and love is for you. Plus, Hugh Grant is in it and he's pretty delicious, just like our choice snack, a rich chocolate cupcake.
Flick: When Harry Met Sally
Treat: Apple Pie
The Gist: Sally (Meg Ryan) and Harry (Billy Crystal) are "just friends" (mhm). Yet, throughout 12 years of chance encounters (and perms) later, the duo realizes that they might be more than just buddies.
Why You're Watching It: You've always wanted to orgasm at a Jewish deli while eating a pastrami sandwich. You may also be in love with your best friend. As a dessert, we recommended a slice (or whole) apple pie — it's on the menu of the actual Katz's Delicatessen where Sally climaxes. On that note, we'll have what she's having.
Flick: The Holiday
The Treat: Chocolate Covered Strawberries
The Gist: A Christmas (you guessed it) movie themed around women in relationships with philandering men, but with happy endings. Two women, Amanda Woods (Cameron Diaz) and Iris Simpkins (Kate Winslet) switch houses and get involved in some cross-continent encounters (sexy time) with some local men, Graham (Jude Law) and Miles (Jack Black).
Why You're Watching It: Do you want to drive far, far away into the middle of nowhere just to get away from all of mankind and eat desserts by yourself? Then put down the whoopie pies, throw away your keys, and watch this feel good movie instead. You can vicariously live through Cameron Diaz's character's sex life with Jude Law's character and eat chocolate covered strawberries instead. Yum.
Flick: My Best Friend's Wedding
The Treat: Bittersweet Chocolate
The Gist: Back in the day, Julianne Potter (Julia Roberts) made a pact with her college friend Michael O'Neal (Dermot Mulroney) that they would marry each other by the time they turned 28. Except, Michael is now in love with 20-year-old Kimmy Wallace (Cameron Diaz). Except that Julianne is still in love with Michael, so she tries to ruin the relationship. Oh, and Kimmy is bad at karaoke.
Why You're Watching It: You, like Kimmy, are also are bad at karaoke. You may also be crushing on your best guy friend like Julianne. Maybe you just like Julia Roberts' movies (we do!). Either way, sit down with some dark chocolate, because like the snack, this movie is hella bittersweet. But also a healthy learning experience (like never get conned into doing karaoke and don't sabotage relationships).
Flick: Sex and the City
The Treat: Black and White Cookies
The Gist: Based off the most popular series EVER, the Sex and the City movies are those virtual girlfriend embraces when you feel like shit. As you can expect, there is a lot of marriage talk and a lot of banging (hi, Samantha). We're into it.
Why You're Watching It: You have at least four friends. Maybe some of them like shoes (Carrie), while some like to have sex (Samantha), or some like Ralph Lauren (Charlotte), while some like their careers (Miranda). Yet, they are always there for each other. As an ode to the ladies of SATC, we picked the quintessential New York dessert, the black and white cookie.
Celebrity news, beauty, fashion advice, and fascinating features, delivered straight to your inbox!