The Existential Ending of 'Barbie,' Explained
Spoilers ahead, obviously.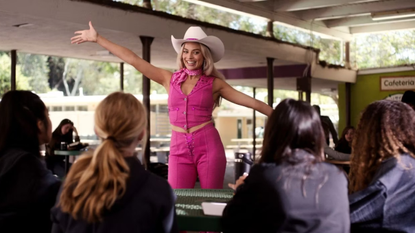 (Image credit: Warner Bros.)
Considering how much press Barbie got—I know I wasn't the only one fervently following Margot Robbie's press tour looks or running back that clip of "I'm Just Ken"—Barbie successfully kept most of its massive plot under wraps. Directed by Greta Gerwig and produced by and starring Robbie as the titular doll, this summer's biggest blockbuster is the first live-action Barbie film, bringing the cultural icon to life along with its loaded history and endless contradictions. It's also a hilarious romp, packed with full-body comedy and even bespoke musical numbers, all in a pretty pink package that's sure to delight even a Barbie skeptic's inner child.
But back to that plot: a lot happens in this film. Gerwig examines themes ranging from societal pressures that all women face to the generational love between mothers and daughters, packing in so much that viewers can be left reeling even before the film gets to the conclusion of Barbie's existential crisis. Below, read on for our breakdown on where everyone stands at the end of Barbie, and the life-changing decision that the titular doll makes.
The Barbies reclaim Barbieland and Ken realizes that he's "Kenough."
After the Barbies successfully take back control of Barbieland from the Kens, reclaiming the government while the men are off battling and later reconciling in a musical brawl, the women decide that Barbieland needs to change. The fantasy land may be a feminist utopia, but that leaves the "add-on" Kens as second-class citizens; the Barbies get all the political power, glory, and Dream Homes. (Barbie doesn't even know where all the Kens go at night.) In fact, the main Ken's (Ryan Gosling) antics stem from his wonder at a world where he can have a purpose beyond just waiting for Stereotypical Barbie (Robbie) to notice him.
So the new, post-Kendom Barbieland will be different. President Barbie (Issa Rae) sets things in motion for the Kens to have more important roles in society, though they'll have to work their way up from lower-level positions. (No Kens on the Supreme Court, but a district court judge is a start!) All of the Kens and Barbies seem happy in the aftermath, except for our main duo. Though Barbie is dealing with her own monumental feelings, she takes the time to console an obviously-troubled Ken.
See, Ken didn't really want to be in charge of everything. He admits that the gig is hard, and lost its luster once he realized that horses didn't play as big a role in the patriarchy as he thought. But without his power, he's at risk of being left back where he started, in Barbie's shadow. Even though Ken has been the literal worst for most of the film—there's even a great moment where Gloria reminds Barbie of all his transgressions, including turning Barbie's Dream House into a Mojo Dojo Whatever—Barbie helps him realize that he needs to become his own person. She politely shuts down any chance of them ending up together, and tells him that he is his own person, in a sweet remix of the character posters' "He's just Ken" tagline.
The final conversation between Ken and Barbie essentially wraps up his storyline, but he's left with a sartorial signal that he's going to be just fine in the future. As he waves goodbye to Barbie in the final Barbieland scene, Ken has switched out his obnoxious fur coat for a tie-dye hoodie printed with a comforting message: "I am Kenough."
Gloria and Sasha return to the real world with a mended relationship.
Now to the film's central dilemma. Barbie travels to the real world in search of the girl who's playing with her doll counterpart, as her connection to the mystery girl's troubles is what's causing Stereotypical Barbie to adopt imperfect traits like cellulite and irrepressible thoughts of death. She first thinks that her partner is sardonic tween Sasha (Ariana Greenblatt), who wakes Barbie up to the doll's historical impact and how its unrealistic standards have negatively affected girls' self-esteem. However, it turns out that Barbie's tether is Sasha's mom Gloria (America Ferrera), who grew up playing with the doll. In her sadness as Sasha became a moody middle schooler, Gloria rescued one of the tween's childhood dolls from the Goodwill pile and has been drawing concepts like "Irrepressible Thoughts of Death Barbie" during her idle time while working at Mattel.
Gloria enthusiastically takes on the role of Barbie's getaway driver and guide to human emotions, and Sasha is immediately mortified. However, as the mother and daughter spend more time in Barbieland, they begin to understand each other. Sasha sees the positive sides of Barbie's brand of feminism one she arrives in the matriarchal land, and Gloria acknowledges that times have changed since she spent hours playing with Barbies as a kid. (A fun Easter Egg: in the montage that shows how Weird Barbie became weird, we can see the name "Gloria" written on the wall of the little girl who plays with the doll too hard.) Gloria and Sasha bond as they help take Barbieland back, and their renewed closeness by the end of the film was one of my favorite arc conclusions.
Also, Gloria gets to make her mark on Barbies in the real world. As the Barbies tell the Mattel CEO that Barbieland needs to change, Gloria makes a pitch for an Ordinary Barbie, with the ethos that a person should be free to grow up while having their own goals, without being told to live up to some universal standard. The CEO initially says no, but when an exec (Fleabag's Jamie Demetriou) confirms the doll will make a lot of money, he quickly approves. This is kind of a throwaway plot point among everything, especially we never see Ordinary Barbie actually hit shelves or arrive in Barbieland, but it's a nice conclusion to the film's subversion of the classic "Barbie" standard.
Ruth Handler is Barbie's guardian angel.
After the Kens get equal rights and the Mattel CEO is assuaged, Sasha chimes in, "What about Barbie?" (It's not a moment that lands perfectly, and it solidified my stance that this movie could use like five less minutes of Ken.) Barbie's still perplexed; the new Barbieland sounds great, but she doesn't feel that she fits in the world anymore. She's been irrevocably changed by her knowledge of the real world and real emotions; she's no longer Stereotypical Barbie, but she also doesn't feel like Ordinary Barbie. So where does she go next? That's when, in a true Wizard of Oz moment, Barbie's very own Glinda arrives: Ruth Handler (portrayed by Rhea Perlman).
The ghost of the creator of Barbie, who the doll encountered during her getaway from the Mattel building, brings her creation to a blank heavenly void. Barbie tells her literal creator her worries about where she goes from here, and admits that she doesn't feel like a Barbie anymore. She's no longer a blank slate that can represent feminine perfection, and her definitions of beauty has evolved. She's grappled with the concepts of aging and death, and found both the all-encompassing dread and the beauty within them. (This was shown during the gorgeous scene between Barbie and the elderly woman sitting on the bench, who was played by Oscar-winning costume designer Ann Roth.) Barbie tells Ruth that she wants to evolve, and Ruth asks whether she wants to take on everything that comes with humanity. It would be easier to just return to Barbieland, where she can last forever as an idea. But Barbie no longer wants to exist as an idea, she wants to live as a human.
Barbie chooses….
It turns out that the ability to access humanity already resides in Barbie. (Again, The Wizard of Oz). Ruth tells her to feel, and we see a montage of girls and women at several ages, made of real footage which Gerwig gathered from Robbie and the film's cast and crew.) At the end of the transformation, the movie flashes to Barbie, sitting in the backseat of a car and wearing a much more subtle ensemble (a tan blazer, jeans, and some bubblegum-pink Birkenstocks). She's with Gloria, Sasha, and Gloria's DuoLingo-loving husband, who wish her luck before she heads into a Century City skyscraper. It looks like Barbie's psyched to go to a job interview, before she arrives at the reception desk and announces, "I'm here to see my gynecologist!"
Barbie ends with one last laugh-out-loud subversion, as the character we're conditioned to see as a badass career woman (think of all the impressive jobs the Barbies have throughout the film) instead dive into learning about her newly-acquired genitals. It's a perfect moment that sums up Barbie's first step into womanhood, ending a film that's all about what it means to be a woman, and the empowering experience of deciding what kind of woman (or man) you want to be, even when you've always been defined as something else. This is Gerwig's vision of Barbie's legacy, and such a fun end to an engrossing film.
Marie Claire email subscribers get intel on fashion and beauty trends, hot-off-the-press celebrity news, and more. Sign up here.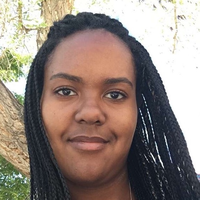 Contributing Culture Editor
Quinci LeGardye is a Contributing Culture Editor who covers TV, movies, Korean entertainment, books, and pop culture. When she isn't writing or checking Twitter, she's probably watching the latest K-drama or giving a concert performance in her car.